Among the hustle and bustle of Los Angeles, where dancers dream of making it big and competition for the spotlight is rife, a group of performers are taking a different approach. MusEffect, a non-profit arts organization founded by Jessica Starr, aims to create a dialogue around social issues and raise awareness of relevant topics through dance, in both live performance and video form. And, with some of its YouTube offerings racking up over a million views, it seems like the world is listening. Dance Informa spoke to Starr and MusEffect company dancer Ian Chubb about the work the organization is doing and why it's so important to use dance as a medium for positive change.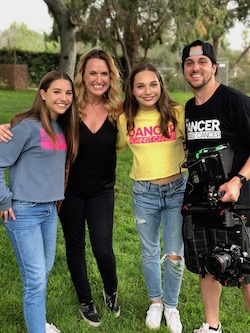 "I started with the intention of using dance as a vehicle to elevate social awareness through dance and film and many other art forms," shares Starr. "From living and working in the industry, whenever I was creating work for strictly entertainment purposes, I would always leave shows and sets feeling really unfulfilled. Even if the work was good and the project was good, I always felt like I wanted to leave more of an impact. And then, many years ago, one of my family members developed a really severe eating disorder, so I tried to help them through it by reaching out to a friend who was a spoken word artist. I wrote seven pages of stream of consciousness writing, which the artist developed into a spoken word piece, and I set it on a soloist before turning it into a full group piece. When I performed that piece for the first time, I really realized my passion for creating work with intention. The spoken word artist was speaking live as the dancers were on stage, and the whole audience was so quiet and so focused. I left knowing that this was what I wanted to do, and my glass was completely full at that time. I had done commercials, been on set, worked on a Vegas show, all these things that had prestige, but this small moment in time truly fulfilled me. So many years later, I started to pull together dancers who I'd met, Ian Chubb being one of them, and we came together cross-country and put a full two-hour length show together called The Divine Direction. After that, I got approached by someone who encouraged me to develop it into a full non-profit dance company. So that was the beginning of MusEffect."

Chubb has been involved in the project from the beginning, having trained with Starr from a young age. "I was probably 15 when Jessica started training me in my home studio in Colorado," he recalls. "Then, when I turned 18, she approached me about auditioning for America's Best Dance Crew, and I have been working with her ever since. So it's been six years with the company, but I've been working with Jessica for a really long time."
Since its conception, MusEffect has produced a number of powerful works addressing key social issues. "We are creating new work all the time," says Starr, "and we go off two things – we try to pay attention to what's going on in the world, and also we like to be motivated and inspired by other organizations that want to team up with us and request for us to make work with them. I think the first big project we did that really put us on the map was a PSA called 953K – Inspiring Action Against Cyberbullying. It was a huge project and got a lot of attention but mostly because it touched on a topic that was really prevalent in society at that time. We created it with a spoken word artist and filmed it in an actual school setting, from the classroom to the lockers, and exploring all different spaces in the school. To this day, it's used every year in school systems because it's on YouTube and people can watch it for free. I love that about the work that we do."
Another MusEffect video currently making waves focuses on the environment, a timely topic in an era when climate change is a huge topic of conversation. "It's called Broken Voices, and it's really about how if we don't step up and pay attention to what's going on, we're going to ruin the world," says Starr. "I actually hired a musician and a producer, so I got to help write the lyrics. We all make excuses as to why we can't be impactful and help the world – it's not my job, it's too late, I'm too busy, I'm only one person – so we created that feeling. The commitment of the dancers was amazing, the location we shot at was amazing, and we released it just as the big environmental rally started, so it really engaged people."
Chubb points out a favorite MusEffect piece that has an even more personal story behind it. Claire Wineland, a passionate advocate for supporting patients with terminal diseases, bravely fought cystic fibrosis until her passing in 2018. MusEffect created a piece in her memory. "It was one that hit close to home," explains Chubb. "We all know people struggling with illness, so for me and all the other dancers in the company, it was an outlet where we could all express how we felt about it, even though we weren't necessarily talking."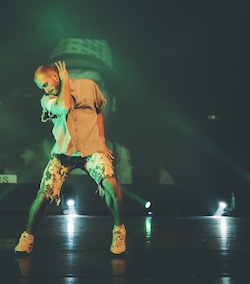 Starr, too, felt that it was the perfect way to remember Wineland's life. "About five years ago, we worked with her and raised money for her organization via a glow ride, so we had connected with her and her mom a long time ago," she shares. "She was such an impactful and positive person despite the illness she was living with her whole life, so when we found out she had passed, our hearts were broken. We created that piece for her, and we were able to perform it at the first ever Clairity Ball raising money for her foundation, so it was amazing to be able to do that."
Starr tries to spread MusEffect's work as far as possible, using online platforms like YouTube to share content. She also works directly with schools. "When we create the films, I send them out to a lot of media outlets and organizations I think will benefit from it," she says. "We have a lot of people who subscribe to our YouTube channel as well, so people in the educational systems continue to watch out for what we create and use it in the classroom. We also try to take our full two-hour stage show on the road and go into schools, and we don't just dance when we're there. I get out into the audience and talk about the topic and help to tie in the messages, and it's great because the works are created to be seen differently depending on the audience. A seasoned artist can watch our work and see something on a philosophical, spiritual level, whereas in a middle school they will see things on more of a literal level. I aim to not make decisions for people, but I want to fire you up to make a decision and take action in your own world and your own way to solve a problem in your community. I try to take the bias out of it and focus on elevating the topic. It's meant to ignite conversations."
And those conversations are happening, and the MusEffect is spreading. Starr continues to push the company further as more people get involved. "We're always building relationships," she notes, "and we're talking to a lot of different schools right now to get involved in the educational community even more. And as well as working with this non-profit, the company members are all working as choreographers and teachers as well, so we've been on the road for months just trying to instill this empowerment on the dance floor. In the masterclasses, it's not just about technique but also about the students honing in on their artistic voice and trusting themselves and having confidence in who they are. It's really beautiful because all the MusEffect dancers understand the power that lies in that, and these young dancers look up to them. It's amazing to see these young Musers floating around trying to find themselves."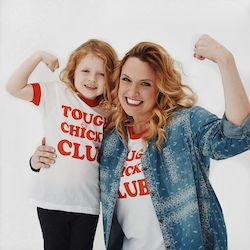 Chubb believes the passion that the company members share for what they do sets them apart in a crowded L.A., and global, industry. "I don't think there's a lot of companies or dancers dancing about topics like this or for a purpose like we do," he explains. "The industry is so saturated and sometimes it's so enlightening to do it for the passion and the reason why we started dancing in the first place – love. So I think a large part of what sets us apart and makes us important is that we're bringing up these topics. I think that's what makes us different and what we need right now."
Starr of course agrees. "It's so important for the younger generation to learn that dance is not just about trophies and awards and scholarships," she says. "And you don't have to reach your peak at 15; you don't have to be your best so young. Grow your artistry and your craft into your 20s and 30s. We need to invest more time in the future generations because the world will be in trouble if we don't. As dancers, we have the unique ability to be emotional and passionate every day. I am so lucky to have an amazingly consistent group of artists and dancers, which is rare in L.A., but I think what makes us so amazing is a genuine connection with each and to the work we're doing. That chemistry is so real, raw and authentic because we are a family."
For more information on MusEffect and the work they are doing, click here. You can follow MusEffect's YouTube channel here.
By Emily Newton-Smith of Dance Informa.