We sat down this week with ClassJuggler Dance's Jon Koerber to ask him what studio owners should consider when debating whether or not the time is right to purchase and set up dance studio software to help them run their business.
Since you're the President of a company that provides online software, wouldn't you be inclined to always say, 'Now is the time!'?
"You may be surprised to hear this, but, no, now may not be the right time for you to start using a software product to help you manage your dance business."
And then again, it might be the right time?
"Of course! In fact, probably. But, to know for sure, I think there are at least five important questions dance studio owners or managers should ask themselves. For starters, you should ask, 'Is my business getting too large to manage manually?'"
I assume you mean, how many students do I need before it makes sense to start managing my dance studio with software?
"Basically, yes. To answer, let's start with an analogy. Suppose you want to sew your own outfit; you don't need to acquire and operate a textile mill, right? Of course not. A simple sewing machine is likely the most you will need. But if you want to sew a hundred articles of clothing every week, that simple sewing machine may not be up to the task, or the process may be too slow on a consumer-grade sewing machine compared to the efficiencies you'll get from a commercial, computerized textile system.
Similarly, with your studio, if you are just starting out, or intentionally keeping your dance school very small — say, with less than 30 students — there will be a limit to the efficiencies you can gain from having software to manage scheduling, bookkeeping and student records, because even the simplest and best scheduling software may be overkill if your enrollment is small or you run a very limited amount of classes each week — just as you don't need a factory to make one dress. But when your enrollment starts getting to 40, 50 or 100 students, or you start adding classes and instructors, clinging to those spreadsheets, sticky notes and other miscellaneous tools you started out using when you first opened your doors will only hinder your growth rather than help it."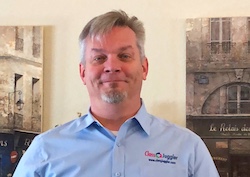 Then how can I tell when my school is big enough that it makes sense to invest in dance studio software?
"There is no magic number of students or classes, per se. But, as your student count and number of classes begin to grow, you'll know before anyone; when you start feeling bogged down by all the administration of running a business and are spending less time doing what you love — teaching dance. For a growing school, the efficiencies you gain from setting up and operating studio management software will become obvious, and the software will quickly pay for itself from the time you save."
And, of course, there will be some setup time, trying to learn the software and such?
"Of course. And everyone's needs and learning speeds are different. So, make sure the software provider you choose has a strong customer training and support reputation — and responds to your calls and emails quickly. That can make the entire difference in success or failure when you choose to implement management software!
But we have seen that, even for dance studio owners or managers who feel they are not computer-savvy, they quickly find the time savings and cost savings undeniable. Consider what some studio owners have said about the efficiencies they have realized once they started using ours. For example, one studio owner told us that their monthly billing, which previously took days to do, now takes virtually no time at all because their customers can see and even pay their balance due through our Customer Portal. And one of my favorites is how another customer shared that her late payments have dropped 95 percent since implementing our online payment system."
What's the second question I should ask as a studio owner?
"Ask yourself, 'Does the income my studio generates justify the cost of investing in a business software solution?' No doubt some of your readers have heard of the term 'cost-benefit analysis'. When it comes to purchasing business management software for your studio, this means that you need to determine if the monthly cost of the software will sufficiently reduce the costs of your current business inefficiencies if you were to continue doing things manually rather than benefiting from the efficiencies and knowledge you'll gain from using a powerful business management tool."
Sure, time is money, as we all know. But how do you do recommend doing a cost-benefit analysis?
"Calculate the time you and your staff presently spend each month tracking income and expenses, assembling monthly or quarterly reports on income, outgo, attendance, business growth and such, plus customer management time (registering, billing, payments) — basically, all those functions you are doing manually that can be automated with software. Multiply that by the hourly rate you pay staff doing this work, or your own time's worth. You've then got a solid dollar amount to compare to the software cost. Your current monthly expenses will almost certainly be many times more than the monthly cost of software. With the right dance studio software, all these monthly administrative tasks can be done in seconds or minutes instead of hours or can be done by the customers themselves."
What's the third question I should ask?
"The third question is one you will naturally be thinking about after you've done a cost-benefit analysis: 'Will the class-based business software I select deliver on needed efficiencies?' To help answer this question, you'll need to decide what key features you need so you can match the software to your business. I like to tell studio owners to focus on their top five must-haves when evaluating software, so they don't get too bogged down with making decisions on nice-to-have features or features that don't provide a lot of value to the business. Is it spending less time with bookkeeping? Speeding up customer account management? Gaining the ability to quickly run status reports on billing? Sending out 300 robo texts for a closure or emailing all your Thursday class parents? Maybe it's empowering customers to do things themselves that your staff now does, such as sign up to be a customer, register for a class or pay for their classes online? Gaining the ability for your instructors to take attendance and track their hours on their smartphone using our Staff Portal might be a winner! You get the idea; identify your top business needs that a software solution must to be able to help you with. And then, optionally, make a list of 'nice-to-haves' as well — features a software product may offer that would be handy but might not be a deal breaker. Dividing your list into needs versus wants will help you choose the right product."
Any suggestions on the best way to make sure I'm listing all the features of interest to me, since I might not know what the software is capable of?
"Sure. Take a look at the independent dance studio software comparison site, Capterra. The service compares more than 70 software products specific to the needs of dance studios. But some of those software solutions offer only one or two business management features, such as just bookkeeping or just class scheduling. So, here's the trick: use the Capterra product comparison 'Filter Results' checklist tool, which you'll see in the left column. Just check any of the items in the list that are important to you, and then click 'Apply Filters'. It will shorten the list of competitors to just those that have the features you are looking for."
And the fourth question I should ask?
"The fourth question is simply this: 'What do others think of this particular software I'm looking at?' Two good resources for getting the answer to that are Serchen's dance school software list or Capterra's list. Note their overall scores from customers (both sites use a five-point scale), and browse through the reviews themselves, just as you might if you were looking to buy a product on Amazon. And, just like Amazon customer reviews, look for what most of them say, as there will always be some odd ones out there — a reviewer who hates a particular feature that 50 other owners love. Still, such lists are extremely valuable in picking the best software to meet the needs of your dance studio."
Which leads to the fifth question I should ask…
"'Do I have time to do this?' I'm sure that any dance studio owner trying to decide whether or not to purchase is already wondering this. Let's face it, analyzing if the timing is right, picking the right provider and then getting the software set up to work for your business will take some time. But if a dance studio owner or manager feels like they simply don't have the time to do this work, it's actually the best indicator that they are not running their business but that their business is running them! This is precisely the time to make the leap into using studio management software. I know the owner of a class-based business in the Seattle area who is still trying to operate without any management software, in spite of the fact that they have over a thousand students. It was a nightmare, and an expensive one at that. She had to hire more employees per student than any other business I know. Obviously, she is spending way more per month on payroll then she would ever pay for software monthly.
And, yes, while doing the research to pick the right software provider takes time, doing so can save you a lot of money later. It is important that you make a smart choice on your initial software purchase because, while you can always switch later, the work involved in doing so can be daunting."
For more information on ClassJuggler Dance, visit www.danceclassjuggler.com.