Dance Informa offers you the next installment in our series on alternative dance gigs! This month, we're talking about stunt work, and the various ways you, as a dancer, are perfect for the job. If you haven't read last month's article about STREB, check it out here.
Marcus "Zebra" Smith is a Bermuda-born, New York-based dance artist who's put his talents to use in everything from fashion to fire dancing. But today, we're chatting about his experience as an Action Hero with STREB Extreme Action. He falls, he flies, and he's here to talk about what that takes.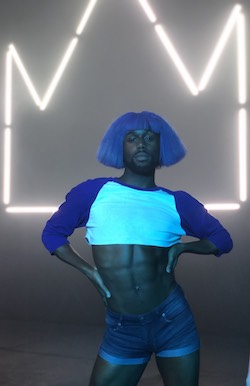 You're a busy guy; you've done a lot of impressive work as a dancer. We'd love to chat specifically about your work as an 'Action Hero', with STREB Extreme Action. What is working as a stunt dancer like?
"Honestly, it is one of the best experiences I've had in my life. You work hard and play harder. You learn what it's like to be part of a well-oiled machine while working on well-oiled machines. The machine pieces are so cool! The foundation technique is 'Popaction', a movement vocabulary created by Elizabeth Streb. Then each piece showcases how Popaction translates to the movement of the machines. 'Remain' is Popaction in a plexiglass box. So it gets nice and loud in there! 'Landscapes' is Popaction on ladders drilled to the floor and the wall. This piece happens in counterbalanced pairs. So the Senior Heroes not only take into account how to defy gravity but also an awareness of their partners' relationship to gravity, too. My personal favorite was 'Revolution'. The easiest way to describe it is a giant hamster wheel. There are people inside the wheel, on the outside, flying off the top, sliding under the bottom. So much happens in that piece. At one point, there are eight Heroes on the wheel at the same time! Working together and communicating throughout the pieces makes them even more fun."
What about your dance training prepared you for stunt work? How do you think it made you stand out?
"My dance training taught me how to move with passion, how to create an energy that fills a room. Everyone in the company has their own special something to offer, and I think mine complimented the other members' very nicely."
Was there anything about your technique or approach that you had to change from your training as a dancer? Any rewiring required?
"It's a very unique technique that's all its own. It's a full body awareness. Everything is involved and remains engaged throughout every movement, shape or position. I've never been good a pointing my toes, but even they started to get it together as the journey progressed!"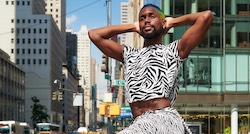 What was the scariest moment for you? How did you overcome it?
"The whole job is scary! In my experience, the work brought up a lot of fears of what I thought my limits were. However, every member of the company, and Elizabeth Streb herself, know how hard the work is. But they also know that it can be done. Everyone is so selfless, and they are all there to support one another! They assure your safety and making sure you work through the progressions one step at a time. The 'Personal Best System' with a supportive push, if you wish to go further. We struggled together and we triumphed together, which made us grow stronger together!"
Are there elements of your experience as an Action Hero that you think you'll carry forward into your future work as a dancer?
"The power of positive encouragement and support! There's no point in envying someone else's progress. The world is big enough for all of us to be great in our own special way. So encourage people, commend them for their good work, and if someone helps you, say thank you!"
For any of our readers interested in getting involved in stunt dancing, what would you recommend?
"Head over to S.L.A.M. (Streb Laboratory for Action Mechanics)! The energy of the space is infectious and filled with loving people who have the same appetite for the extreme. The classes are taught by the Action Heroes and STREB staff who are incredibly well trained in the same vocabulary they'd be teaching you. All it takes is one foot in the door to learn that you can fly. I am beyond happy and grateful I took that step, and you will be, too!"
Follow Marcus Zebra Smith on Instagram to see what he's up to next: @tizzebra. Check out STREB Extreme Action here. See a show, or take a class and try stunt dancing for yourself!
By Holly LaRoche of Dance Informa.