When Costa Rican dancer Lorena Pérez and business partner Adriana Montalvan started From Artist to Artist, she didn't expect the dancewear company to grow so fast. With a simple vision of connecting art and artists by printing paintings on leotards, the project has now grown to include 32 artists worldwide, and quickly counting. From Artist to Artist boasts painters from Costa Rica, Canada, Germany, Mexico, England and the United States. Since opening this past April, From Artist to Artist has hosted collaborations between eight photographers/videographers, two designers and 22 dancers. The dancers involved are from companies and institutions like Complexions Contemporary Ballet, Ballet Hispánico, Martha Graham Dance Company, Ryder Dance and NYU Tisch School of the Arts, and hail from Costa Rica, Mexico, the United States, Canada, South Korea, Brazil, Venezuela and Colombia. With such an international and prestigious base, From Artist to Artist has taken off like Pérez had never imagined.
Can you talk a little bit about the mission behind From Artist to Artist?
"We want to join talent from all over the world, involving all types of artists. Photographers, videographers, painters, graphic designers and of course dancers. We create wearable art pieces, but more than that, we're creating a platform for artists to learn more about one another's art and to work together to create something beyond their artform."
How do both dancers and visual artists benefit from this?
"A lot of the time, dancers need amazing photography for their work. So those who model for us, not only do they get leotards, but they get great footage. They get to meet photographers and videographers. And the dancers teach them, too, about the best lines and angles to catch certain moves and styles of dance. And the dancers get to work with the painters. They learn about everything behind the painting, about the painter's inspiration. Dancers who buy the leotards receive a note from the painter as well, about the piece they're wearing and the inspiration behind it. The painters (on top of selling their artwork to a new market) get to see their paintings in another medium. A lot of them have expressed how passionate they are about dance, and some were even dancers in the past. They get to see their piece in movement.
I hate the word 'exposure'. That's not at all what I want this to be about. I feel like it's more about the actual work and conversations that are being had during the photoshoots or the creation of the leotards. It's more about how we learn about one another's artforms. Getting your work and your talents out there is important. We always need media, but what I want more than that is to work as a team, and to enjoy the process. To learn how to work with one another in a way that makes everyone feel comfortable. It's more about opportunity to learn from one another."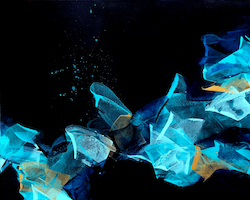 Where did the inspiration come from? How did you get started?
"My sister, Ana Maria Pérez, and I talked when we were younger about how cool it would be to have our aunt's work (Ana Beatriz Sánchez, she's a Costa Rican painter) printed on a leotard. And then as we grew up, each of our own careers took us away from that idea. But last year, Adriana Montalvan, now our business partner, and I were talking about that idea. She loved it. She's really passionate about fabrics; her family is in the textile industry, and she has several businesses relating to that. She had answers to all of my questions. Now we're working together; we complement each other really well. This just ties back into how to collaborate, how to treat artists and respect and learn about their work. It all started as a conversation about how to join artists from many disciplines, many places, in one project. And I can do all of that with From Artist to Artist. The leotards are almost like an excuse to have a collaborative platform. I'm receiving so many DMs from visual and dance artists saying, 'This is what I do! How can I help? How can I be a part of this?' And I like that. I like that people are reaching out, and that we're working with dancers we'd never imagined we would, or never would have met otherwise."
Speaking of collaboration, what partnerships have you formed with dancers and dance companies?
"We work both with individual dancers like Tatiana Melendez from Complexions, and also work with companies as a whole. Like Ryder Dance, in New York. Or the Youth Ensemble of the San Jose Ballet Festival in Costa Rica. We designed their costumes for the festival."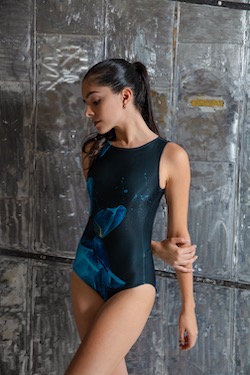 Would you ever take commissions?
"Of course! It depends on whether the artist is willing to share their work. Then we'll negotiate royalties, and get a high quality copy of their artwork. So we have artists whom we reach out to, some reach out to us, but we would also love people to propose artists they like."
Where do you hope to take From Artist to Artist? What are you dream goals for the company?
"We want to work with other designs; right now we're only doing leotards. I'd love to create another line for costumes. We want to expand our network to costume designers and fashion designers. I want to host events that involve everyone, from all artforms, maybe starting with a gallery art exhibit that integrates movement. It can function as cross-artform networking event, too. It's also important that the brand is not only for artists but also those who enjoy art and appreciate art and want to learn about it, and I think events can help open the brand up to those people."
Check out From Artist To Artist on Instagram and Facebook to shop leotards (international shipping available), and to learn more about the company's mission.
By Holly LaRoche of Dance Informa.