Dance Informa caught up with Denna Thomsen and Zak Ryan Schlegel of CONGRESS, an exceptional salon-style collective that serves as a platform for cross-genre dance artists. Read on to hear about the intimate environment they've created that values open discussion, audience expansion and strengthening the dance community at large.
How did you come up with the idea for CONGRESS, and how long did it take for that idea to become a reality?
Denna Thomsen
"After performing at the Super Bowl Halftime Show with Madonna in 2012, I realized that my 'dream' was nothing like I had imagined it would be. I questioned whether or not I was happy with the fact that I had trained my whole life to be in the background and soon realized that my dream had grown. I wanted the dancer to be in the spotlight. At this point, Zak and I had been friends for about a year, and I asked him to meet for a drink in Hollywood."
Zak Ryan Schlegel
"CONGRESS was born from our creative desire to self-fund a work for our physical theatre project (AXIOM Dance Theatre). The fundraising trends seemed stale and self-indulgent, so we set out to raise money in a way that would stimulate the community. We called on the artists and colleagues who most inspired us, and they responded. Our first showcase was monumental, and we realized we had given birth to something important. Over the next few years, while Denna and I were drawn apart by separate creative pursuits, we would reunite when we could to continue CONGRESS. We saw that it was growing its own legs and forming its own identity, and decided it was time to give CONGRESS our full attention. To respond to the demand from the artists and audience, to honor the promise we made to each other and our community, and to fulfill our responsibility to govern our project by affording artists the opportunities and trust we wish we would have been given ourselves."
Why did you go with the name CONGRESS? A reference to democracy?
Thomsen
"The root definition of CON-GRESS means 'Step Together'. When we were researching a title that encompassed the overall feel of our show, it was obvious there was no better representation! The dance industry often feels divided, and we want to take a stance on joining together because we are more powerful when we use our collective voice.
Our preferred definition of democracy is 'a system of processing conflicts in which outcomes depend on what participants do, but no single force controls what occurs and its outcomes.' At CONGRESS, we offer a single question to each choreographer or 'Con Artist' regarding the dance industry and introduce their responses to the audience. This method has paved the way for countless discussions that are not being had nearly enough in the dance community."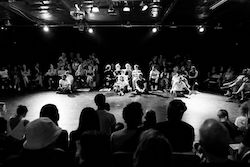 Schlegel
"We are working to desegregate our community on every level. CONGRESS redefines what it means to be independently producing dance work by arming our artists with space, compensation and creative freedom. Our dream is to systematically de-politicize a scene that can be overwrought by isolation, old value systems and restrictive hierarchies. We believe there is a magical bind that connects us all when we abandon assumptions and allow one another to tell our stories."
Can you each tell us a bit about your artistic background? How did you get started?
Thomsen
"I started dancing in Omaha, Nebraska, on my living room table while 'Beat It' by Michael Jackson played in the background. Years later, I received a BA from Colorado State. During my time in college, I focused on ballet, modern, and jazz, and learned the importance of storytelling through movement. After graduation, I flew out to my first ever audition and was selected to join California-based Hysterica Dance Company.
This was a pivotal point in my career. During rehearsals, director Kitty McNamee broke me out of my shell, challenging my physical and mental boundaries. For the first time, I felt free! I also met Ryan Heffington and began a lifelong friendship. The rest is history!"
Schlegel
"I am a dance artist with Shen Wei Dance Arts, a teacher at the Joffrey Ballet School, and a choreographer both institutionally and independently. I hold a BFA in Dance Performance from Chapman University with a philosophical and literary underpinning. I am a three-time Outstanding Choreographer of the Youth America Grand Prix and have worked across the concert and commercial spectrum. I am currently creating an evening-length, experiential sound bath, 'Liminal', with Jonsi and Alex Somers of Sigur Ros.
Right now, I am based in Italy, and perform internationally. I am most thrilled by the engagement of educating, creating, curating and performance, and how each of these four pillars inform one another. Artistically, questioning is at the center of my interest; the closest we can come to understanding life and one another is by questioning everything."
What have been some of the highlight performances at CONGRESS, and what made them highlights?
Schlegel
"Every. Single. One. There is something unique that happens exclusively at CONGRESS. The artists drop all pretenses and become entirely visible, human, and harmonious with the room and audience. Judgment vanishes, and we are left with a naked unity that transcends the evening. To me, the entire catalogue of CONGRESS performances has become a singular and symphonic voice. Together, we scream with violence, with peace and with freedom."
How are you able to pay your artists? Is their getting paid a major part of your mission?
Thomsen
"We are able to pay our artists through ticket sales. We are tired of people saying, 'This job will give you great exposure! It will create a blossoming relationship for the future!' Our rebuttal is 'No! We will not work for free. We will be valued and treated like any other artist.' We as a community need to stand together and demand equality. With CONGRESS paying artists, we hope to start a new way of demand for the younger generation."
If artists were to take one thing away from CONGRESS and its mission, what would you want it to be?
Thomsen
"You are worth more than what the industry is giving you, and we can make a change together."
Schlegel
"All ideas are valuable, and all things are possible in the climate of freedom you choose to create."
For more information on CONGRESS, visit legalize.dance.
By Charly Santagado of Dance Informa.