Obie and Bessie Award-winning company, Big Dance Theater, is presenting a trilogy of works at New York City's NYU Skirball in November. The works have never been seen in America, and are created by Artistic Director Annie-B Parson and Paul Lazar.
In the eponymous piece, The Road Awaits Us, featuring a cast of performers over 70, Parson draws on themes from Eugene Ionesco's play, The Bald Soprano.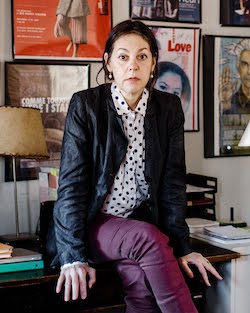 Parson says she chose this text as a response to the historical moment. "This text rang true to me when I was looking for a springboard for a new work in 2017. Trump had just been elected, and I needed to work with something that made no apparent sense, had no apparent depth and felt totally absurd. The emptiness of the community, the reality of the absurd in our lives, the sense of nonsense and the lack of psychology in the writing means a lot to me."
The piece was originally created for Sadler's Wells Elixir Festival in London in 2017, for an ensemble of older performers with formidable biographies. The performers have worked with all of the greats of 20th century dance and performance, including Pina Bausch, Robert Wilson and Alvin Ailey. Parson seems to be drawn to work with such unconventional performers.
"I loved the challenge of working quickly with strangers!" says Parson. "And of course, I loved that they held a dance history in their bodies."
Parson frequently uses objects in her work. In The Road Awaits Us, Parson describes a unity between her choices of materiality and the themes of the work.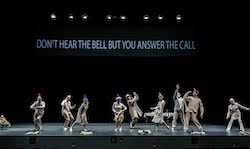 "I am working with a large, heavy, silver platter of fruit," she explains. "I have always craved working with this object, as I have observed it again and again in old paintings. And that tray of fruit is so Chekhovian; it shows up in most of his great plays. I guess it is something I aspired to use and didn't feel I had earned it oddly. I's so esteemed, the fruit almost rotten it's so soft, its aroma drifting off the page or the canvas. So it has centuries of consideration and metaphor. It has been regarded and described by the greatest of observers. And it's such a bit player, which I love. In retrospect, I think I brought it in to the studio because I was working with elders."
Alongside The Road Awaits Us, the Big Dance Theater Skirball season includes premieres of Cage Shuffle: Redux and Ballet. Cage Shuffle: Redux uses John Cage's performance lecture, Indeterminancy, as source material for a remaking of the work, with choreographic material by Parson. Ballet is a duet which uses the conventions and traditions of classical dance as material.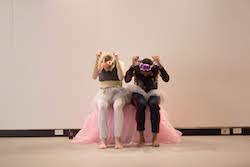 "As a student of ballet, I of course am devoted to the form itself," Parson says. "I had a residency at a wonderful center called The Center for Ballet and the Arts, and it inspired me to delve into ballet. Ballet has changed right along with the culture to express the 'self' in drastically different ways since the fairy ballets of the 19th century. This interests me."
Parson is looking forward to the frisson that the works will create with one another. "Part of the surprise for me is that I can't know without an audience," she says. "I will need to sit in the audience and feel the resonances right along with the audience."
For more information on Big Dance Theater, head to bigdancetheater.org. The Road Awaits Us will run at NYU Skirball from November 8-9. For tickets, visit nyuskirball.org/events/big-dance-theatre-road-awaits-us.