With the encroaching cold weather comes a seasonal staple for dancers: The Nutcracker. But while some of us are relearning the same old Snow choreography, the students at the Debbie Allen Dance Academy are preparing something else entirely.
This year marks the 10th anniversary of Debbie Allen's Hot Chocolate Nutcracker. Telling the old tale with a modern twist, this rendition showcases the Academy's dancers as they perform hip hop, jazz, tap, modern, Bollywood and classical ballet, too. There's some serious star power up on stage alongside these students. The cast list includes Raven Symone (Raven's Home), Carlo Imperato (FAME) and Debbie Allen herself, as well as guest appearances by Jenifer Lewis (Blackish), Nigel Lythgoe (So You Think You Can Dance), and other big names during the gala performance on December 7. The production features Allen's choreography and is set to an original score by Arturo Sandoval, so no wonder the Hot Chocolate Nutcracker has become a new Christmas classic.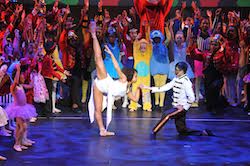 Debbie Allen invites you to spend Christmas Eve with the Johnsons, and follow young Kara on her magical journey through Candy Cane Land, Egypt, the Indian Rainforest, Bollywood, Birdland and the Land of the Kimono Dolls, all narrated by "The Real Rat Pack of New York". Dance Informa catches up with Allen about her show's re-designed story and what it means to her.
What made you want to re-design the Nutcracker story? We're all aware how problematic some of the themes in it are, and how outdated the story is. How did you approach changing it? Why not just start from scratch with a new story?
"I was inspired by my son, Norman 'Thump' Nixon Junior, with the ripe old age of five. When accompanying me to a performance of the traditional Nutcracker, he screamed out, 'Mom, when is the rat coming?' The audience howled with laughter. And I knew then there was another story to be told. So I took the Mouse King and turned him into a trio of wisecracking rats, almost like the three stooges. They take us on a journey to other lands that I think musically and culturally add so much diversity and joy to the story."
What does it mean to be able to put on a show of this level, quality and recognition with your students front and center? That's experience and exposure like not many young dancers get to have so early in their careers. What does it mean to them?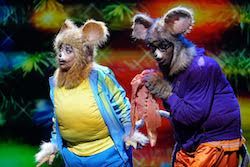 "It's everything to create a performance where you can really feature the talented and gifted young people of your academy. It's everything. It's the focus. It's the youngest generation that needs this desperately, this development in the arts and opportunity to perform and see themselves in lights that they can create. So they stand next to me, and they learn from me, they're inspired by me and my other masters, other teachers and choreographers, and when they hit the stage, even if they're five, they know I'm expecting a high level of professionalism.
Previous cast members (alumni of the Debbie Allen Dance Academy) have gone on to work on TV shows for Netflix, CBS, NBC, perform on Broadway in The Lion King, West Side Story, Chicago and Hamilton, be hired by cultural institutions like the Metropolitan Opera, Radio City Music Hall, tour with renowned artists like the Jonas Brothers and DJ Khalid, become members of highly respected concert dance companies like Cincinnati Ballet and Jacob Jonas The Company, and earn degrees from the likes of New York University and Yale."
You've had some big names take part in the show, both this year and in previous seasons. Do you find people are generally excited to be a part of it?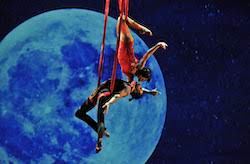 "People love the Hot Chocolate Nutcracker so much! I've received so many accolades and contributions and support. Because that's what we really need is more support and contributions to keep this work going. There are people who are prominent industry professionals, people who work at the DMV, people who work at the grocery store, all of them proud parents who are thrilled that their children are getting this opportunity. And it's great when they're on stage and they see someone like Raven Symone. They're over the moon that Raven Symone is going to be on stage with them. They're so excited. I mean we have a gala where there's going to be Nigel Lythgoe and Jenifer Lewis and Shemar Moore and Jesse Williams and Phylicia Rashād. This is incredible. Tommy Davidson, Tichina Arnold, Tisha Campbell. This is how we roll, because at the end of the day, all of these people care about the children in our world, in our community and want them to feel not only loved and paid attention to, but also want them to see what is possible."
Clearly, the show has become a modern-day classic, and I'm sure a new tradition for families. What do you hope audiences (of all ages) take away?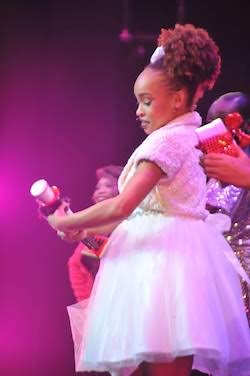 "I just hope they take away a sense of themselves on the stage, or take away so much joy that they can't wait to see it again next year. I hope that they come away with an idea that they, too, could adapt something or create something that could be magical and such a great family entertainment."
If you're in the area, catch the Hot Chocolate Nutcracker from December 5-8, at the Redondo Beach Performing Arts Center. Tickets begin at $40. In the spirit of the holidays, 100 percent of the proceeds from the show are dedicated to arts education for youth in the greater Los Angeles area.
You can follow what Debbie Allen is up to via Instagram at @therealdebbieallen. Learn more about the Debbie Allen Dance Academy at @officialdadance, or on its website www.debbieallendanceacademy.com. To learn about the Hot Chocolate Nutcracker specifically, check out www.thehotchocolatenutcracker.com.
By Holly LaRoche of Dance Informa.