Botis Seva, a London-based choreographer, has collaborated with director Divya Pathak to make Botis Seva: Air, a dance documentary. "It isan independent passion piece," says Pathak. "A researcher introduced me to Botis when I said I was interested in making a dance-related film. I watched a lot of his work on YouTube and found his dance very arresting. We have released the film online in hopes of reaching a global audience."
Seva provides the narration and the dance for Air. Anecdotes from his personal and professional experiences form an underscore for a movement piece that he also performs in Air. Seva was born and raised in London, and works in the UK and internationally. His family are originally from Democratic Republic of Congo.
"This does influence my work and work ethic," Seva reveals. "The Congolese music is a big inspiration and foundation of my movement also. I feel being from a Congolese family has played a big part in how I have grown up and how I see the world."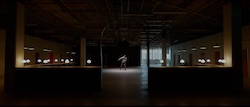 Seva is the artistic director of company Far From The Norm, which he established in 2009, to experiment with fusing styles like b-boying, krump, popping, hip hop, house, locking, lindy hop and contemporary.
"Far From The Normhas grown from when it started," Seva says. "The language is evolving as we experiment more and more with the hip hop language. As an artist, I'm still dealing with some of the same life and work issues from when I was 15, so the mood of the work has stayed the same. I have just found a better way to articulate my voice."
Hip hop is traditionally an improvised street dance form. Seva says it takes a lot of work to keep this energy in work that is then put on a stage. "Hip hop on stages is about crafting and finding new ways to use the form and the culture. The idea is always to keep the energy of improvisation and use this as a tool to make the work. I tend to read and research about theater a lot; this is also a history and reference point. Understanding what theatrical techniques I can draw upon when creating work."
Seva recently premiered a new work, BLKDOG, at Sadler's Wells Theatre, and 2019 sees him as guest artistic director of the Sadler's Wells National Youth Dance Company. In addition to this, Seva received the 2019 Olivier Award for Best New Dance Production. "It was an amazing moment to receive an award like this," he says. "It has kept me grounded and inspired me to keep putting in the work, but ultimately, nothing has changed."
You can watch Botis Seva: Air, a dance documentary, on Vimeo. To find out more about Botis Seva and Far From The Norm, visit www.farfromthenorm.com.
By Tamara Searle of Dance Informa.