Melvin Timtim, choreographer and director of hip hop dance crew S-Rank, is nominated for this year's Outstanding Choreography Emmy for his work on World of Dance. S-Rank competed in the second season of the show, becoming division champions and placing fourth overall among some of the industry's most competitive dance crews. Timtim has also worked with K-pop groups NCT 127 and JYP, is an internationally renowned instructor and is a 2017 Hip Hop International World Champion.
First of all, congratulations on your Emmy nomination for your work with your crew S-Rank on World of Dance. Did you ever expect or dream of being up for an Emmy?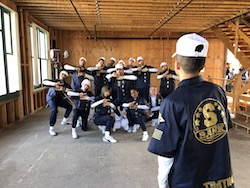 "Thank you very much. The thought of being nominated for an Emmy wasn't in the forefront of my mind when we did the show. I was so excited to share my work and my amazing team. When I heard that I was nominated, I couldn't believe it. It took awhile to really hit me. I am so honored and feel so blessed to be nominated alongside amazing artists who I respect. It's a really special moment for me."
How did you come to dance, and what drew you to hip hop specifically?
"Hip hop music has been my number one inspiration since I started dancing, from '80s boy culture to urban, so moving to the music always came naturally. When I first started dancing, my dad didn't know about it; I didn't think he would approve. I would clean the studio to cover dance classes, and eventually taught and choreographed in exchange. My dad never knew I was at the studio.
The first time my dad saw me dance was actually on World of Dance. It's a little odd that the first time he saw me dance was on national television, but it brought us a lot closer, and now having him understand my love for dance has been really great."
What's been your favorite project so far, and why?
"My favorite project so far has been creating NBC World of Dance sets, because I was able to perform my pieces I am very proud of, with my friends doing it with me."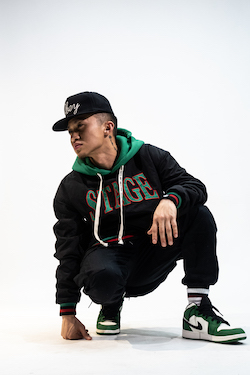 You've worked with a variety of artists in styles from hip hop to K-pop. What are some of the biggest differences you find between working with your S-Rank dancers, and with K-pop stars? How does your process differ?
"Working with S-Rank dancers feels more like a family vibe, and is a really comfortable environment to create, be free and be a bit more relaxed since we are all friends. Even though the environment is more relaxed, we get a lot done and are able to put out strong content, and we perform together. Working with K-pop artists is more of a professional environment with a focus on training the artist in my style."
What would you do after an Emmy? Where would you like to see your career go next? Any collaborations you'd like to make happen?
"I would love to use my movement and craft working with artists in the entertainment industry, like in film or TV. I would love to choreograph for a movie or show."
Do you have anything in the works for us to look forward to?
"Be on the lookout for more S-Rank projects coming soon!"
Follow Melvin Timtim and S-Rank on Instagram to stay up to date with their work, classes and where to catch them perform.
The Creative Arts Emmys will air on September 21, at 8pm on FXX.
By Holly LaRoche of Dance Informa.