The upcoming blockbuster, High Strung Free Dance, is causing a buzz (who doesn't love a great dance movie?), and we were thrilled to meet some of the stars at Só Dança's booth at DancerPalooza in July. With the release of the movie happening in October, hype is well and truly starting to build. We wanted to find out more about what it was like on set, the best bits of the movie and, of course, the incredible Só Dança wardrobes the cast got to wear.
As most professional dancers know, working together with other artists is always a highlight of the job. Jorgen Makena, who plays female antagonist Kayla Jordan, loved the filming experience from start to finish. "It took six weeks for us to film," she explains, "and we were in Romania all together, so the cast got really close. We all just got to hang out and spend a lot of time together."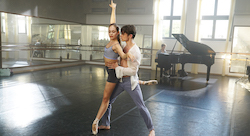 Fellow cast member and rapper Ali Tomineek, who plays Alex, agrees. "I loved being around the cast and vibing off of their energy. It's such an energetic movie," he says. "The performances from everybody, the dancing, the rapping, the whole production was just so amazing."
Harry Jarvis, who plays Charlie, shares, "There are so many unbelievably talented performers all around you, and you're in the middle of that. I was playing the piano, Ali was rapping, and it was absolutely beautiful to be a part of that and in the middle of the hub of the energy."
"There's so much talent," Tomineek adds. "I like to be around talented individuals because it starts to seep off of them on to me. I always get more driven when I'm around talented people."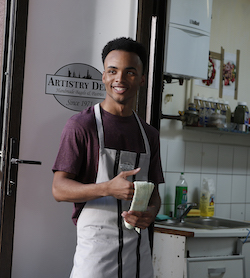 Not only was a talented cast assembled for High Strung, but incredible choreographers came together to create the countless dance scenes that make up the movie as well. "Tyce Diorio was the head choreographer on it," says Makena. "And Phillip Chbeeb, Desmond Richardson, Myles Thatcher and San Francisco Ballet all worked on it. Nakul Dev Mahajan did a huge Bollywood number for me, which was kind of my entrance in the movie. The list of choreographers was amazing!"
Inspiring choreography isn't the only impressive part of the movie. High Strung's costume designer reached out to Só Dança during pre-production with a goal of making sure all the dancewear was fashion forward and bang on trend. "Every dancer looked incredible," Makena says. "Juliet and I got to wear all these different styles of So Danca's shoes, so that was really awesome. And my character Kayla is kind of the bad girl, so I got to wear all the extravagant stuff! I had the rhinestones and sparkles, and anything that was just really pop-star material. It was great."
The end result is a movie that Makena, Tomineek and Jarvis say will blow us away. "It's just magical," describes Jarvis. "It really is, and if you get a chance to go and watch it, do because it is unreal."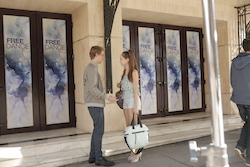 "It's breathtaking," Tomineek adds. "I wasn't on set for the entire filming of the movie, so seeing what else was brought really surprised me. Seeing Harry's performance I was like, he killed it. Killed it. It's an amazing movie all around. The last shot is like; you have to go see. You have to go see the movie!"
Makena is just as emphatic. "I think people will love that every single scene has dance in it. Just one number after the next," she says. "There are all different kinds of styles in it, and there are so many different dancers in it that you'll recognize from other things so it's really awesome."
As for the best bits of the movie, all three cast members had their own take. "My favorite for sure is my Bollywood number," says Makena. "It's the first time you see me as a pop star, and it's a huge musical scene. I got to perform in front of Thomas Doherty, and I was just living my whole dreams in it!"
Tomineek shares, "I would say my favorite scene is the last musical dance number because the way it's all building up to the final performance. The way that they put the twist and turn; I can't even put it into words. The final dance scene, it just puts the cherry on top."
"Filming the final dance scene was the most incredible one for me," agrees Jarvis, "but in terms of actually watching, there's a dance called 'Lion' that Juliet does as a duet. I remember watching it on the side, probably about day four, five of filming. That's the day I truly realized like, 'Oh wow! This movie is going to be something else.' Her dancing there made me truly appreciate ballet in the way that I never had before because it's such an art form."
That moment of realization is one Jarvis hopes moviegoers will experience when they see High Strung for the first time, too. "Even the people who aren't interested in dance so much, or aren't interested in rap, or whatever it is," he explains, "I hope that this movie inspires those people because it did for me. As just an actor, it definitely opened my eyes to a whole new world out there."
For fans of the movie, So Dança has created the HSFDxSD capsule collection featuring unique tops and leggings inspired by the movie.  The proceeds for this collection will go towards American Dance Movement, a foundation funded by Nigel Lythgoe, with the full intention of helping the foundation with their important mission of expanding access to dance. Shop the collection here.
High Strung Free Dance is released in the USA on October 11. Visit the official website here.
To view Só Dança's full dancewear range, click here.
Interviews by Deborah Searle of Dance Informa. Article by By Emily Newton-Smith of Dance Informa.