There's always a "sigh" when summer is over. The beach, fun times with friends and long days are in our past. But there's a fresh start ahead, with the new year full of school and dance. Head back to school and dance this year feeling refreshed, inspired and maybe even a little bit stylish, with these tips from a few Só Dança ambassadors.
What have you looked forward to when returning back to school and dance after the summer?
Hannah McCain
"I really look forward to seeing all of my friends every day of the week again, doing what we love at the studio together."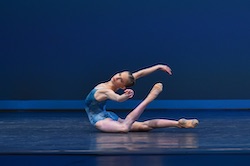 Catherine Rowland
"Well, the thing I am always most excited for is getting back into the studio and dancing to continue reaching for my dreams and aspirations! I am also always excited for my academic classes because I love to learn and enhance myself as an individual."
What advice do you have for dancers hoping to start the new school/dance year feeling energized and inspired?
Antonio Casalinho
"The best way to start the year is knowing that we have no time to lose because, if dance is what you really like, then you won't get tired of it, and that way we know that we have to spend the time working."
McCain
"I would suggest to watch other dancers and think about what they liked and what they could learn from them. I believe that you can learn something from everyone you meet/see, so observing others really helps me. Also, try getting out of your comfort zone, whether that is new music, new friends, new steps or even a new mindset. The beginning of a new school/dance year opens the door to endless opportunities!"
Rowland
"Don't compare your journey to anybody else's and don't compare yourself to anybody. This is your art and your love; you can do this if you put your heart, mind, and soul into it. Work hard and always work smart, and, last but not least, enjoy your journey."
What are some Só Dança dancewear items you're looking forward to adding to your closet this fall?
McCain
"I love all of the dancewear items that I currently have, including all of my shoes. My favorite thing about Só Dança dancewear is the widespread selection of 'tap' merchandise. It can be difficult at times to find dancewear for tap dancers, and I love everything that Só Dança puts out for it."
Casalinho
"The Stretch Canvas Split Sole Ballet Slipper in black, white and nude; Men's Opaque Black Tights; men's pants; and more."
Rowland
"That is for sure a very hard question because if it were up to me, I would have all of the Sara Mearns Collection and the fashion line of leotards, and of course I will definitely stock up on my SD16 ballet flat shoes."
What else should dancers remember when heading back to school and dance after the summer?
Casalinho
"Dancers should remember that dance is what we love and what we want to do for our lives, so we have to enjoy it fully."
McCain
"New season, new ideas, new mindsets, new opportunities!"
Rowland
"Remember to always have fun and love what you do because in the end that is all that matters!"
Head to your local dance store and ask for Só Dança, or jump over to www.sodanca.com for some back-to-dance shopping!
By Laura Di Orio of Dance Informa.