The time is upon us. Summer is coming to a close, and we find ourselves gearing up for another academic year. The transition from summer to fall can be tedious, daunting, even anxiety provoking. Being a parent to a kindergartner, I found myself asking how I could help my child transition back into the school year after such a fun-filled relaxing summer break. Additionally, I wanted to confront the back-to-school jitters that we both encountered. This is of course when I turn to my first passion, dance, for inspiration.
Dance has always been more than just a physical activity to me. While I am not now nor have I ever been a professional dancer, I am a dance/movement therapist, and this allows me the ability to see dance and movement as a way to support any transition in life. It is important to me to use movement outside of the dance studio as a way to validate, support and transition from one season to the next.
Whether you are a student, educator or parent, dance has so many lessons to teach us and can provide a wonderful aid in moving us, pun intended, from summer break to fall. Not only does dance help move our body into the school year, but it can also help stabilize mood, provide an outlet for expression and become a healthy coping mechanism for stress release. So how exactly can dance help us make the transition into the academic school year?
#1. Provides discipline and structure
So often we associate this word with punishment, but this can actually be a practice in self-regulation and control. The Latin word disciplina means "teaching, learning." Dance has a way of disciplining mind and body. It also provides structure and organization. These are all attributes than can help ease us back into the academic schedules we grow unaccustomed to in the summer months.
#2. Helps maintain and build focus
Dance helps us focus our body and our mind. When we train in the studio, learn choreography or audition for a company spot, we concentrate our attention in order to execute a task. Focus allows us to execute skills, as well as build memory and cognition. Transferring our focus from the dance studio to the academic classroom can support learning and foster academic achievements.
#3. Encourages flexibility of mind and body
Flexibility of the body translates to flexibility of the mind. Flexibility can be another way of looking at transitions outside of the dance studio. When we have the ability to be flexible in our thinking and decision-making, we can also cope with the unexpected, including the academic workload. This is one of the hardest parts of going back to school. Being able to roll with the punches allows us to better handle difficulties and intense emotions that come our way.
#4. Supports creativity and imagination
Dance and expressive movement fosters creativity and imagination, two things than can help ease us back into the school year. It is important to balance academics with social and artistic endeavors. Tapping into our creativity and imagination makes us better problems solvers and can give us the ability to think critically. It can also teach us to not take ourselves too seriously. Remember that it is important to have fun in addition to learning.
Dance teaches us important life lessons that translate into the classroom. When we engage in dance and movement on a regular basis, it helps us to think on our toes. This ability to think or react quickly helps with critical thinking, executive functioning, responsiveness, and memory retention.
Dance can teach us to strive for excellence, not perfection. While it can be difficult to keep the perfectionism at bay, dance teaches us that we each have our own strengths and talents. We have our own flair and unique qualities that make us individuals. Just like in life, there may be people who perform at a higher level, as well as people who struggle to keep up in certain arenas. We can all strive to be the best version of ourselves.
Lastly, dancing mindfully can teach us to prioritize self-care. By listening to our body, we learn when to challenge ourselves, as well as set limits so as not to injure or overdue it. The same can be said in life. We must listen to our body cues on and off the dance floor to ensure a healthy school year for body and mind.
Here's to a safe, productive and exciting school year!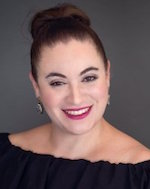 By Erica Hornthal, LCPC, BC-DMT, Dance/Movement Therapist, Chicago Dance Therapy.
Erica Hornthal is a licensed professional clinical counselor and board certified dance/movement therapist based in Chicago, IL. She received her MA in Dance/Movement Therapy and Counseling from Columbia College Chicago and her BS in Psychology from the University of Illinois Champaign-Urbana. Erica is the founder and CEO of Chicago Dance Therapy, the premier dance therapy and counseling practice in Chicago, IL. As a body-centered psychotherapist, Erica assists clients of all ages and abilities in harnessing the power of the mind-body connection to create greater awareness and understanding of emotional and mental health. For more, visit www.chicagodancetherapy.com.