Dance Informa offers you the next installment in our series on alternative dance gigs! This month, we're talking about dance film, and the various ways you, as a dancer, are perfect for the job.
Dance Informa speaks with Amy Gardner, a boundary-breaking dance artist, choreographer and director, interlacing movement with film, television, live performance, multi-media production and branded content. Her work has been presented by the Lincoln Center Atrium and featured by online platforms such as i-D, Vice and Nowness.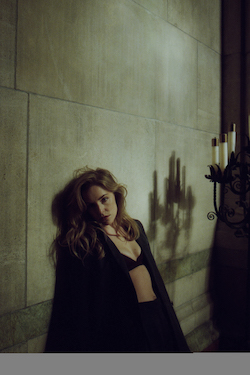 How were you introduced to dance on film?
"My introduction to dance on film began roughly 10 years ago, while working on a TV show in Toronto. After that show, my career continued to include a great deal of on-screen work, from commercials to television to large-scale movies requiring dancers. About five years ago, I was asked to choreograph and act in a music video called 'Life in Grey', directed by Montreal filmmaker Jodeb. This experience introduced me to a whole new world of filmmaking. It took place at a pivotal point for me, as I was transitioning from my life in Montreal, to one in NYC, and I was looking to expand the perimeters of my career. I became infatuated with the mediums of film and photography and have been merging these passions ever since."
What brought you to create your dance company, annoDAM?
"I had always known that I would have my own company. My move to NYC corresponded with a shift in my career, as I was finding a lack of fulfillment only dancing for others. There was one specific event that occurred while working for a well-known artist that really reinforced my need for change. I went home that night and founded annoDAM. Our first project was a film I created called FUEL, which was also my directorial debut. While most of our work to date merges dance and film, my intention is to keep the doors open to live work and collaborations with other entities and artists."
Often in dance film, movements are choreographed and set, including the camera's. Your process is much more conceptual. Could you talk a little bit about this approach?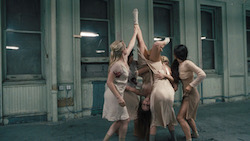 "At the moment, I am very inspired by developing concepts as opposed to preordained outcomes. While it is important to build a solid framework for your work, I rarely get married to preconceived ideas. Cultivating a specific energy on set is more valuable to me than a carefully crafted shot list. I trust my intuition, and when I remain devoted to it, I connect to a creative power that cannot come from conscious preparation. Stylistically, I tend to gravitate toward things that are raw and imperfect anyway, so this process serves me well."
What are the differences between a choreographer and a movement director?
"I consider myself both. While their definitions are subjective, for me, choreography revolves around developing a clear sequence of moves, and movement direction uses creative tools to evoke a certain story or quality within someone's body. When working with other directors, a note I often receive is that they want it to be movement but not look too 'dancey'. In these situations, I use movement direction as opposed to clear cut choreography in order to relay the feeling they are trying to emit. When working with non-dancers, I go to my movement direction tools to develop a language of movement that works best on their body. I am most satisfied when I am able to combine the two techniques, using movement direction and task-driven work to develop choreography."
How is dancing/choreographing for the camera different than doing so for stage?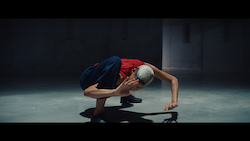 "The main challenge in choreographing for camera versus stage is that you seldom have enough time to develop an idea properly and invest in a creative process. Things move quickly in the film world, and you have to adapt. With that said, dance on film also has many advantages. The work is accessible to a much larger audience. You have the capacity to integrate the dynamism of cinema, locations and a carefully crafted aesthetic to heighten your story. You can also direct the audience's eye to what you want with more precision. For me, editing is a form of choreography. On the other hand, there is so much integrity in live work. What you see is what you get, which gives the artists involved a great amount of responsibility. The majority of my favorite choreographers come from the concert world. As much as I love film as a medium, I aspire to also create powerful work on the stage."
When choreographing for film, what are some of the qualities you look for in the dancers you work with?
"There are many components that go into casting, such as appearance and ability, but when all is said and done, I am looking for people who can deliver a raw and authentic performance and take direction well. Quite often, my films are inspired by a specific muse, so in those situations, casting is predetermined. At the end of the day, it's a matter of taste. What do I personally gravitate toward and who do I trust would go to the end of the world with me if I asked them to."
What would you suggest to dancers interested in exploring dance film?
"Do your research, and get on to as many sets as you can. I would suggest developing content that resonates with you and a process that inspires you to create. Many dancers are simply setting up a camera and dancing in front of it, and I want to encourage you to go way beyond that. There is so much to explore when it comes to the language of the camera, lighting, directing techniques. Lastly, find passionate collaborators who share similar values to you. Your team is extremely important."
Follow Amy Gardner's work at amy-gardner.com or on Instagram @amy.j.gardner.
By Holly LaRoche of Dance Informa.