In June, San Francisco Ballet (SFB) announced 10 promotions, three new company members and five apprentices for the 2020 repertory season.
Soloists promoted to principals include Benjamin Freemantle, Esteban Hernandez and WanTing Zhao. Corps de ballet members promoted to soloists include Madison Keesler and Cavan Conely. Apprentices promoted to the corps de ballet include Estéban Cuadrado, Max Föllmer, Joshua Jack Price, Leili Rackow and Jacob Seltzer, along with Jasmine Jimison, who received her promotion in March. SFB also welcomed Misa Kuranaga as a principal, Sasha Mukhamedov as a soloist and Bianca Teixeira as a member of the corps de ballet. SunMin Lee, Tyla Steinbach, Rubén Cítores, Lleyton Ho and Adrian Zeisel of the San Francisco Ballet School received contracts as apprentices.
Dance Informa spoke with Benjamin Freemantle, Madison Keesler and Jasmine Jimison about their careers, the company and the upcoming season.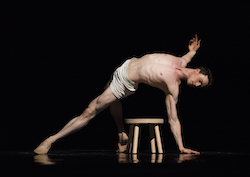 Freemantle joined SFB in 2014, as an apprentice. By 2015, he performed as a corps de ballet company member,and in 2018, after his performance as a pas de deux sailor in Jerome Robbins' Fancy Free, he received a promotion to soloist. His recent appointment to principal followed his performance as the Sea Witch in The Little Mermaid. During his time with SFB, Freemantle danced principal or featured roles in Van Caniparoli's Ibsen's House, John Cranko's Onegin, Robbins' In the Night, Myles Thatcher's Manifesto and Christopher Wheeldon's Cinderella. Freemantle also held lead roles in several works choreographed by artistic director and resident choreographer Helgi Tomasson, including Haffner Symphony, The Nutcracker, The Sleeping Beauty and Swan Lake. In addition, he originated a lead role in Trey McIntyre's Your Flesh Shall Be a Great Poem.
According to Freemantle, he prepares for each role in a different way. "If the role is based on a character in a book, I would read the book and figure out how they talk, walk, are and decide how I want to play it and which parts to emphasize for the stage. If it's a new work, I would discuss the overall idea with the choreographer and see what they're going for and try my best to recreate that character. For the most part, the choreography should naturally pull the character out from you."
Madison Keesler, although trained at the SFB School, began her career with the Hamburg Ballet. In 2009, she returned to SFB, performing as a part of the SFB corps until 2013. She then worked with the English National Ballet as a First Artist until 2017, when she returned to SFB once again. Her promotion to soloist followed her performances as Henriette/The Princess in The Little Mermaid. During her time with SFB, Keesler originated roles in Alonzo King's The Collective Agreement, Lopez Ochoa's Guernica and Thatcher's Otherness. Her other SFB performances include Caniparoli's Ibsen's House and Robbins' Fancy Free, as well as various roles in Tomasson's The Nutcracker and The Sleeping Beauty.
"I have been fortunate to work with two other companies, but San Francisco Ballet has always felt like my home," Keesler describes. "We perform some of the best repertoire in the world, we get to work in beautiful facilities, and I'm surrounded by extremely talented dancers. I'm also extremely grateful for our Artistic Director, Helgi Tomasson. He has known me and seen me dance since I was a 14-year-old in his school's summer program. He has shaped my career in so many wonderful ways, and for that, I will always be extremely thankful."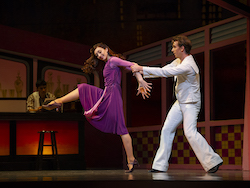 Jasmine Jimison began training at the SFB School in 2014, and by 2017, had entered the Ballet School Trainee Program. At age 16, she became an apprentice with the company for the 2018-2019 school year and received her promotion to the corps de ballet in March. As an apprentice, she performed in Tomasson's The Sleeping Beauty as the Enchanted Princess and the Fairy of Playfulness. Jimison also performed a principal role in Liam Scarlett's Hummingbirds at Sadler's Wells Theatre during the company's 2019 tour to London.
As an artist, Jimison says she finds inspiration from every person in the company. "They are all so different and have something special to offer. Working with such talented people motivates me to work harder." She explains that there is a wonderful collaborative environment at SFB. "Everyone is so helpful and supportive of one another. It makes rehearsing and performing with this company so enjoyable."
As for the 2020 repertory season, Freemantle, Keesler and Jimison all agree there is plenty to be excited about. Freemantle says he is most eager for the upcoming opportunities, stating, "It'll be my first season as a principal dancer, and I'm excited to see what roles I'll get to dive in to and to also see what I'm capable of dancing."
Both Keesler and Jimison are thrilled that Romeo and Juliet appears in the season lineup. "It is one of my favorite ballets,"explains Jimison. "It has everything – beautiful music and choreography, and the acting is always incredible." The ballet, particularly Tomasson's version, is a favorite of Keesler's as well. "In previous years, I've rehearsed and learned Juliet in both San Francisco Ballet and English National Ballet, but I've never performed the role. I have no idea what this year will hold, yet, I can't help but daydream," says Keesler.
Keesler also reveals her excitement for premieres of new pieces by Trey McIntyre and Cathy Marston, which she and Freemantle believe audiences will especially enjoy. The artists also say audience members can look forward to George Balanchine's A Midsummer Night's Dream, which the company has not performed in over 30 years.
"This season, there are many new faces and new works, as well as an exciting lineup of story ballets and modern pieces," says Jimison. "We love our audience and hope they enjoy watching as much as we enjoy performing for them."
By Carlee Sachs-Krook of Dance Informa.