Ever considered mixing work and play? Taking your dance group on a destination training vacation is a great way to do just that. Disney World and Universal Orlando have programs specifically designed for dance studios looking to organize a group trip. It brings the team closer, engages the parents and gives the kids a sense of what it's like to perform at one of the world's top entertainment venues.
Dance Informa spoke with Melissa Neuwirth from 42nd Street Tours and Travel, who is happy to help you book your trip and has eight top tips for when you do.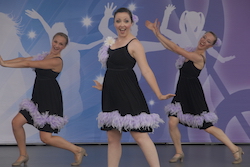 #1. Have the parents help.
Keeping an eye on every dancer at once is hard enough, even when just in the studio. To keep track of everyone in an amusement park is a lot to ask. That's why Neuwirth suggests bringing the parents on board. Not only does it help to even out the adult-to-kid ratio, but it also gives parents the chance to book a family vacation in and around the training.
"We have found that studio owners really like how we bill the families directly," Neuwirth says. "It allows us to offer all the inclusions each family likes on their own vacations. In Disney World, we can offer dining plans, extra park days, water parks, extra hotel nights and dinner events on an 'à la carte' basis. Studio owners love that their families are happy and in good hands. And they really love when they don't have to deal with any of the extras or payments."
#2. Start a group chat.
Keep in contact by having a dedicated group chat to help establish meeting times and places. External, portable batteries for your phones might come in handy, too.
"Sometimes groups use dedicated smartphone apps so the studio owner can get in touch with all families easily," Neuwirth explains. "They seem to like that so they don't have to give out their actual cell phone number to parents."
#3. Be ready to be on your feet.
You're going to be on your feet a lot, and not just when dancing. On top of the workshops and performances, there's a whole amusement park or many city sites to explore! Everyone knows a dancer's feet are an invaluable tool, so be sure to pack footwear that protects them. So don't forget to pack your best walking shoes!
#4. Get the right gear.
While you hope it's a sunny 75 degrees the whole trip, it's best to be prepared for all weather and temperatures. Pack options, and be sure to have a sweater or jacket on hand.
"One of our tour escorts, Mr. Kenn, always says it is best to dress in layers," Neuwirth advises. "Sometimes your day starts cold, then gets hot. You've got to have the right gear!"
#5. Book in advance.
Give yourself enough time to plan and organize. Bring up the option with parents early enough for them to plan, too.
"Although we can usually put together a trip with very short notice, I would really recommend booking six to 12 months prior to travel," Neuwirth explains. "It is always best to give your families plenty of time to save up for the trip."
#6. Balance dance-fun and vacation-fun.
With these Disney and Universal programs, you get to have your cake and eat it, too. Be sure to find the balance between dancing and vacationing.
"We have found that striking that happy medium is pretty easy," Neuwirth notes. "There is always a performance and a workshop, and they are really important aspects of the trip. But family time is also really important. We really pride ourselves on creating itineraries that have great pacing with plenty of time for dance fun, and plenty of time for other fun."
#7. Make it memorable.
Consider adding on a group activity or two outside of dancing, to make the trip extra memorable. Not only do your dancers get to grow as teammates, but they also get to strengthen their friendships.
"For Universal Orlando, we give all of the hotel options to the group, but we encourage them to choose the 'Premier Level' hotels," Neuwirth says. "They are only slightly more expensive, but they include a complementary Universal Express Pass for all guests. That means they skip the lines for most attractions on each day they are in the parks! It's quite a perk. They also get early access to the Harry Potter attractions. In Walt Disney World, there is so much to talk about, but if I had to pick one thing to recommend to our groups, it would be to let us book them to the 'Spirit of Aloha' Luau at Disney's Polynesian Village Resort. It's a real luau in Central Florida! What's not to love?"
#8. Don't forget your camera.
With venues like these, you're going to want to snap some photos.
In Universal Orlando's Dance is Universal program, dancers take workshops with Universal dance professionals, complete with resume and audition tips. These happen in one of the dance clubs that are closed for the day (dance floor included). Dance groups can apply to perform their own choreography on the Universal CityWalk Lagoon Stage, which sits on the water.
In the Walt Disney World Disney Performing Arts program, workshop favorites include Disney Dancin' and Disney's Broadway Magic, where the dancers learn choreography from Disney park shows or Broadway numbers, complete with mock auditions and vocal training. Dance groups can apply to perform their own choreography on the Marketplace Stage in Disney Springs.
For more information on 42nd Street Tours and Travel, visit www.42ndstreettours.com. Want to see your choreography on a Disney stage? Contact Melissa Neuwirth at 42nd Street Tours at information@42ndstreettours.com.
By Holly LaRoche of Dance Informa.