This month, commercial choreographer Al Blackstone is taking another foray into the concert dance world, presenting a full-length work at New York's famed Joyce Theater.
The work, titled Freddie Falls in Love, was first created three years ago as a benefit for Dancers Responding to AIDS. Little did Blackstone know, but Martin Wechsler of the Joyce was in the audience all those years ago. He was intrigued by the show, so he asked Blackstone if he would like to develop it further and have a two-week run at the Joyce.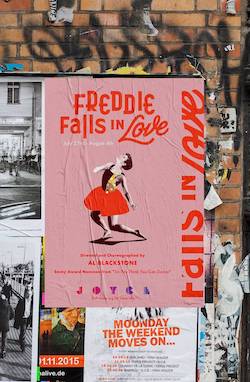 "It's a total dream come true," shares Blackstone. "I still can't really believe that it's happening. I was on 34th Street when he called me, and I just started jumping up and down! I could not try to play it cool."
The inspiration for the show came when a cruise ship project got cancelled and Blackstone realized he had some spare time to create.
"I had this idea to make a show about a guy who's going through a very difficult breakup and has to learn how to be on his own – to essentially learn the lesson that life is messy and that's okay," he says. "To learn to love the mess, I guess."
The work is very personal for Blackstone, which adds to the beauty of this opportunity for him.
"It is really my story, based on things I have gone through," he reveals. "It is truly a piece of my personal work being presented for two weeks in New York City, on that level! It's such an amazing opportunity for me to have a voice and to show people the kind of work that I really love doing."
Freddie Falls in Love revolves around 12 dancers, including the much-loved Melanie Moore of So You Think You Can Dance fame, and one actor. "There's no dialogue, there's no speaking, it's all told through movement," explains Blackstone.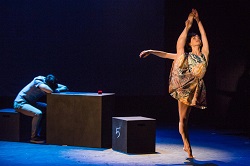 The Joyce is known for presenting leading ballet companies and modern dance companies, much more so than commercial work. So why was the Joyce interested in Freddie Falls in Love?
"It's not their normal cup of tea," admits Blackstone, "but I think that Martin really was interested in how to get different kinds of people into the Joyce. This is definitely more of a lighthearted theatrical piece with jazz, theater dance, contemporary dance and pop music. I think it was time for the Joyce to present something that was a little bit more story-driven and a little bit more commercial."
With many of the original cast currently filming Steven Spielberg's West Side Story, Blackstone had to hold auditions for new dancers and "re-imagine a lot of the roles." He's relished the experience, however, saying, "I think it's good because a lot of these characters were based on those performers, and now I get to kind of revisit it and think about who this character would really be, what they want and who they are. So, it's exciting."
So why should you grab your tickets? "It's funny and it's touching, and it's weird. It really just has a life of its own," says Blackstone. "I made the show based on a difficult thing that I went through, but it's told through a lens of joy, humor, love, fun and a love of dance. I think dance is the most joyful expression, and I hope to share a slice of joy and love with New York audiences. I think it's a time when people really need it."
For your tickets, head to www.joyce.org/performances/freddie-falls-love. The show runs from July 23 to August 4.
By Deborah Searle of Dance Informa.