As Tony Award season has just concluded, it reminds us that while one of four brilliant choreographers walks home with the honor, only a handful of choreographers have remained household names: de Mille, Bennett, Robbins and Fosse (to name just a few). What makes these choreographic legacies last? Perhaps it's their multimedia presence (on stage, on film, on TV). Maybe it's the movement itself — the melding of traditional, technical dance with contemporary references. It might also be the art of storytelling through movement, and the memorable stories themselves that were told by these choreographers.
Recently, at dinner with some performing arts peers, a conversation ignited about choreographers of today. Who's that choreographer — right now — the one who is changing the face of dance? My vote: Mr. Al Blackstone. If you're a dancer, you've probably already heard his name: winner of the 2011 Capezio A.C.E Award for Choreographic Excellence; choreographer for So You Think You Can Dance, BC BEAT, BCEFA, and numerous universities and theatres across the country; and über popular teacher at Broadway Dance Center, Steps on Broadway and JUMP Dance Convention.
How would I describe Blackstone's choreography? Old school soul with a new age twist. Think Gene Kelly meets quirky college freshman. No, really. You've got a strong foundation of ballet technique performed in weathered Converse sneakers, jukebox classics set in today's coolest clubs, and that innately sensual jazz style juxtaposed with everyone's inner goof ball.
Blackstone's latest project, Freddie Falls in Love, is a full-length dance narrative produced by Break the Floor and one that benefits Dancers Responding to AIDS. The sold-out, four-show run starred some of the industry's top dancers, most of them Broadway performers and veterans of So You Think You Can Dance.
"My initial inspiration," Blackstone tells Dance Informa, "was Dan Kelly's cover of Prince's 'Nothing Compares 2 U.' I came up with this image of a guy on his couch who can't get up because he's so heartbroken." While the performers in Freddie don't speak a word, the story is both clear and universal.
While sitting in the park, the male lead is encouraged by his best friends to follow his heart and ask a girl out on a date. The pair hits it off, until the boy's proposal scares the girl away. With the help of his loyal best friends, the boy goes on a journey, doing all he can in an attempt to heal his heart and find himself again — video game binges, an excursion to Paris, sexual encounters, therapy, the works! Luckily, the boy and girl eventually navigate their way back together. But (spoiler alert) the true twist to the story is when the boy's best friends fall in love (it's not until the final song of the show that we realize Freddie is actually the name of the female best friend!).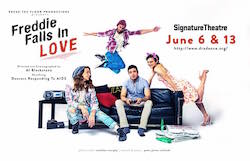 "Right now I am very inspired by film," Blackstone explains. "I love how different directors create a world within a film. And I love how it's this sort of contained universe curated by the cinematography, music, costuming and setting. That's what I'm trying to bring to my work. I've always really loved dance steps. But now, specifically with Freddie Falls in Love, I'm figuring out what kind of world I'm creating for the steps to exist in."
I call Blackstone's class "dance therapy". In this stressful business, his positive energy, feel-good choreography and passion for his craft help remind me why I love to dance. The same, I think, is true for Freddie Falls in Love. The joy, honesty and universality of Freddie help remind audiences of the narrative potential of dance — and, also, the power of love.
Standout moments include Melanie Moore's solo after she finds the engagement ring. Moore dances with the perfect blend of frenzy and control. Through her dizzying spins — literally running herself into the ground — to her tender, gentle moments of a suspended arabesque or simple relevé, we understand, at a visceral level, her character's struggle to stay or to go.
I waited patiently for Khori Petinaud's star moment in Freddie, and it was well worth the wait. Toward the latter part of the show, Petinaud is mesmerizing as she struts and back-bumps as the lead dancer in a Parisian nightclub. A dancer can pirouette, jeté, and tumble until she's blue in the face, but you can tell a true performing artist if you can't take your eyes off her when she simply walks across the stage.
Another standout is Jess Leprotto…and basically every scene he's in. Leprotto plays a handful of hilarious secondary characters: a bird-puppet fluttering around the park, three different girls on horrible blind dates with the lead boy, and an eccentric Parisian mime/tightrope-walker who fanatically convinces the boy to still believe and take risks in love. His series of what seem like hundreds of rapid-fire fouettés incite a roar of applause mid-number.
While the above solo moments are unforgettable, Blackstone's group choreography is perhaps even more magical. His dancing blends the pedestrian with the proper with such cohesion that you can't separate the two — that's just Al. What's more, the dancers don't just smile out to the audience; they interact with each other and create an energy that radiates off the stage. "From my experience as a performer in an ensemble," says Blackstone, "I encourage the dancers to be present, inventive and have a point of view." And with such individuality and freedom in the steps, the dancers are surprisingly precise and in unison.
But if you couldn't snag tickets to Freddie Falls in Love's sold-out run at the Pershing Square Signature Center, hope is not lost. Blackstone admits that he would love to work on Freddie again so that more audiences can experience the show's magic. "I'm really passionate about creating my own world," he reiterates. Perhaps a future challenge for him could be creating another dance narrative with lyric-less orchestrations or directing a non-dance project. Whatever Blackstone's next project may be, we know two things: 1) the best is yet to come, and 2) we can't wait to see what's next.
By Mary Callahan of Dance Informa.
Photo (top): Melanie Moore in 'Freddie Falls in Love'. Photo by by Matthew Murphy.