Whether you are a retired professional, a young student just starting out or an individual with a passion for movement but not looking to make it in the competitive professional circuit, there is a career that may be for you. As mentioned in Dance Informa's March edition, dance/movement therapy is a psychotherapy that uses movement to heal the mind, body and soul of an individual. So what does the journey entail, and what do you need to know about becoming a dance/movement therapist? Look no further! Here is a guide on this very unique alternative career in dance. 
What exactly do dance/movement therapists do?
First and foremost, dance/movement therapists use body movement, as the core component of dance, to provide the means of assessment and the mode of intervention within the therapeutic relationship. They assess through both psychological and movement parameters to determine psychosocial and behavioral needs and treatment goals. Dance/movement therapists individualize treatment based on client or family needs, preference and benefits. They observe and analyze movement patterns, connections and habits to help individuals increase awareness in the body and insight in the mind. They work with many different populations of all ages and abilities in many settings both clinical and/or therapeutic. 
What is required to be called a dance/movement therapist?
Although the term "dance therapy" is used quite liberally in the media, to be a dance/movement therapist take years of dedicated study to the field of movement and psychology. Dance/movement therapists have completed graduate degrees at collegiate programs approved by the American Dance Therapy Association (ADTA). Course work includes biological, social, psychological and behavioral sciences, research methodology, movement assessment and observation, history, theory and techniques of dance/movement therapy. Entry level dance/movement therapists have completed 750+ hours of supervised clinical practice. Board certification is earned upon completion of 4,000 hours of supervised clinical work, 48 hours of clinical supervision and acceptance of a theoretical framework by the Dance/Movement Therapy Certification Board. The National Board of Certified Counselors (NBCC) has recognized dance/movement therapy as a specialty of counseling since 1998. The Board Certified Dance/Movement Therapist (BC-DMT) advanced credential is recognized by the NBCC and ADTA as the appropriate counseling specialty credential in dance/movement therapy. Because dance/movement therapy is considered a psychotherapy, if an individual desires to be a private practitioner, then he/she must also become a credentialed psychotherapist in his/her state of residence. In many states, this could be a clinical counselor, social worker, psychologist, physician or creative arts therapist. Practitioners are required to complete continuing education units every year in order to keep their credentials.  
Is there a specific dance training I need in order to apply to a program for dance/movement therapy?
Oddly enough, the background that most programs look for is not specific dance training but rather a familiarity or ability to be in the body. This can be achieved in many ways, either through years of dance, yoga, Pilates, authentic movement, et cetera. A degree in dance certainly doesn't hurt, but it is not always required. What you might want to concentrate on are the behavioral and psychological prerequisites often required for admission. Each program is different, so if you are interested, make sure to check with the school or program to which you are applying.  
How do I know this is the path for me?
There is no one way to know if this is the right path for you. I urge you to consider what you enjoy about dancing or movement and who you dance for. If you have a passion for using movement as a form of expression and a way to connect and communicate, then you may have the makings of a dance/movement therapist. The key word is "therapy". As a dance/movement therapist, there is an expectation that you can assist, empathize and "move" in other people's "stuff (a very clinical term!). The movement becomes meeting others in their body and being able to do so without judgment. Consider that there are many ways to use dance therapeutically that do not require being a dance/movement therapist. If you are drawn to the field of psychology and mental health, however, then it might be something to consider. 
Where can I go for more information?
Think you might have the makings of a dance/movement therapist? Contact the American Dance Therapy Association at www.adta.org. There, you can find resources, FAQs and answers to common questions you might be thinking at this very moment. 
Mostly, remember that there are so many ways to incorporate your background, skills and talents outside of the dance studio. Give yourself permission to explore where those talents can take you and, better yet, how you can impact others, your community and even the world through dance and movement.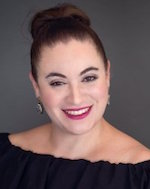 By Erica Hornthal, Dance/Movement Therapist, Chicago Dance Therapy.
Erica Hornthal is a licensed professional clinical counselor and board certified dance/movement therapist based in Chicago, IL. She received her MA in Dance/Movement Therapy and Counseling from Columbia College Chicago and her BS in Psychology from the University of Illinois Champaign-Urbana. Erica is the founder and CEO of Chicago Dance Therapy, the premier dance therapy and counseling practice in Chicago, IL. As a body-centered psychotherapist, Erica assists clients of all ages and abilities in harnessing the power of the mind-body connection to create greater awareness and understanding of emotional and mental health. For more, visit www.chicagodancetherapy.com.