Among Só Dança's latest innovations is The Bullet, a contemporary half-shoe that promises protection from Marley burn and a smooth look on demi-pointe. Already, young dance star Diana Pombo is a fan, and this March, the shoe will become available for all dancers to love.
"The Bullet has been created for dancers wanting the support of a shoe without feeling the bulk that can be associated with a traditional dance shoe," explains Susie Riefenhauser, marketing consultant of Só Dança USA. "Many dancers who compete or attend conventions are dancing on carpet or dance surfaces that result in nicks, cuts or scrapes of the feet. Therefore, we wanted to create a shoe that protected the foot, allowing the dancer to adapt to whatever dance surface they are on."
In Só Dança's testing, researchers found that many other shoes available twist, roll or expose skin that dancers think they're protecting. So, with The Bullet, Só Dança has built the shoe to hug the foot by adding seams that follow the shape of a pointed foot. This provides the skin protection that dancers truly need.
"We've elongated the vamp (top of the shoe) and underside," Riefenhauser explains. "As a result, whenever the foot is on relevé, there's no puckering of material, and the line of the leg remains unobstructed. Our multi-way stretch canvas was the first of its kind on the market. The Bullet incorporates the material, as well as an elasticated top line to keep it streamlined."
Twelve-year-old dance star Diana Pombo, who trains at Stars Dance Studio in Miami, Florida, and was most recently on NBC's World of Dance, says she loves The Bullet shoe.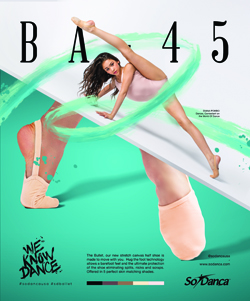 "I love the way they hug my feet!" she says. "They feel very soft but at the same time protect my feet. They also help me spin faster! As a performer, I don't necessarily always have the ideal floor to dance on. But with The Bullet shoe, that doesn't stop me! I've even been able to turn on concrete with them during a recent shoot."
Pombo was recently featured in a photo shoot and also slow-motion video for Só Dança's Bullet shoe. "I love Só Dança's photo shoots!" she shares. "They are super fun and allow me to show my own artistry and creativity. It's not just posing for photos and videos; we are creating art. When shooting with The Bullet shoe, I found that they helped lengthen my lines all the way to my feet, and that is super important to me."
The Bullet comes in five colors and, due to demand, is now offered in leather, as well as Só Dança's top-selling canvas.
"Dancers will love the lightweight and non-bulk feel," Riefenhauser assures. "In addition, the multi-colors offered match skin tones, so the shoe becomes an extension of the leg."
Pombo highly recommends The Bullet shoe for other dancers and is excited for them to try another of Só Dança's innovative products. "These shoes fit like a glove, protect your feet and allow you to move freely without having to worry about hurting your feet," she says.
The Bullet is just one example of Só Dança's attention to great care for dancers and their needs. "We challenge ourselves every day to meet dancers' needs and wants," Riefenhauser says. "With our testing and care, we want to make great, quality products destined to help dancers perform their craft."
The Bullet will be available in March at your local dance retailer.
Here Diana Pombo review The Bullet.
By Laura Di Orio of Dance Informa.