The Broadway hit An American in Paris — the winner of four Tony Awards and named Best Musical by both the Drama League and the Outer Critics Circle — will be launching its first U.S. national tour this fall. Broadway Connection Teaching Artist Christopher Howard, a performer who has previously toured internationally with A Chorus Line, nationally with Billy Elliot and has worked at notable theatres across the country, will be joining the U.S. tour team straight from his work with The Phantom of the Opera tour. Here, Dance Informa chats with Howard to learn more about his career, what his recent tour has involved and what he aims to teach his students through his Broadway Connection classes.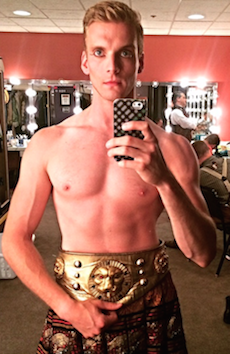 To first introduce yourself, can you tell us a little bit about your background? How did you start dancing?
"I am currently a swing and the assistant dance captain on the U.S. tour of The Phantom of the Opera. Originally from upstate New York, I went to school at SUNY Buffalo, earning two degrees (BFA Music Theatre, BA Dance) before beginning my career. SUNY Buffalo is actually where I began my formal dance training at 18 years old, having grown up as a singer and actor only. After graduating from SUNY Buffalo, I was immediately accepted as a scholarship student to the Joffrey Ballet School in NYC and began working from there soon after, dancing on a cruise ship, spending a season as a guest artist with Dayton Ballet, and then starting to tour as a music theatre actor."
When did you book your first gig? What was it?
"I booked my first gig while still at the Joffrey School in NYC. I was accepted to dance on a cruise ship for Celebrity Cruise Lines. Though not the most glamorous nor artistically fulfilling job, it did give me an inside look at the life of a dancer from maintaining performance quality and technique on your own to keeping a show fresh and exciting week after week. At the time, it was also a good way to save a little bit of money so that I could go back to New York and continue my training without having to worry as much about finances so I could truly focus on my career path. The traveling was a nice perk, too!"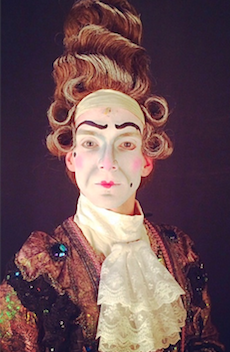 Now you're wrapping up your work on The Phantom of the Opera. How long have you been performing it? Any memorable takeaways?
"On the tour of The Phantom of the Opera, I have been a swing and the assistant dance captain for nearly three years, having started as an original company member for this new touring production. There's been a ton of memorable moments on this tour – from having to do numerous 'split tracks' (where I'm covering more than one role at a time in the same show) to forgetting which role I am playing sometimes (a condition I affectionately refer to as 'swing brain'). I've even gone on for roles I don't cover! Above all, I think the most memorable moment for me in the show itself will always be the revealing of the chandelier. It's a spectacular new take on the moment (with a spectacular new chandelier) that is still stunning to watch night after night."
Specifically, what about The Phantom of the Opera do you think keeps fans coming back for more?
"I think Phantom has become such a hit because it excels in so many different areas. The sweeping music is stunning to listen to. The pyrotechnics and other technological effects are amazing to watch. The costumes and sets are gorgeous to see time and time again. But what really keeps people coming back is the story. In this crazy world of music theatre, we forget sometimes that it is our job to tell a story – through words, through music and even through dance. And this story at the very core is really just a complicated love story that everyone can relate to in some way. Audience members might see a little bit of themselves in a character or two, allowing them to really connect with these people on stage, feel for them and root for them to get what they want. When people can relate to the characters and the tasks at hand, they will keep coming back for more."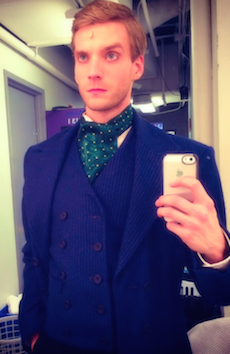 Now you're preparing to join the cast for the upcoming tour of An American In Paris. When do rehearsals begin? When does the tour launch? What about this show intrigues you and has you excited?
"Soon! Rehearsals for An American In Paris are beginning the last week of August in NYC with the tour previewing in Schenectady, New York, in mid-October before officially kicking off in Boston, Massachusetts, in late October. I saw this show on Broadway about a year ago and was absolutely captivated by the amazing story told through so much dance! Christopher Wheeldon has done such an amazing job interweaving this story with song and dance that you can't help but get swept up in it. I'm excited to dance to this beautiful Gershwin score with Wheeldon's brilliant steps night after night."
Across your experience as a performer, how have you worked to keep each role fresh?
"It is a little bit easier to keep things fresh when you're working as a swing, because you're responsible for knowing so many different roles and perform different parts all the time (sometimes multiple parts in the same day). But there are times where you are in the same role show after show, and it can become a bit monotonous. Sometimes your director and/or choreographer gives you a bit of artistic freedom as an actor to make different moments resonate for you in different ways. Sometimes when different people are on in different roles, things are different automatically. Sometimes you see other people make new acting choices, and that changes your reaction and response. By opening up and exploring as an actor within the confines of the direction, you can really make a show fresh every single time you perform it."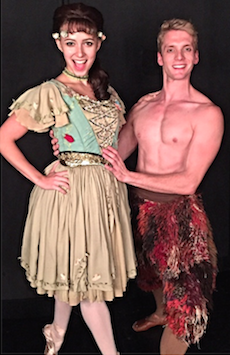 When touring, how do you also keep yourself in top-notch performance condition? Any tips?
"As a dancer, I do many things out on the road to try and stay in top performance condition, especially as a swing since I am not always guaranteed to be dancing every day. As we travel from city to city, I will often contact local ballet companies and schools to see if they have classes we can take to maintain our dance technique and stay in shape – it also helps challenge your body that gets used to doing the same steps every day. I always find a local gym to cross-train by running, weight lifting, swimming, and will often look for good Pilates or yoga classes in town to keep me focused and active. Eating well can be difficult in new cities and hotels as well, but by buying a lot of your own groceries and finding the healthier places to eat, you can usually keep your eating habits pretty standard."
In addition to performing professionally, you also teach with Broadway Connection in various classrooms across the country. What do you seek to impart to your students as a BC Teaching Artist?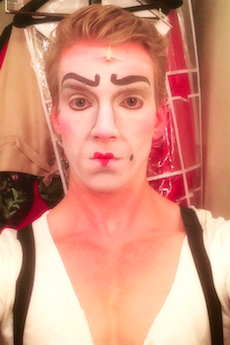 "I love having the opportunity to teach for Broadway Connection. It allows me to really connect with these students across the country who are so passionate about dance and theatre. I always love to stress the importance of proper dance technique, working with one's own body, and the nuances of picking up detail in choreography quickly and efficiently. But to me, the BC experience is more than that – it's about teaching these students the importance of theatre and its main objective, to tell a story. Dance is a vital means of expression that we often put behind dialogue and song in a musical, but it's unbelievably important to help students understand that dancing is often the best way to further along our story, both as individual characters and as an ensemble. Steps are important, technique is important, and flashy tricks and illusions have their own value, but we have to teach them that the primary objective of dancing in a musical is to tell a story, whether that be through impressive pirouettes or through the smallest of gestures."
For further information on Broadway Connection, visit www.broadwayconnection.net. To see what cities are on schedule for the touring productions of The Phantom of the Opera and An American in Paris, head to www.thephantomoftheopera.com/ustour and www.anamericaninparisbroadway.com.
By Chelsea Thomas of Dance Informa.
Photos courtesy of Christopher Howard.