The art of dance as storytelling is alive in New York City's new theatre dance company, Denman Theatre and Dance Co. (DTDC), led by Broadway veteran and choreographer Jeffry Denman. The troupe's slogan is "First, we move", with solid intentions of using dance and movement to communicate ideas and stories.
But DTDC also pulls from other artists – actors, opera singers, even circus artists – for a truly full-blooded theatrical experience. The company strives to carry on the legacy of past storytellers, including Jack Cole, Jerome Robbins, Martha Graham, George Balanchine, Bob Fosse, Fred Astaire and Alvin Ailey. With Denman's strong focus and commitment to his mission, he could someday find himself among that list of names.
DTDC's most recent work-in-progress, The Donner Party Project, was presented this past June as part of Broadway Dance Lab, a choreography "incubator" founded by Josh Prince. The work was inspired by the tragic human story of the group of people who were pushed to their limits during their ox-drawn wagon expedition to California in May 1846 in search of new opportunities. A harsh winter forced them stuck in the Sierra Nevada Mountains, where nearly half died and others resorted to cannibalism to stay alive.
"Jeffry wishes to shed light on the 'moments in between' the story most feel they know," says Jace Coronado, a performer with DTDC who is also assisting with the company's development and event coordination. "The piece for me, as a performer, has an intense focus on hope, faith, perseverance and love."
The Donner Party Project, as it seems most DTDC projects will do, paired concert dance with drama, as narrative text surrounded the dancing.
"Just by nature of the type of work I'm interested in doing, the projects will require performers of varying disciplines," Denman explains. "The Donner Party Project sometimes feels like a play and at other times feels like concert dance. This is by design, so I drew from both those 'worlds' to accomplish the piece in the best way possible. What happened was a beautiful exchange of working styles, artistic articulation and talent. It's a very exciting and rewarding process."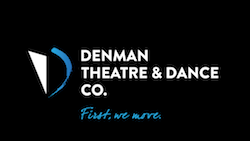 While the company is new and arts funding can be hard to come by, DTDC is working hard to develop resources to produce more works. The company had a successful crowdfunding campaign, and Denman certainly has plenty of ideas on the "tarmac", he says, but no performances are currently lined up. But Denman hopes DTDC can present at least one work to audiences by next year.
"All I can do is strongly step forward, show people what we have to offer and believe that the people who are energized by the ideas and the projects we are presenting will want to be a part of a new, exciting company," Denman says.
For now, The Donner Party Project remains DTDC's focus, but other developing works include The Rodgers and Hart Project, which uses the music of Richard Rodgers and Lorenz Hart; The Hoofers Project, which uses tap dance and text; and the Podcast Project, which uses opera and dance. Denman says that in the future, he hopes DTDC will present other choreographers' work as well.
"DTDC is an important addition to the dance community because of its desire to further a legacy set forth by the greats who went before us," Coronado says. "Not to revolutionize but to energize an artistic force of expression and storytelling that is greater than any one single being. 'First, we move' is the motto of DTDC, and it speaks not only to how we intend to approach and develop our work but what our ultimate goal is. Jeffry says, 'We move as performers so that we can move our audiences.' It's a simple idea but one we feel is the most important to strive for."
For more information on Denman Theatre and Dance Co., or to make a contribution, visit www.denmantdc.com.
 By Laura Di Orio of Dance Informa.
Photo (top): Jeffry Denman, artistic director of Denman Theatre and Dance Company. Photo by Daryl Getman.