Imagine yourself in the seventh grade. Got the picture? Now try to recall your greatest dreams from that time and the people or events that inspired you to chase them.
For many of us, these aspirations and influences have changed drastically over the years. But for Pacific Northwest Ballet (PNB) soloist Margaret (a.k.a. Maggie) Mullin, one of those teenage dreams is on its way to fulfillment as she, in collaboration with filmmaker Nel Shelby, documents the story of dancer, choreographer and AIDS awareness advocate Ian "Ernie" Horvath.
Born in Cleveland, Ohio, in 1943, Horvath studied at the School of American Ballet and several other prestigious classically oriented institutions before he launched his professional career at the Joffrey Ballet and on Broadway, in such musicals as Sweet Charity and Funny Girl. He later joined American Ballet Theatre, where he met Dennis Nahat, the future business partner with whom he would found the Cleveland Ballet, in 1972. It was Horvath's first creation for the company, Laura's Women, that captured the attention of a 13-year-old Mullin several decades later.
"I had never seen anything like it, especially in its content," she explains. "His movement is so beautiful, very grounded and expressive. I tend, as a dancer, to be drawn to works that tell powerful stories. This story, even though it's not a happy one, makes me reflect a lot on life."
Mullin knew nothing about the choreographer at the time — had never even heard his name — but the poignant piece stuck with her even as she entered the ranks of PNB, years later. At first, her only aim was to put this seldom-performed work on film. A felicitous meeting with a ballet teacher from her formative years in Tucson, however, set the wheels in motion for a feature-length documentary on Horvath, who died of AIDS at the early age of 46, and his important but little-known role in dance history.
"Initially, I met with my teacher and his sister just to talk about what it would take to get Laura's Women on film," Mullin recalls. "But they ended up having this in-depth conversation about Ian in front of me, and I learned so much about him that I never would have known. It blew my mind to think I'd never heard of him. It became clear to me that there was an incredible story to be told, and I took it upon myself to tell it."
A 2011 recipient of a fellowship from the Princess Grace Foundation, Mullin turned to an acquaintance within the organization for guidance. Enter Shelby, a dancer-turned-dance filmmaker who was then, serendipitously enough, in the process of expanding her repertoire beyond performance coverage to include documentary work. Although Mullin intended to ask Shelby only for a consultation, she walked away from their first phone call with a co-director and a new friend. 
"She's so passionate that you just can't say no to her," remarks Shelby of Mullin. "But I was also interested in the project because my dad's brother died of AIDS in 1988. I was in sixth grade, and it was a really big deal. Years later, I found out what had caused his death. My parents hadn't wanted to tell us because they were afraid the kids at school would think we were gross or infected. They were trying to protect us."
Like Shelby's uncle, Horvath passed away at the height of the AIDS crisis in the U.S. In the late 1980s, the well-loved dancer became a spokesperson for those living with the illness, striving to dispel the myths surrounding it. He also spearheaded fundraisers such as "Dancing for Life", a live event held at Lincoln Center, in 1987, and appeared on an AIDS awareness television program produced by Eye on Dance, in 1988. He developed his last creation, No Dominion, on the Limón Dance Company, and it reflects the health struggles of his final years.
But Mullin and Shelby stress that their film goes beyond recounting Horvath's personal and public battle against AIDS. As associate director of the Carlisle Project, he assisted founder Barbara Weisberger in providing avenues for ballet dancers to become choreographers in the classical lexicon. He was also involved with the National Endowment for the Arts, the Ohio Arts Council and New York City Center as a dance advisor of sorts. And his work as chairman of Dance/USA led to the posthumous conception of the Ernie, an annual award presented, in Horvath's memory, to a figure in the dance world who demonstrates a passionate commitment to the art form.
"Ian is such an important part of our dance history," says Mullin. "It's because of people like him that people like me are able to have successful, well-funded careers in dance now. He was one of the people who helped establish a future for dance in this country. This is a film of true gratitude for making our careers possible."
With Horvath's devotion to the strength and growth of the national dance community in mind, Mullin is keen to incorporate as many artists and companies as possible into the project. Rather than rely on a narrator to steer the film, she and Shelby have chosen to convey Horvath's story through interviews with those who loved him, along with the full presentation of his first and last works.
The latter half of this undertaking came to fruition earlier this year, when dancers from five American companies — PNB, Joffrey Ballet, Boston Ballet, Ballet Tucson and Verb Ballets — joined the documentary team in Seattle to put Laura's Women and No Dominion on film. Leading the restaging process were Verb Ballets Artistic Director Dr. Margaret Carlson, a close friend of Horvath and a regisseur of his work, and PNB Ballet Master Paul Gibson. Shelby's husband, photographer Christopher Duggan, also got in on the act, capturing the striking images seen here.
"The two weeks we spent filming in Seattle was such a dream," recalls Shelby — high praise from a woman who has been the official videographer for the Jacob's Pillow Dance Festival for 15 years and whose client list also include the Vail International Dance Festival and the Joyce Theater (to name only a few). "Maggie and I completely clicked. We had such a rich, inspiring time together. And it was great to see Maggie in Laura's Women. She's loved this piece since she was 13 years old. To watch her learn it in the studio from someone who originated the role, then perform it — that was such a powerful experience."
Of course, this elaborate endeavor had its costs. Securing the necessary backing required no small amount of energy and grit from Mullin, who took a chance on a crowd-funding campaign and made a cold call to a media production company supporting the LGBTQ community.
"To fund the dance portion, it was a third Kickstarter, two-thirds working with a wonderful organization called Three Dollar Bill Cinema, which became our fiscal sponsor and also offered to premiere the film, " Mullin relates. "I threw a fundraiser in Seattle and reached out to donors and businesses as well. Within about a five-month span, we raised a little over $30,000 to cover the restaging. It was very nerve-wracking, and there was a lot of pressure, especially because I dance full-time. But luckily, I met my goals."
With the performance segments wrapped up, Mullin and Shelby are now focused on recording interviews (which will require additional fundraising) and weaving all of their materials together into a cohesive whole. They aim to complete the process by the middle of next year — an ambitious deadline for the perpetually busy pair but one that the enterprising Mullin, who is no stranger to elbow grease, is determined to meet.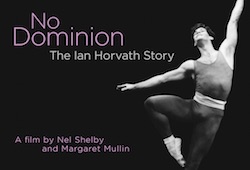 "I grew up behind the scenes a lot at my home studio," says Mullin. "My mom helped at the front desk, and I was on a work scholarship in order to pay for classes. That experience gave me a unique perspective that a lot of young dancers don't get on what it takes to keep an arts organization afloat — how many hours, how much dedication, how much love it takes from the people who are running it. Ian's story is so important in that way. It is a true reminder of the kind of passion that is required to keep the arts growing in the United States. That's really important for me to share with people."
For more information on No Dominion: The Ian Horvath Story and to contribute to the project, click here.
By Leah Gerstenlauer of Dance Informa.
Photo (top): Margaret Mullin and Nel Shelby filming 'Laura's Women'. Photo by Christopher Duggan.