If it were a more perfect world, Jeremy McQueen's new Black Iris Project wouldn't exist. And he's excited at the prospect. "Yeah! why not?" he exclaims. "I have no idea when that will happen. It is still so necessary to have projects like this, but I would love to have automatic diversity in all art forms."  
McQueen founded Black Iris Project, a contemporary ballet initiative involving nine artistic collaborators and a group of elite dancers, in order to provide opportunity for black artists to create new works and to create them with the voice of the black perspective. With the recent re-ignition of Misty Copeland's celebrity both within and outside of the ballet world, talk of color within that world has exploded as well.  Ballet has, for many years, been stereotypically white, European, aristocratic…but artists like McQueen don't see it in that mold anymore.
"By now, we shouldn't think of ballet as culturally elite," McQueen says. "Our society constantly moves and grows with our technology. The arts should as well, and many do with cross-discipline work. Ballet should go that way as well. Not that we should stop producing the Swan Lakes and Coppelias, we should continue to honor that history, but society needs to push culture forward. Now is the time that we need to create new lasting ballets, ballets that will still be performed in the next 50 years."
If you aren't familiar yet with McQueen, here is a quick run-down. He trained as a scholarship recipient in the schools of American Ballet Theatre, San Francisco Ballet and Alonzo King's LINES Ballet, and holds a BFA from the Ailey School/Fordham University. As a performer, he has worked in a sizable list of regional theater productions, the Broadway national tours of Wicked and The Color Purple, and multiple productions with the Metropolitan Opera. Since turning his focus more toward choreography, McQueen has received several awards, including the 2013 Joffrey Ballet of Chicago's Choreographers of Color Award.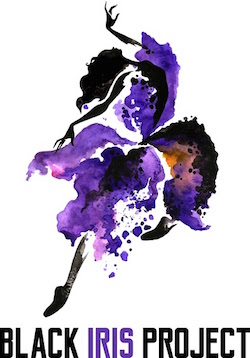 It might seem strange that there should be an award specified for choreographers of color, but McQueen has found himself immersed in a stunted field, one that seems to inadvertently limit the opportunities presented to artists of color. "One of the things that inspired me to create this project was that there are not a lot of opportunities for a dancer or choreographer like me; there were not opportunities for myself," he says. "I would love to choreograph for New York City Ballet, American Ballet Theatre, Joffrey Ballet, iconic companies, but at the same time I was discouraged because I haven't been able to find how to do it."
Not coming from one of those major companies himself, McQueen couldn't find the inroads that could help him attain work, particularly at the more elite level. And if there aren't many artists like him, then it would be that much harder to find a mentor on whom he could model his path.
"I've been able to find some mentorship from some places and not others, but I couldn't figure out how to make the steps to get into places if others aren't willing to help," McQueen explains. "I've lived 11 years in New York City, and in all that time of seeing New York City Ballet on a regular basis, I have seen no works on the main stage on the main company by a young, living, black choreographer. Ulysses Dove has created works, but in terms of new voices, nothing. To try to create and navigate my way toward my goals was really hard. How do you get there if you don't see the diversity you would be bringing?"
This raises the point that maybe this is really the problem with ballet, that if there are not very many black ballet dancers then we certainly aren't going to end up with very many black choreographers. And, other than a wish for natural diversity, this matters greatly because it limits the voice with which ballets are made. And if ballet doesn't speak to you with a voice you can understand, you are probably not going to find it appealing, hence the catch-22 that alienates black audiences and black artists alike. Seeing artists of color, like Copeland, in major roles is a huge inspiration. As McQueen points out, however, the ballet world needs to start with a different approach, and the Black Iris Project aims to take it there.  
"It is great to see that more companies are embracing the diverse perspective, particularly with workshops and outreach," McQueen comments. "But, mostly, ballet puts black people into white roles. The Black Iris collaboration is very different that way. We are not putting black people into white roles but creating roles based on the black experience. Part of this focus is how we can bring more diversity to the arts through the audience, by knowing who the audience is. It's not just a physical standpoint and seeing people who look like you but also about great roles relevant to that audience's upbringing. There are actually tons of minorities throughout the ballet world, but, especially in America, it would be interesting to see how we can make ballet address the black experience, too."
The Black Iris Project is bringing together artistic collaborators of different mediums (costuming, composition and so on) who all happened to feel like they were about the only "up-and-coming" artists of color in their fields. All around the age of 30, they are millennials who desired a venue through which they could explore their art form and engage with black heritage through it. And while the collaborators are all black, "Not all of the cast is black," McQueen clarifies. "The need to tell black perspective requires non-black dancers, too. For example, the Nelson Mandela story is a civil rights story, and it needs a multicultural cast of dancers to show the dichotomy of that atmosphere."
Those dancers are drawn from some of the best ballet companies in America, and McQueen is quick to point out that his project is just that, a project that feeds the dancers new opportunities with the intention of dropping them back off at their home companies. It was critical to McQueen that he leave the dancers where they were – in companies where, more likely than not, they found themselves to be one of few "token" black dancers.
"Companies like Dance Theatre of Harlem and Alvin Ailey American Dance Theater were created because companies like them did not exist before," McQueen points out. "Now, I'm pulling these dancers together to create works that draw from their existence, create conversation, new stories, new dialogue… but it is really important for them to stay where they are. If they leave their companies, when will the next black dancer come in? 'Token' black artists pave the way for people to come in behind them. Misty Copeland could have left ABT years ago but she stayed; she's a trailblazer. When would [ABT promoting a black female principal] have happened if she had left?"
It seems like the ballet world is ready, and chomping at the bit. The younger generation has always known this, and artists like McQueen will help lead the way. "At a certain point, we can of course continue to create and honor what comes before us, but I would love to live in a world where it doesn't matter," McQueen adds. "That is actually what drove me to become an artist in general. Dance was a safe space, I could create and explore, and, if in creating something you did not like it, you could just move in new direction." 
Keep your eyes open for Black Iris Project at New York Live Arts (NYC) at the end of July 2016, with preview performances and outreach leading up to it, and performances at the Kennedy Center (DC) in April 2017, participating in a program curated by Misty Copeland herself.
By Leigh Schanfein of Dance Informa.
Photo (top): Stephanie Williams of the Black Iris Project. Photo by Matthew Murphy.