By Christine Dion of Mode Dion
Whether your performance is a piece from Lion King, Jungle Book or Cats, creating an animal face can not only be fun, but can create excitement and add a tremendous amount of show appeal to your number.  All you need is a photo of the animal you would like to copy and your imagination. Here are a few basic rules to follow to help make designing your animal face easier.
Tools are important. What you will need:
Rich pigments cake powders (like an eye shadow with dense pigments). Use for wet and dry work because they give you versatility when painting and are easy to use.

A white pencil is a must have for highlighting.

For large facial areas use a white pigment paint cake powder.

You can also use grease or cream pigments but these can be messy and run so be sure to set them with a light dusting of face powder.

Brushes are important to any artist.  You'll need a fine tipped brush for lining and a wider foundation brush for stroking on defining color. Strokes create a hair appearance, so avoid blending in color.
Creating  Your Animal Face
Define features by using a dark shade to pull features in and highlight by using a light shade to pull features forward.

Animals have a muzzle and pronounced forehead. Highlight the center of the forehead, over the eye brows, down the center of the nose to above the upper lip, around the mouth and down the chin. Define along the sides of the nose and forehead. This will pull the face forward.

Most animals have bold nostrils and many have dark nose tips and no visual lips. Defining the end of the nose and nostrils, along with defining the lips with a dark color (brown or black), will finish the muzzle.  You can cover lips and eye brows with foundation or white eye pencil to diminish their appearance even more.

Whiskers are best shown by placing black dots instead of drawing on long lines. Glued on whiskers are more tricky. Using eye lash glue at the tip of a fine black plastic strand or stiff thread, glue whisker to the upper lip area. If on a large stage just use the dot method as the whiskers won't be seen.
Animals have pronounced cheekbones. Defining the sides of the face below the cheekbones down to the jaw line will bring the chin forward and lift the cheekbones higher.  Highlighting high on the cheekbone and the chin with a white or white shimmer shade will pull the face forward even more.
Animals have different eyes to humans. Cats and wolves have exotic eyes that are lined to sweep up at the outer eye corner and sweep down towards the nose at the inner eye corner.  Monkeys, dogs, rabbits and mice all have very round black eyes.  Rounding the center of the lower eye lid with white eye pencil and lining the lower lash line, rounding the line fuller at the center, will create a more rounded look.  Black eye shadow over the eye lid will pull eyes in and make them smaller.
Feline Fancy
By far the most popular animal on the stage is the cat. House cats are very diverse and you can create many variations of stripes and spots. Here I created an easy to follow and fast to apply tiger cat. For wild cats like a lion, keep it to three colors (brown, white, black). For a tiger (orange, black, white) and for a leopard use two colors (black and white) to apply spots instead of stripes.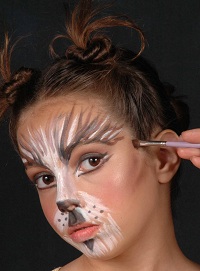 Steps to a Purrrfect Cat Face
Even out skin by applying foundation over face (including lips) and onto throat.  Conceal under eyes to lighten dark circles.
Highlight with a white pencil down the center of the nose, under brows, around upper lip (to create a muzzle), onto chin, and high on cheekbones.
Define features with black shadow cake using a wet tipped brush.  Apply to brows by sweeping up to create stripes, line into cat eyes, define tip of nose down to center of where lips begin, and down onto center of chin.  Lastly add spots for whiskers. (A liquid liner is great for whiskers too.)

Set foundation and lids with sheer face powder.

Contour eyes with dark brown shadow through crease.

Lift and warm eyes with brown shadow to define and use terracotta on the eye bone.
Highlight eyes with light shadow on inner lid and under brow. Use white pencil in between lines of inner eye corner and outer eye corner.

Apply false lashes and one coat of mascara to top and bottom lashes.

Create stripes with alternating yellow, brown, and terracotta in between black and white lines from brow.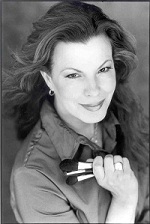 Who is Christine Dion?
Christine Dion brings with her more than 30 years of experience in the beauty business. She has worked as a make-up artist internationally for fashion magazines, commercials, television, fashion shows and dance theater. She is a published author, beauty columnist and educator for dancers and performers, touring the country speaking at conferences and in dance studios. Check out her web site modedion.com where you can see her training and beauty products. For lots of great beauty and stage tips become a FAN of Mode Dion on Facebook.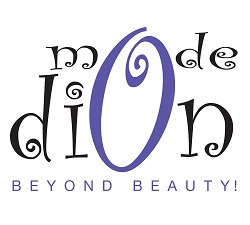 DANCE INFORMA READERS
GET THE LOOK 20% OFF!
Create animal faces easily with these amazing Mode Dion Stage Makeup Products and receive 20% off when you mention Dance Informa Nov. 2012
MODE DION: Pro Pallet 5-color eye shadow/liner compact, White eye pencil and all Pure Pigment Paints. Liner Brush and Foundation blending brush.
Christine Dion's Book "High Performance Beauty" 50% off SPECIAL
(offer good only off retail value. Kits not included. Does not include shipping. Offer expires 12/12)
Call 760.837.9433 or visit www.modedion.com.