By Rain Francis.
1. Who choreographed Movin' Out, which received the 2003 Tony Award for Best Choreography?
a) Martha Graham
b) Twyla Tharp
c) George Balanchine
d) Alvin Ailey
2. Where was the choreographer Akram Khan born?
a) Bangladesh
b) United Kingdom
c) Pakistan
d) United States
3. Who is the current artistic director/choreographer of Rambert Dance Company?
a) Christopher Bruce
b) Marie Rambert
c) Trisha Brown
d) Mark Baldwin
4. Which of the following is NOT a work by Jiří Kylián?
a) Sinfonietta
b) Petit Mort
c) Blackbird
d) Appalachian Spring
5. With which choreographer would you most associate countertechnique?
a) Anouk van Dijk
b) Nacho Duato
c) Martin del Amo
d) Busby Berkeley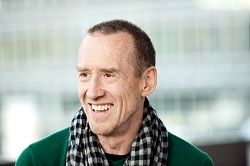 6. Who is this renowned choreographer?
a) Jerome Robbins
b) Roland Petit
c) William Forsythe
d) John Neumeier
7. Gideon Obarzanek, in collaboration with Garry Stewart, formed which Australian dance company in 1995?
a) Australian Dance Theatre
b) BalletLab
c) Sydney Dance Company
d) Chunky Move
8. Which of the following would least be considered a pioneer of modern dance?
a) Kurt Jooss
b) Bob Fosse
c) Martha Graham
d) Isadora Duncan
9. In the 1950s, who was considered the "naughty boy" of dance?
a) Paul Taylor
b) Mark Morris
c) George Balanchine
d) Antony Tudor
10. of the following ballets by Kenneth MacMillan was NOT created with the Lynn Seymour in the lead female role?
a) Manon
b) Romeo & Juliet
c) The Invitation
d) Anastasia
Answers: 1– b; 2 – b; 3 – d; 4 – d; 5 – a; 6 – c; 7 – d; 8 – b; 9 – a; 10 – a
Top photo: Jiří Kylián by Joke Schot
In Text Photo: William Forsythe by Dominik Mentzos