Tips for getting your look, mind and body back on track.
By Christine Dion of Mode Dion.

1. Clean up your act. Round up small travel bottles, clean them out and create a skin care set (wash, toner, moisturizer) for on the go. Always rehearse in clean skin. Be sure to have a plastic sandwich bag filled with cotton squares and Q-tips for a quick clean up from school to the studio. Pimples often are the result of skin that hasn't been cleansed before perspiring. Carry a hair brush, clips and ties so your hair is off of your skin to prevent forehead and back breakouts.
2. Clean house. It's time to make your home stress free. Clean out all your summer clothes and prepare winter shoes and clothes for fall. This will save time in the morning and give you an idea of items needed for the new season ahead. Go through your makeup bag and throw out anything that doesn't look good on you. Why hold onto colors that don't help you look your best and risk applying them when you're in a hurry. Look for products that smell funny or have separated and throw them out. Summer heat and humidity can do a number on your products and increase bacteria growth, causing products to spoil. To help products last longer, store in a cool dark place like the fridge (cold inhibits bacteria) or a box. Keep out of sunlight and warm humid places like the bathroom. Shake liquids up every once in a while. If pigments separate and don't shake back together, toss the product. Avoid touching products with your fingers (bacteria). Use sponges, brushes and Q-tips whenever you can. Keep lids closed tightly. Never share products.
3. Clean Studio. Back to school often means cold season!!! Be sure to wipe down ballet barres, door handles, telephones (don't neglect your cell phone either) and any other place where many hands touch. Have sanitizers and proper hand wash in the bathroom to keep germs at bay.
4. Lift your spirits. Your home and the studio should be a place of inspiration. Use color to set the mood by painting or re-decorating with pillows or drapes that inspire. For more energy and to boost confidence use red. To stimulate the mind and feel inspired use yellow. To relieve tension, feel calm and focused use green. Cheer up, feel optimistic and increase enthusiasm with orange. Clear your mind and increase creativity with violet or purple. Unwind, relax and feel cool with blue. Feel romantic and excited with pink.
5. Take advantage of aromatherapy. Smells not only affect us emotionally, but physically. Taste is actually about 90% smell. Scents are best as essential oils. These can be sprinkled over potpourri, warmed in water or sprayed in the home or studio. Scents for the bath, shower or in a body lotion can help you enjoy the benefits all day. Here are a few smells that can give you a boost, calm you down or even make you think more clearly.
• Reduce anxiety: smell scents of green apple, cucumber, sandalwood, cedar.
• Increase alertness: smell scents of peppermint, jasmine.
• Increase energy and stimulate: smell scents in peppermint, menthol, eucalyptus, lemon, vanilla, evergreen, fir, pine or spruce.
• For quiet focus: smell scents in lavender, frankincense, sandalwood, rose, cedar, myrrh.
• Increase sleepiness: smell scents in lavender, vanilla.
• Help comprehension for learning: smell scents of mixed florals.
• Help concentration: smell scents in rosemary, peppermint, basil, ginger, juniper.
• Decrease appetite: smell scents in banana, green apple, peppermint.
6.De-Stress! You're on all day so take a little time off for yourself. A bath is the best way to keep your immune system strong and your body feeling great! Botanicals are herbs that can influence the health of your body. Here is a list of wonderful herbs to look for in your favorite products. Try making your own by mixing 10-12 drops of concentrated, scented essential oils, into a neutral oil like almond or avocado oil, then pour into your bath. If you are mixing scents and botanicals for healing, be sure to test a drop of each mixed together to see if the combination smells nice. For the best aroma, mix just a few scents together. If you don't have a tub try these botanicals in a shower gel.
The bath; how hot, what to put in, and how long to soak it up?
• Muscle warm-up: try a 10 minute long warm bath (95 F-105 F) to increase the internal temperature of the muscles. This makes them more flexible and pliable to reduce the chance of injury.
• Frazzled nerves: try a 10-20 minute long bath in hot water (102-104 F) which dilates your blood vessels and increases a sense of calm. For nerves try bath soaks containing geranium, vanilla, jasmine, peppermint, lavender, and seaweed.
• Aching Muscles: try a 10-15 minute warm bath (92-102) so muscles relax slowly. For muscle relaxation try bath products containing peppermint, primrose, lemon, bergamot, rosemary, and cypress.
• For Exhaustion: try a warm bath for 10-15 minutes. To ease sleep try bath products with lavender, chamomile, rose, and neroli.
• To Energize: soak in a bubble bath with citrus such as lemon, orange, or grapefruit. Other botanicals to lift your spirits are peppermint, bergamot, patchouli, rosemary or eucalyptus.
• For a stiff back: try a 5-10 minute long hot bath (102-104 F). Dip a small towel in diluted soothing oils of menthol, eucalyptus, juniper, peppermint, and lavender. Wrap it around your neck or place it behind your back.
Remember to limit your bath to a maximum of 20 minutes. Water that's too hot can dry you out, irritate skin and even rupture capillaries. The hotter the bath the shorter your time should be in it. After a bath
allow yourself ten minutes or so to lie down and relax. Make your transition back into the real world as gentle as possible.
If you've caught a cold
Wrap the following herbs in cheese cloth, tie to close and soak with them in your tub.
4 tablespoons dried lavender
2 tablespoons dried ginger powder
4 tablespoons dried rosemary
2 tablespoons dried eucalyptus leaves
For more detailed information on health and beauty for performers see Christine Dion's Book "High Performance Beauty". A must have for any performer on the go.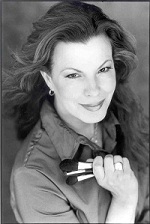 Who is Christine Dion?
Christine Dion brings with her more than 30 years in the beauty business. She has worked as a make-up artist internationally for fashion magazines, commercials, television, fashion shows and dance theater. She is a published author, beauty columnist and educator for dancers and performers, touring the country speaking at conferences and in dance studios. Check out her web site modedion.com where you can see her training and beauty products.

SPECIAL "HIGH PERFORMANCE BEAUTY" Book
ONLY $12.50
50% off for Dance Informa Readers. (Retail $24.95)
Visit www.ModeDion.com to pick up your copy.

Top Photo: © Yuri Arcurs | Dreamstime.com