Tips for Dance Teachers
by Angela D'Valda Sirico of DanceTeacherWeb.com
As dance teachers we are faced each day with not only nurturing our students from a technical aspect, but more importantly, from a psychological one too. The majority of dance teachers do not hold degrees in psychology and yet we need to help our students, especially the teenage ones, with this incredibly important side of their dance training. Even in our discussions with dancers promoting nutritional health the psychological side is often omitted. Without adequate nurturing in this direction many of our young students will never be able to realize their true potential as dancers or as professionals in whatever field they choose to work in.
Teaching students the art of positive thinking and giving them positive reinforcement is the key to your success as a teacher. Our goal is to give our dancers the motivation to come to class, to work hard to achieve higher levels and to help them have the confidence and self-esteem to let their creativity flow freely.
Most dancers like the social aspect of coming to the studio and the feeling that they are among friends. The studio can be their second home. The more we can do to help promote a sense of belonging and the feeling of being an integral part of the school, the better the results will be in the classroom.  When the dancers feel good about themselves and the friends around them they are more willing to take risks with their dancing and to go the extra mile for their fellow students.
Promote healthy forms of motivation, such as emphasizing collaboration with the group and de-emphasizing rivalry. Reward effort over talent, show dancers that they have control over their improvement and work ethic and that they are ultimately responsible for their success. By giving the students these tools you will help them in the classroom, on stage, or in whatever profession they decide to embrace. Sometimes dancers who are gifted with amazing natural talent are the ones who give very little effort in class. This can be extremely frustrating to other students who are less talented and also to the teacher who knows they can be brilliant. Talent is typically viewed as something that is beyond our control. Talented dancers sometimes worry that their talent will only take them so far and that they lack the control to go beyond that point. This is where we can step in to nurture their true sense of self and ability and enable them to take the steps necessary to move higher up the ladder and realize their true potential.
Less talented dancers often beat themselves up and take every correction as a reinforcement of how bad a dancer they really are. Training dancers to truly feel that every correction is a gift and that the teacher recognizes that they have the capability to do more, is a good way to build that confidence that may be lacking. Rewarding the effort made by any dancer and letting their peers know when a fellow dancer has made an improvement goes a long way in helping them to be better achievers. Letting each dancer know what your expectations of them are and the reason why you have those expectations is important. Every dancer can improve, whether it is in a tiny or a big way, they just need to be told that they can do it.
Putting the focus on the joy of dancing, the real reason why any of us dance, and giving our dancers feedback on what to work on and how to do it, rather than emphasizing the faults and problems that they may have, will promote a healthy and happy feeling among your students and in the long run will make them stronger dancers and stronger human beings.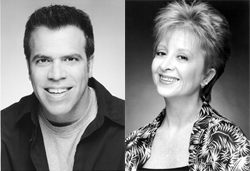 DanceTeacherWeb directors Steve Sirico and Angela D'Valda Sirico
Angela D'Valda Sirico and Steve Sirico have been teaching, choreographing and producing shows for over thirty years. In 1979 they formed the Adagio team of D'Valda & Sirico after performing in shows and on television worldwide as individual dancers. Their performing credits include "Scala" Barcelona, Spain, Casino Estoril, Portugal, Theatre Royal, Oxford, England, Riviera Hotel, Las Vegas, Hotel Tequendama, Bogota, Columbia, Teatro Nacional, Buenos Aires, Argentina,and as Guest Artists for Wayne Sleep's smash hit "Dash", Dominium Theatre, London. They were featured artists in Royal Command performances in Spain and had the privilege of performing for Princess Diana of Wales. D'Valda & Sirico's many television credits include "David Letterman", "Star Search", and "Tarde Para Todos" as well as variety shows in the U.S.A, Spain, Sweden, Switzerland, Finland, Portugal , Italy and Argentina. Their combination of explosive choreography and exciting partner work has been given rave reviews both nationally and internationally. Their choreography for the acclaimed "Brother Can you Spare A Dime" was commissioned by Boston Ballet II and performed by the company. Angela and Steve have owned and directed a very successful dance studio in Fairfield, Connecticut since 1987. Their students have received scholarships and contracts to American Ballet Theater, Boston Ballet, Joffrey Ballet, Nashville Ballet, Ballet Hispanico, Hartford Ballet as well as the National tours of "Fosse", "Fame" and "We Will Rock You" and on Broadway in "Chorus Line".
Angela and Steve have been on the faculty of Dance Educator's of America's Teacher Training program. Steve is the author of his Jazz Dance syllabus and together they authored their Partner syllabus both used for Teacher Training worldwide. Angela served as Chairperson for the tri state panel of the Royal Academy of Dancing and they have taught as guest faculty for Mt. Holyoke College, Michigan State University, The University of Arkansas, Yale University and Fairfield University. They teach Master Classes in Ballet, Jazz, Lyrical Jazz and Partner work all over the world including residencies in England, Spain, Costa Rica and Mexico. From 2003-2005 they were presenting faculty for Dance Teacher Magazine's Summer Teacher's Conference in NYC. They continue to be active as adjudicators for major dance competitions and recently choreographed the opening production number for the National Speaker's Association at their annual convention on Broadway in New York City. Check out Dance Teacher Web at www.DanceTeacherWeb.com
Top photo: © Lenanet | Dreamstime.com