By Alex Little.
Terry Beeman, 45 years old, is like the Madonna of dance; he continues to evolve, revealing even more facets on the diamond of the artist that he is. From dancing on international tours with Paula Abdul, Whitney Houston and Mariah Carey, to films such as Showgirls (Terry was the principal male dancer, partnering both leading ladies), to performing in aerial circus shows and with his company Mental Head Circus, Terry is a talented and tenacious jack of all trades.
When did you start dancing?
Dance started late for me, when I was a senior in high school at 18 years old, at a small studio in my hometown of Kansas City, MO called "Dance Factory".  I was self taught in many respects. It came fairly naturally to me. I started because I was a gymnast, and my coach wanted me to find better alignment in my tumbling. I must have been tumbling crooked! Needless to say, I stuck with dance.
So clearly you had some talent and passion?
I moved to New York as soon as I could. I think I was 20 years old. My first teacher Denise Webb had just moved there so I followed her and trained with her at Steps on Broadway. I studied with a lot of teachers: Rick Atwell, Michele Asaff and Michele Kadison, to name a few. I trained in a variety of genres, at all the studios in NY. I knew it was good to be well rounded. When I was training you took classes in everything. You weren't just a jazz dancer or hip hop dancer. You were everything.
When did your career take off?
It all started for me at 21 years old, when I auditioned for and got a big show in Italy called Fantistico Otto (or "Fantastic Eight"). It was a really big variety show in Italy. I was the lead male dancer. It taught me everything. I credit Heather Parisi for teaching me how to perform. We had to learn 2 – 3 dance numbers in a week, then actually perform them live every week! It was amazing! It taught me how to learn fast, and be ready to perform.
Two years later, at 23 years old, I was back in NY, and began teaching at Steps while I was training. In NY you could still teach and train- and that was 'cool'. Everybody instantly wanted to know what I learned in Italy, so people came to train with me.  I was teaching hot, sexy jazz. That was all we did back then. I taught in NY for about 10 years.
When did you begin to teach in LA?
During my 20s I was going back and forth to Italy for 6 or 8 more shows, and I met dancers from Los Angeles who spread the buzz about me on the west coast. Shortly thereafter, I was in LA for my first commercial job for Adidas, and I began teaching at the Edge.
What have been your most notable jobs?
My first tour was with Whitney Houston, then Paula Abdul. I finished Mariah Carey's tour last year. My first film was Eraser. It was my first time dancing in drag. I learned a lot about how to go over the top. Before that I had only had experience doing jazz, sexy jazz, and lyrical. Showgirls was my biggest film. I mainly worked in LA in the commercial world of film, video and tours. I never really worked in New York because in my 20's I wasn't much of a theatrical dancer. That came later in my life.
How did you start choreographing?
I always had a knack with combining steps. I enjoyed it.  It has always flowed for me.
Did you begin your own company so you could choreograph?
Yes! When I want something or when times are tough, I go to the drawing board and create what I am looking for. Terry Beeman Dance Company began in my mid 30's because I wanted to create.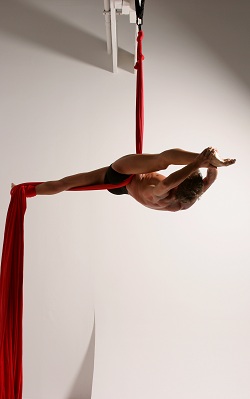 When did you start aerial work?
I didn't start until I was 36 years old- ten years ago!
Wow! Your work is of such high caliber. How did you become so strong at aerial?
Thank you. Well, I train a lot.  After our first show I found a little studio here, in LA, called Hollywood Aerial Arts and began training, and eventually teaching there.
Your current aerial show, Mental Head Circus, is one of the most phenomenal shows I have ever seen. How did Mental Head Circus begin?
Everything I have created starts the same way. I am out of work and poor, but I am not going to sit still, so I begin my next project. Through nothing I created something. With several years of aerial training, I decided to create a "twisted aerial dance cabaret". To create a "pretty" vaudeville circus show, not the gypsie type, but more theatrical – something different.
How long has the show been running?
We are going onto our 4th year. It is held at King King in Hollywood. It's a really raw space, which is perfect for us. We are always evolving and changing it up, performing once, twice, and sometimes three times a month.
What are your goals for Mental Head Circus?
I have huge aspirations for the Mental Head Circus. I want 3 variations. I would like a live circus tent traveling show, a Broadway show, and a movie. I am writing songs right now as well as a screenplay. One of the songs is called "I believe" to remind me to keep going.
How are you funded?
I am not. All the money is out of my own pocket right now. When I have the money I buy T-shirts for promotion, or update the costumes. Basically whatever I can do, I do it. But I do have a great fan base. Our audience is growing.
How do you keep up the momentum and the dream?
I am so blessed to have the cast I have. They are loyal and they believe in me and the vision…more than I do. They love the show so much. They love how it feels, and the art of it.
You have been approached by reality TV shows. How do you feel about putting Mental Head Circus out there in that medium?
I don't like the dramatization of those shows, so I have avoided them in the past. I want Mental Head to be shown in its true light. I also have always been a stickler on working hard and earning everything because of my talent and years of hard work.  At this point, however, if this is a way to get out there, make money and possibly get a show in Vegas, for instance, then I am willing to do it! So we will see what this year brings.
How can people outside LA access Mental Head Circus?
On YouTube and at our Facebook fan page.
www.facebook.com/MentalHeadCircus
For more information on Terry visit www.terrybeeman.com
Top photo by Vance at True Image Concepts.