By Emily Yewell Volin
Sherry Zunker's BeMoved® has been in the press a lot lately, and with good reason.  The popular movement based product designed for adults of all movement abilities is quickly spreading around the country.  BeMoved®'s seemingly overnight success story has a lot in common with those of other seemingly overnight successes; it's the result of years spent honing and applying skills, gathering diverse experiences, and trusting one's own vision and uniqueness.  Sherry talked with Dance Informa about her experiences developing BeMoved® as well as her other current projects.  As always, a conversation with Sherry is filled with honesty, humor and heart.  Enjoy.
Tell us about BeMoved®. 
BeMoved® was 30 years in the making; though it really only took me a few days once I decided to do it.  The process really started when I was Co-Directing at River North Dance Chicago. Company dance classes were ballet three times a week and jazz twice a week.  The repertoire was so hard and the dancers' bodies were getting battered.  Things kept getting more technical and athletic and the joy and art of dancing started to escape.  So, first I adjusted my classes; especially those I taught for the Company.  I made my class about the dancing of dancing; artistically interesting and therapeutic.  Then I realized there were a lot of post professional dancers out there looking for classes.  I couldn't find a class I enjoyed taking; either the choreography wasn't good or the class hurt my body.  So I realized this type of class, what is now BeMoved®, was something really missing in the field.  Part of the mission of the Mature Dancer Project (MDP, a project driven performance company of post professional dancers) is to create a haven where post professional dancers continue to dance and evolve as artists while bringing dance into the community. BeMoved® was born from that part of MDP's mission. 
Sometimes you don't know how what you're doing will serve you later in life.  BeMoved® was finalizing a huge puzzle and now I see how all these pieces fit.  I really care about this and what I can do to help the most people.  BeMoved® speaks to me as a person and has been the biggest full circle 'ah hah' moment of my life". 
You have developed syllabi and training for BeMoved® instructor certification to ensure consistency with the BeMoved® experience.  Tell us more about what to expect during a class.
The entire BeMoved® syllabus is designed so that the movement does not hurt; that's the point.  Most people don't get the opportunity to move to complex, interesting music the way dancers do.  And a BeMoved® class is not about how you look doing the movement, it's how you feel about it.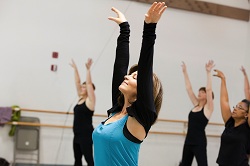 You can really have an emotional and spiritual experience during a BeMoved® class because you move to music (expertly chosen from Sherry's extensive experiences choosing music for Royal Caribbean Productions) and don't stop. As a result, BeMoved® is a great cardio workout; though that was never my original intention. More people succeed in a BeMoved® class than they do in athletics or a dance class.  In fact, a lot of people who take BeMoved® for the first time say it's a lot more fun than they thought it would be and that they could do all the movement!  In the end it's just so much fun and that's my intention with BeMoved®. 
You are currently directing Royal Caribbean Productions' presentation of Chicago.  To what do you attribute your directing success? 
Even though I've done a lot of diverse things, being a really good teacher and loving to teach have really helped me be a good director.  I'm able to teach people how to do my work.  I look at what's in front of me, for example either a River North Chicago dancer or a singer who has never danced before, and I'm able to figure out how to make the most of them.  When I direct I try to share with those I mentor.  I walk into the room and think of what the work is supposed to be.  I try to look at things as a human being and then my visceral response identifies what's going on.  I care less if (the people I'm directing) like me.  I'm more concerned that I am able to teach them.  I understand this responsibility.  Also, I know time is money and that efficiency is key.
Having the awareness of how much information a person can receive at a particular time is also important.  As a director it's important to know the two things a person can take away today, even though there may be ten things they eventually need to hear.  That gets me really good results.  It's a timing issue.  The minute someone is overwhelmed, it's over. It's crucial to be inspirational.  That's how you get people do to things; not with fear – it's inspiration and excitement. 
What kind of dancer do you like to work with?
I notice if a dancer can pick up things fast and if he/she is a good listener who is kind, aware of, and helpful to other people.  I also notice if the dancer goes out for a smoke or stays in the studio to stretch during a break and if he/she is looking at me and always paying attention.  I need them to do my style and not add their own. There are a lot of people I cannot hire because they want to do their own version of the choreography.
What audition advice do you give dancers?
Dancers need to know what they are auditioning for.  For example, if auditioning for Royal Caribbean they need to have make up on, a cute cut, and an outfit without tears. Or, if it's a company, find out what the rep is like and what their dancers look like. Do not show up looking like a dance student. Look like you are a professional performing artist.  Do your research (Sherry suggested youtube searches) and be what the auditioners already like.  A lot of times the people making the final casting choices are not the ones with the dance/singing knowledge.  It's often the producers who have the final say because they have the money.
The multiple components of Sherry's well developed career nourish and inform each other; and she isn't slowing down. 
Learn more about Sherry and her projects by checking out these sites:
Sherry Zunker:  www.sherryzunker.com
BeMoved®:  www.bemoved-dance.com
Royal Caribbean Productions: www.royalcaribbeanproductions.com/chicago
River North Dance Chicago:  www.rivernorthchicago.com
Photo's by Cheryl Mann