Red Rock Casino, Resort & Spa, Las Vegas
August 7 – 10
By Deborah Searle.
Dance Teacher Web Conference & Expo gave dance educators a perfect mix of fun, learning, networking and relaxing, during their summer vacation period. Starting with a bang, the event opened with a welcome party which set the tone for the entire conference. We were all treated to an open bar and dance floor. With a room full of dancers, it was a very boisterous night! There were inspiring performances by several artists, including a balletic number by Sharon Fernadez of Melbourne Ballet Company in Australia, and then several impromptu performances by attendees 'busting a move' as the party gained momentum.
With classes in everything from jazz for juniors to improv for teachers, dance drama, body conditioning, a cappella tap, technique for boys, and more, the teachers had a huge array of classes to choose from. These teacher training classes were accompanied by general dance classes in ballet, jazz, tap, contemporary, hip hop and Broadway for those teachers who just wanted a chance to dance.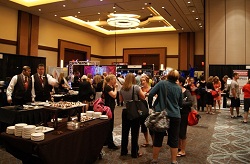 With six rooms running at the same time, all day long, there were also many seminars taking place throughout the event. Sessions on marketing, studio management, legal issues, websites, Facebook and budgeting, amongst others, provided teachers with helpful tips and tools to take back to their businesses.
The Red Rock Resort provided the ideal venue for such an event. It was an oasis, with beautiful facilities and grounds, four pools, and a spa for relaxing in out of class. When teachers weren't dancing or at a seminar they enjoyed their time at the pool, spa, many restaurants or the casino, and visited the dance expo. Complimentary breakfast was served in the expo hall, as well as afternoon tea, where teachers could grab a bite to eat and visit the many exhibits.  Attendees could browse through costumes, meet dancewear providers, learn about studio management solutions, discover new resources, seek studio supplies and collect goodies to take back to their students.  There was even a lovely breakfast held by the pool on the Tuesday morning, sponsored by Costume Gallery, where teachers enjoyed a fashion parade and live music as they ate.
Dance Teacher Web Conference & Expo was a well planned and executed event by creators Steve Sirico and Angela D'Valda Sirico. They have a wonderful resource in DanceTeacherWeb.com and a very special event in Dance Teacher Web Conference & Expo. Teachers attended from all over the globe and their enjoyment was obvious. I recommend this conference to any teacher wanting a little bit of time away to reinvigorate, get inspired and learn new things.