By Emily Yewell Volin.
NYC based Emmy Award Nominated Dancer/Choreographer Jeffrey Page has just finished performing on Broadway with the hit musical FELA! Specializing in West African dance Jeffrey Page was worked with the likes of Beyoncé, Cirque du Soleil, Alvin Ailey American Dance Theater, Debbie Allen and So You Think You Can Dance.
You began dancing at the age of 10 when a teacher 'tricked' you into an African Dance class by calling
it hip hop.  African Dance became passion a of yours
and you have taken several dance research trips to West Africa. 
How does your love of traditional African dance inform your creative choices?
I grew up in Indiana where we were saturated with hip hop and R&B. This gave me an important foundation. Getting so heavily involved in African music and dance at a young age opened my mind to the possibilities of what all music has to offer.  I learnt that movement has infinite possibilities and infinite points of view.  I learnt to be open to looking at movement through a different light.  Everything doesn't have to follow a formula. I like to play with traditional movement and concepts, but more than anything, I relate these concepts to where I come from.  I am from Indianapolis, not West Africa. While I am considered an expert in West African dance, what is uniquely me is soul music, hip hop and pop music and the way I fuse those experiences with my West African influence.  I think that's the beauty of what I did with Beyoncé.  I have been able to see how she naturally moves and then look at it and find a different way and sensibility to her movement.  I think that process is what informs my artistic choices.
Director/Choreographer Otis Sallid lauds your "ability to translate old world dance into new world movement".  How do you arrive at this fusion of movement?
It's interesting, because I look at old movies like School Days and The Wiz and I'm impressed by the funk, the groove, by what the choreography did and where the music was.  For me, that's the connection; it's the groove of a piece.  I try my best to refer to the groove and to realize where the weight of the body sits inside the music.  That groove pushes me along and gives my work a timelessness.
You danced for Beyoncé when she promoted her first album, Dangerously in Love.  You have since choreographed extensively for Beyoncé. How did this come about?
Frank Gatson is Beyoncé's Executive Choreographer. Frank and I became good friends during Beyoncé's tour.  I was sitting around in LA, broke and jobless, when I decided to choreograph one of Beyoncé's songs and submit it for review.  So I went into the studio and worked.  I tend to do this.  I take a lot of creative seeds and throw them into the wind and hope that something grows somewhere.  I had the piece all set up for Frank to come watch and I created a DVD for Frank to show Beyoncé.  He showed it to her and they decided to take my concept onto the stage.  Ring the Alarm for the MTV awards was the first project and Déjà Vu for Fashion Rocks was next.  
Tell us about working with Beyoncé.
Beyoncé is very open artistically, but she is VERY clear on what she wants.  She's not one of these silly artists who doesn't know what direction she wants to go.  We can be into a movement phrase and she'll say, "I don't like that. Can we change it?" That's what art is about. It's about creating something bigger than yourself. She's a perfectionist.  We once spent two six hour rehearsals on one movement phrase because she was adamant about her getting it right. I admit at the time it was hard, but when you look back you realize it's about giving proper respect to the art.
How did it feel to be a performer in the Tony Award winning production of FELA!? 
I was a big fan of Fela's music in college but certainly didn't know his life story as I know it now.  I loved his music.  I was doing a project with Director/Choreographer Otis Sallid, living in LA and flying to NY to rehearse.  I had friends who were in FELA! and I went to see the performance.  I was blown away by the choreography, the music, and the storytelling.  At that time I wasn't a performer any more. I had really surrendered to being a choreographer and director seven or eight years beforehand. When I saw the show I stayed in New York because my friends said an audition for FELA! on Broadway would be happening soon.  I was that drawn to the story.  It felt like I HAD to be part of it. I ended up staying in New York for about a year before the show actually held auditions.  Thankfully, I made the audition!  I'd never met any of the show's creative staff and somehow out of about 300 guys, I was the only one they picked for that particular position. I feel so blessed to have been chosen as a cast member.  I think it was fate and it has been an amazing ride! 
What drew you to the story?
FELA! is about standing up for what we feel is right. Telling that story on Broadway is REALLY phenomenal.  We did not hold our tongues.  We said all the companies, all the names.  Our society talks about the need to be politically correct, yet sometimes we have to say names in order to implement some sort of change.  I also think this show has brought a lot of respect to American culture.  People from all over the world came to the show.  I feel love and respect as a result. 
FELA! is going to Nigeria to perform for the 50th anniversary of their independence.  All of the primary people whom Fela would have spoken out against are actually the ones bringing us to Nigeria. 19 tons of materials (currently being shipped out at sea), plus the cast and crew are going over to stage the show in Nigeria.  If that isn't change, I don't know what is! [laughs].  Music is the weapon and art is currently changing the world. WE are changing the world.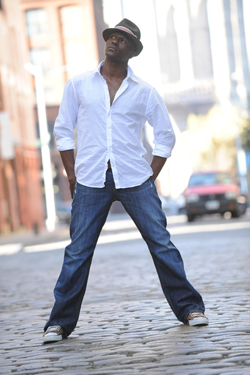 The African dance you choreographed for the five male finalists of Season 5 of So You Think You Can Dance received rave reviews.  Tell us about creating the piece.
Oh my, that was something!  I was in New York and I got with some dancers I know to create the dance, videotape it and take it with me to LA. I only had 5 hours total (not consecutive hours) rehearsal before the work was performed live.  My first rehearsal, I walked into the room and started working with the dancers and was immediately scared to death.  These dancers knew nothing of the way I move or my aesthetic and were not trained at all in African Dance.  Everything I created in New York got thrown out the door.  It became about the dancers did well and doing that. It was tough work but it ended up beautifully.  Putting traditional African Dance choreography on somebody who has never done the form before is hard. It takes most people years to successfully accomplish! I'm used to working quickly, like with the BET awards.  I got a call and had two days to create the work.  The difference was I cast the 40 dancers myself and knew they were all capable of handling my work.  The process for SYTYCD is very different from that.
So are you back to Africa anytime soon?     
I have not left the city limits of New York City for two years because of the FELA! run.  So, when I heard we were closing, I immediately bought a ticket to Africa.  I'm going to Mali and will soak up the information, the philosophies, folklore, stories and sun.  I intend to learn something new and to get my fingernails dirty.
Jeffrey will be part of the upcoming FELA! US and world tour. For more information visit www.felaonbroadway.com
FELA! is the true story of the legendary Nigerian musician Fela Kuti, whose soulful Afrobeat rhythms ignited a generation. Inspired by his mother, a civil rights champion, he defied a corrupt and oppressive military government and devoted his life and music to the struggle for freedom and human dignity. FELA! is a triumphant tale of courage, passion and love, featuring Fela Kuti's captivating music and the visionary direction and choreography of Tony-Award® winner Bill T. Jones.