The cadenzas of the harps, the scamper of tiny mice feet and the smell of rosin mixed with grease paint – you guessed it, Nutcracker season is here. It is a thrilling time of year for dancers of all ages and, for some, a first time onstage. For the lucky ones chosen for this annual delight, congratulations! You have overcome the first hurdle. There is nothing like seeing your name on a cast sheet for a prized role. That feeling can quickly melt into the realization that you have a lot of preparation to do because The Nutcracker can make significant demands on your footwear.
Typically, multiple roles have contrasting pointe shoe needs, and alternate casts usually have different tracks depending on the day. Add to that numerous performances, school shows, promotional events and last-minute cast changes and it can make you feel like you've stepped into the land of the not-so-sweets. If you are dancing en pointe, you need strategies to make the season manageable. With a bit of preparation and a can-do mindset, you can go into your performances with confidence that your shoes will be there when you need them most.
Read on for our Nutcracker pointe shoe survival guide!
#1. Stock up on shoes.
Ordering multiple pairs of shoes in advance is a great start. Dance retailers sell out of popular brands and sizes. Manufacturers can't always keep up with demands. Stock up on your favorites; it's better to be overly prepared than in a panic when the performances start. Make a list of how many roles you are doing, how many shows and if you need any specialized dyed shoes. A good deal of the parts in The Nutcracker call for bright or flesh-tone colors. A shiny, yellow doll shoe for the Act I party scene isn't appropriate for the Act II Waltz of the Flowers.
A good rule of thumb for an intermediate dancer is two pairs of shoes per role times four shows. That means if you have four shows over a weekend, you will need two pairs per role to be on the safe side. For advanced dancers, that formula changes to two pairs for two shows. Rehearsals leading up to the shows usually require one pair a week for intermediate-level dancers and two pairs a week for advanced ones. Principal roles typically require even more shoes due to the challenging choreography.
#2. Take good care of your shoes.
It is cringe-worthy to watch a novice dancer throw their pricey pointe shoes into a dance bag and leave the soggy mess until the next rehearsal. Drying them out every day after wearing them is crucial, even for brands made of contemporary materials. Coat hooks are a convenient option for the drying process. Always put the tips up; you get an assist from gravity, and getting the shoes off the floor keeps Fluffy from turning them into chew toys. Rotate pairs to make them last longer, and launder your toe pads often to kill off the bacteria.
#3. Become an expert in gluing techniques.
The glue helps waterproof the shoes and harden them at the same time. Cyanoacrylates are your best bet. They can be found anywhere, including your local dance store. Leave the glue at home in a cool, dark place, and do not carry it with you; every dancer has a tragic dance bag vs. glue story.
#4. Break in all shoes ahead of the performances.
Breaking in the shoes can be as simple as softening them with your hands or wearing them while walking around your home. Changing brands before a performance run or even mid-run is almost always disastrous. It's just too much for your body to try and process working in a different shoe and negotiating all of the chaotic elements of a show. You have enough to worry about with the fog machines and snow.
#5. Learn to sew.
Sewing is an excellent, fundamental skill to have. It doesn't have to be complicated; a simple running stitch will do the trick. You must be able to throw a few stitches into an errant piece of ribbon or elastic. You may need to stitch up a hook on a costume or reattach a rhinestone. YouTube is full of tutorials on basic, easy-to-follow stitching methods. When you can take care of yourself backstage, you feel a sense of pride, and directors love working with proactive dancers.
#6. Dying shoes presents its challenges.
There are many different methods to dye pointe shoes, including jumbo markers. Usually, fabric dye in spray form is quick and easy to use. Test your colors to ensure they don't transfer onto the expensive Marley floors. If the shoes are brand new, the dye will only make them firmer, so break them in first. Stuff them with newspaper to help them keep their shape and minimize shrinking. Practice your dying technique on an old pair first. When you have the hang of it, you can work on your precious, new shoes.
#7. Shoe scrapers are a must-have for traditional pointe shoes.
Shoe scrapers rough up the outer soles and can be a big help if you are on challenging surfaces like a slick floor covered in layers of sweat and glitter. Purchase a light scraper by visiting a dance store that sells ballroom shoes. Insider tip: A microplane zester is inexpensive and does a fine job of scraping up outer soles. Be careful when using zesters; they can rip the fragile satin on your shoes.
#8. Get some rosin spray for your dressing table.
If there is a no-rosin policy at the theater or for that particular floor, no problem. You can use it to keep the ribbons in place and your heels from slipping off. If you decide to use rosin spray on the tips of your shoes, a word of caution: spray is meant for light dusting only; multiple layers can build up a coating that makes the shoes too slippery. Rosin spray is available at most dance stores or sporting goods stores in the baseball supply aisle.
#9. Put together a pointe shoe first aid kit with plenty of supplies.
This kit should contain everything you need: bacteria spray, bandaids, scissors, cushions, toe tape and even KT Tape. Most drug stores sell blister care bandaids that are an enormous relief if you run into trouble during a show. Corn and bunion cushions are handy for sore spots. A roll of neutral-colored duct tape is a must-have and can be useful for numerous backstage emergencies. Ambesol or Arnica gel for pain is helpful and can numb the pain in your feet on double-show days.
Finally, seasoned dancers and guest artists are some of the best resources for tips and tricks on pointe shoe survival tactics. These dancers get hired because they have experience and know what works and what doesn't. Watch the pros and see what they do to their shoes, and don't be shy about asking questions. The Nutcracker is an important milestone in any dancer's life, and it takes time to figure out all the ins and outs of performing. Enjoy yourself and know that not only are you learning valuable skills, but you are also making memories that will last a lifetime.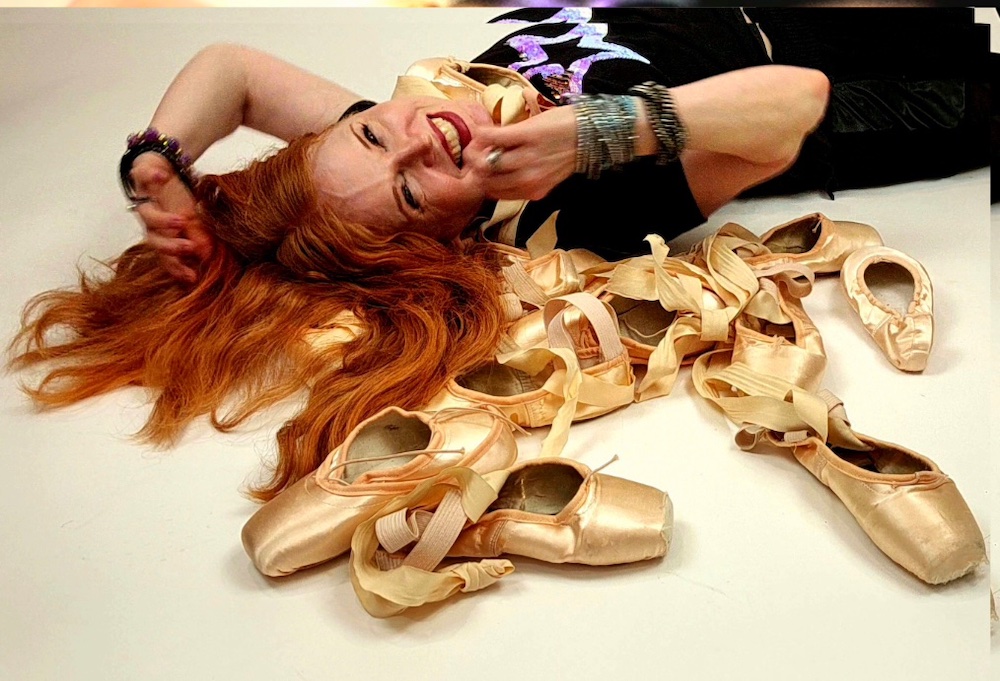 By Mary Carpenter of Dancewithmary NYC.
Mary Carpenter is a former professional ballet dancer who began her studies at CCM, the official school for the Cincinnati Ballet Company, and was on scholarship at the David Howard Dance Center. Mary also holds a BA with high honors in dance from Butler University. She has danced for the Metropolitan Opera Ballet, Ohio Dance Theatre, Granite State Ballet, Maryland Ballet, Lexington Ballet and Charleston Ballet, and performed in numerous off-Broadway shows. Mary has contributed to the dance community as a dedicated instructor in ballet, Pilates and Progressing Ballet Technique (PBT), and served on the faculty of Broadway Dance Center, the Ballet Hispánico School of Dance, Barnard College and The New School University. She is current faculty for Ballet Academy East and the world-famous Steps on Broadway. Her classes for adult beginners are available virtually on the Dancio.com website.
With over three decades of experience, Mary has become a highly skilled pointe shoe fitter. She has worked with dancers from prestigious companies such as American Ballet Theatre (ABT), The Royal Ballet and New York City Ballet. Her expertise in fitting pointe shoes has led her to give lectures at renowned summer programs, including ABT/JKO, Dance Theatre of Harlem, NYSSSA and Oklahoma Summer Arts in Quartz. In 2015, Mary launched her YouTube channel, "Dancewithmary NYC," where she shares her knowledge and expertise on pointe shoes through monthly segments. Her channel has become a valuable resource for dancers and teachers seeking guidance and advice.