"It gives me great pleasure to be able to promote three dancers in our company this evening." Following the curtain-raiser performance of George Balanchine's Allegro Brillante on opening night of Pacific Northwest Ballet (PNB)'s 50th Anniversary season, PNB Artistic Director Peter Boal announced to the audience that soloists James Kirby Rogers, Jonathan Batista and Cecilia Iliesiu have been promoted to Principal dancers. Each promoted dancer is currently featured in Carmina Burana, running through October 2 (streaming digitally October 6-10).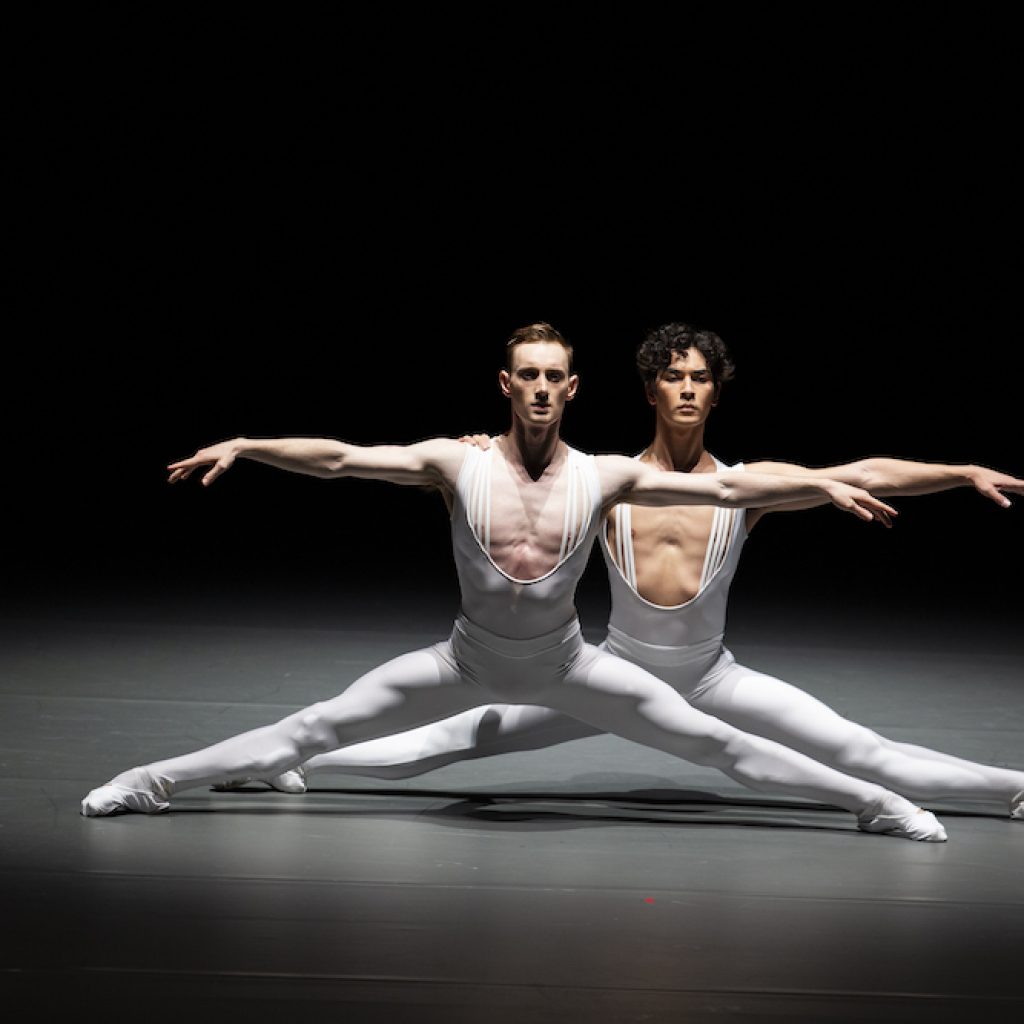 "Just one year ago, James Kirby Rogers performed with PNB for the very first time," said Boal, after bringing him out in front of the curtain. "After his memorable debut in Ulysses Dove's Dancing on the Front Porch of Heaven opposite Christopher D'Ariano, there was a significant buzz in the lobby as everyone wondered who the new hire was. Over the course of the past season, James has approached each role with remarkable curiosity and commitment. His Tybalt in Jean-Christophe Maillot's Roméo et Juliet, bristling with emotion and physicality, offered a primer in acting, while his Siegfried in Kent Stowell's Swan Lake cemented a tender partnership with Lesley Rausch as Odette/Odile. His technique is fearless, his generosity to those around him runs deep, and his commitment to perfection has him in the studio long after the rehearsal day is done. Please join me in congratulating James on his promotion to Principal dancer."
Boal then brought Jonathan Batista to the stage. "Jonathan Batista, originally from Rio de Janeiro, Brazil, was informed of the merits of Pacific Northwest Ballet by former Principal dancer Karel Cruz. Jonathan joined us as a soloist only one year ago. His exuberance for contemporary and classical dance is evidenced every time he steps on stage. His joy of movement and commitment to character has audiences cheering and online fans fawning. At home in the works of Alejandro Cerrudo, Twyla Tharp, Ulysses Dove and George Balanchine, Jonathan holds a passion for the new, and a desire to explore the unknown. His wonderfully matched partnership with Angelica Generosa offers both bond and bravura. Beyond the stage, Jonathan is devoted to funding and inspiring young dancers in his native Brazil and worldwide. Let us applaud Jonathan on his well-deserved promotion to Principal dancer."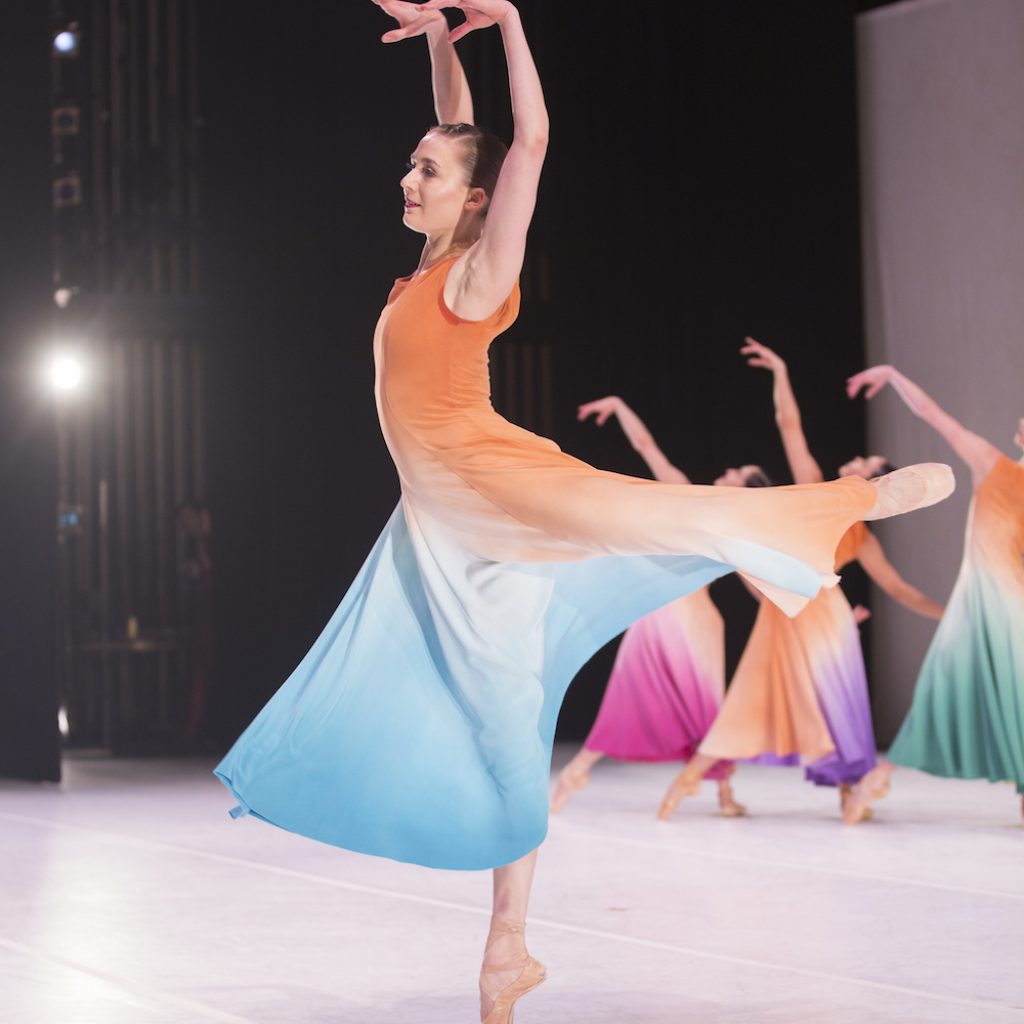 Finally, Boal spoke about Cecilia Iliesiu. "I had the pleasure of teaching CC when she was just 11 years old at the School of American Ballet. She was an open-minded and eager student. Much to my surprise, she auditioned for PNB many years later when she was a soloist with Carolina Ballet. She has never lost her quest to learn and grow as a dancer, performer and person, and it is her unwavering work ethic and unquenchable curiosity that has allowed her to blossom as an individual. CC is capable of technical feats and athletic prowess, but it is the tenderness she brings to works like Donald Byrd's Love and Loss, opposite Dylan Wald, and the sweetness of her Sugar Plum Fairy opposite Cavalier, Dammiel Cruz-Garrido, that reveal a level of humanity defining of this artist. Devoted to compassion and empowerment as a mentor, advocate, coach, and teacher, CC is a role model to many and an inspiration to all. Join me in celebrating Cecilia Iliesiu's promotion to Principal."
Prior to opening night, PNB has also hired Audrey Malek to join the corps de ballet, and five apprentices from the ranks of the PNB School's Professional Division – Luca Anaya, Dylan Calahan, Rosalyn Hutsell, Larry Lancaster and Destiny Wimpye.
PNB launches its 50th "golden" anniversary season with the return of PNB Founding Artistic Director Kent Stowell's Carmina Burana. The energy, spectacle, and exuberance of the PNB fan favorite is complemented on this triple-bill by Balanchine's thrilling Allegro Brillante; and Wartime Elegy, a world premiere by Alexei Ratmansky. Carmina Burana runs September 23 through October 2 at Seattle Center's Marion Oliver McCaw Hall. The program will also stream digitally from October 6 through 10. For tickets and additional information, visit PNB.org.