We can all picture it: a young person dancing alone in their room – totally immersed in the music, movement and personal expression. No one to impress and nothing to prove.
David "The Crown" Stalter was one of those young people, but he's taken it much further. Dance will soon take him to representing the U.S. in the Red Bull "Dance Your Style" World Final in Johannesburg, South Africa, in December 2022.
Born and raised in Minneapolis, MO, Liberian-Korean, Stalter is self-taught in a variety of street dance styles, including hip hop, animation, breaking, popping and locking. Hard work and a unique set of skills has led him to opportunities with a variety of artists including G-Eazy, Lil Jon and Skee-Lo. His creative talents also don't stop at dance; he also acts, writes poetry, models and plays the ukulele.
Dance Informa recently spoke with Stalter about his dance journey, how he's trained and prepared to compete, how his broad skills as an artist contribute to his dance artistry, and more.
Perhaps most striking in this conversation was Stalter's groundedness in important values: authenticity, family, a sincere but balanced work ethic. That could even be a key part of his success. He reminds us that we're human first and dancer second – and that following such a mindset can take us farther than tunnel-vision ever could.
How did you encounter dance as an art form and something that you could really dedicate yourself to? What have been some main highlights of your dance journey?
"I started dancing when I was in elementary school, in a church group. My grandma was a pastor there. Some of it was just cartwheels, but it was fun! I started to take it really seriously in high school.
Some of the main highlights of my dance journey have been traveling and meeting new people – seeing new perspectives. I'm a memory kind of person. I love new experiences!"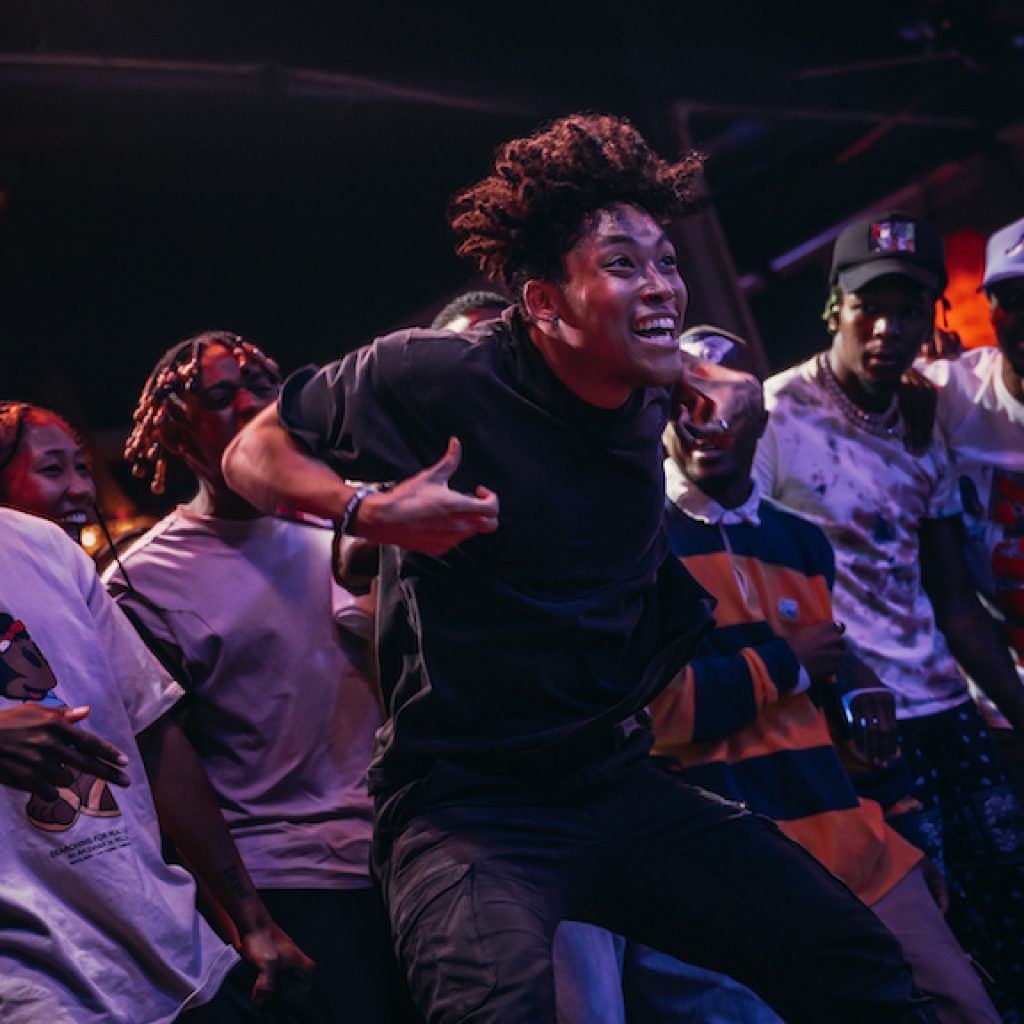 Congratulations on the recent honor of representing the U.S. in the Red Bull 'Dance Your Style' competition! What was it like to train and compete? And how will you prepare for the World Final?
"In terms of training, I already train a lot consistently – every day – and I'm very open-minded. I train to all different kinds of music, I always have. For Red Bull, whatever the music is, I can adapt. On the day of, I have a little ritual: I meditate, I stretch and prepare my body head to toe. I feel the space. I really get in the zone.
I might not have friends and family there at the World Final, and that might be a challenge, but I think I can do it. The Red Bull team is so beautiful; I've built some great friendships already. The dance relations team there really takes care of their artists. I'm looking forward to traveling and being with them all.
I hope I can explore Johannesburg during the World Final, and maybe even take some dance classes. There's so much beautiful dance out there! But I know that I also really focus and get in the zone when competing. We'll see!"
You also act, write poetry, DJ and play the ukulele – so many wonderful creative talents! Does that influence your dancing, and if so, how?
"I think it definitely impacts my dancing! But I think my dancing hones those things actually. For example, when I'm dancing, I'm really feeling the music – so when I DJ, I can do that and control the room (which is important with DJing)."
You've worked with many different artists and worked in many different street dance forms. Do you think that's also contributed to your technique and artistry?
"One thousand percent! Growing up, I listened to all types of music. My dad would play hip hop and rap, but also country. Then my mom would play African music. In high school, Mos Def, Linkin Park and other rock was big.
I'm just super open-minded overall. I love all forms of dance. I would love to learn any style I can: ballet, contemporary, African dance. I just love dance, and when you're a lover, you want to try it all. Why not? But already, my style is really a melting pot of a lot of different styles."
It seems like you also have a really great sense of music, and that's really part of who you are as a dancer and as an artist. Would you say that musicality is a strength of yours as a dancer? If so, how might you advise other dancers to enhance their musicality?
"I would say that musicality is one of my strengths! When I was first getting really serious about dance, I would just move alone in my room – to all different types of music, and I would really feel the music. A lot was happening in my life at that time, and dance was soothing.
In terms of strengthening musicality, I would say to other dancers, especially with hip hop, that it's very important to showcase the music. Embody and become one with the music. Listen to the music – like really listen. There's so much that goes into the music — all of the different layers (chorus, etc), the ambience, the atmosphere, the vibe. Take a lot of time with it."
What do you think are some of your other strengths as a performer? How will you bring that to the World Final?
"I'm naturally charismatic and also very athletic. With my training and foundation, my body can keep up with my brain. My mind can sometimes say, 'I can't do that,' but my body is ready to do it anyway! I'm also pretty adaptable, as we talked about.
For the World Final, I'll just really keep dancing, training and staying in the zone!"
What's next? What else would you like to explore, create, achieve?
"I definitely want to learn different styles of dance, as I said. I've been taking classes in Memphis jooking, and that's been so fun! I also want to learn more about choreography. I've been taking classes in that, and it's definitely something that I want to get better at and have more opportunities in.
In terms of competing, I'm currently healing my body and taking a few days to rest! I'll be traveling and judging some competitions soon, so I'm looking forward to that as well. Overall, I want to move forward in light and in love, to stay connected with family and what really matters.
I strive to move forward, through competitions and dance but also just in the world, as myself. That's hard to do because of social media and other pressures. People are going to judge you anyway. So, I'd rather be judged for what I am than for what I'm not."
You can follow David 'The Crown' Stalter on Instagram: @davidjrx.
By Kathryn Boland of Dance Informa.