Seeing dance in everyday media just sparks joy. We dancers see almost nothing but dance on our feeds all day long, but watching an ad that puts dance front and center for the world to see? Somehow, it hits different. Maybe it's that we're so proud to see our art form represented in the mainstream, knowing that it's impacting folks outside of our arts bubble. Or maybe it's that we know the dancer on screen is making commercial-level money, and it's about time we're all paid properly for our work. Whatever it is, let's have more of it.
Cardboard Stage is on that exact mission. While the founder, Dasha Schwartz, is herself a dancer and choreographer, this initiative isn't a dance company so much as a collaborative platform. If you think the pandemic prompted international artistic collaboration – with all the online classes, auditions and projects – Cardboard Stage has been fostering a global network of creatives since before it was cool, pre-pandemic. So far, that network extends from their home base in New York, to Canada, France, South Africa, Spain, Mexico, Chile, and Australia.
This company isn't just connecting dancers. It's not even just connecting dancers to other artists, like musicians, cinematographers and visual artists. Cardboard Stage's biggest success so far has been in connecting artists to brands. They've worked with companies like WeWork, The Break, Frisson Knits, Talentless and Notte Jewelry. These collaborations range from social media content to live events, like New York Fashion Week.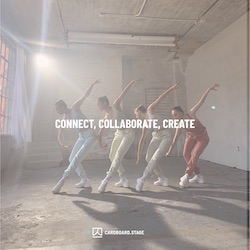 Whatever the delivery method, Schwartz's ultimate goal with Cardboard Stage is to make dance and other classical arts accessible by putting them in unexpected contexts. "Working with brands provided another avenue to our mission of accessibility, reaching new audiences in unconventional ways," Schwartz explains. "I hope to spark an interest in the arts by providing an accessible way to consume them in an unsuspecting way by simply scrolling through your feed. I also believe the more people are exposed to the art form, the greater the support for the arts will be."
The expansion of dance into other industries is a fantastic way to broaden our own industry's horizon, instead of staying insulated. When we allow ourselves access to new audiences, we create more work opportunities, open ourselves up to outside funding, and gain a healthy perspective on what modern professional practices and pay can look like.
Schwartz underlines the part about pay. "The reality is the budgets of commercial work is far greater than that of a lot of performance work. Not only is this a great opportunity for exposure and network building, but for income, so these artists can monetize their efforts."
So dancers can benefit from branded content, but why do brands need dancers? Well, for starters, most ads seen by modern audiences are viewed on social media on apps like Instagram, which are moving toward video. Why is that important? Because dancers are movers. Says Schwartz, "Clothing is built for movement, not standing still. Dancers understand how to move their bodies in a way that does such a service to the pieces." Using movement artists instead of traditional models makes sense for a lot of brands, especially fashion and jewelry companies. This goes doubly for live events like New York Fashion Week, when customers get the chance to see skirts swirl and gemstones sparkle up close and in person. What better way to show off how a clothing item moves, or how the light catches a jewelry piece than to have movers accentuate those details? It's what we're good at.
As Sindy Folgar, a Cardboard Stage dancer, puts it, "Brands can connect to their customers through art; art can transcend. This is why we exist." Dancers are storytellers, and compelling content tells a story, however simple. In the words of Schwartz, "At Cardboard Stage, we make moving content, both literally and metaphorically."
It's no secret that there can be animosity between the concert and commercial dance worlds. But concert dancers might be able to learn a thing or two from the commercial side of things. "The classical arts as they exist now primarily cater to a whiter, older, richer demographic," says Schwartz. But when you make your art form available to everyone, you'll meet fans and friends all over. "I aim to bring the classical arts to new communities and hopefully inspire a love of the arts in those who aren't exposed to them in their daily lives. Through branded social media content, that to me is removing the barrier to entry that limits the expansion of the arts. It's the easiest way to reach these new audiences in a way that removes the stigma surrounding classical art forms."
To learn more about Cardboard Stage, visit cardboardstage.com or follow them on Instagram: @cardboard.stage.
By Holly LaRoche of Dance Informa.