Unique Movers is a platform which sponsors and helps support and create awareness for individuals of varying abilities through the love of dance. This October 2, at the TRYP by Wyndham New York City Times Square South, Unique Movers will support Angelman Syndrome and sponsor the FDC Young Designers Awards event.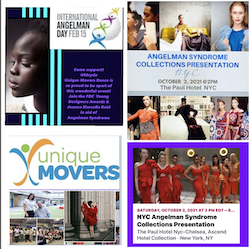 The event is for young fashion designers to have an opportunity to share their work. In addition, it is also to raise awareness for Angelman Syndrome. The fashion show creator/produer is Joanna Marcella Reid of London, and she and Unique Movers initially connected via social media.
Unique Movers is a non-profit organization which was created by Maggie Sposato, a professional dancer and producer based in NYC. Unique Movers has held many events in the dance community and beyond and has worked with many organizations, including The Special Olympics, Javits Center, Angela's House, Long Island, Broadway Dance Center Children & Teens, Another Step Inc, Rise Talent Competition, Work It Talent Competition, and many studios from all over the tri-state area.
Sposato and Unique Movers feel strongly about inclusivity in dance and the factors that are important in establishing inclusivity and creating a safe feeling environment for all abilities.
"Dance is for everyone, and my events create an atmosphere which allows movers of all abilities to feel safe, connected, and free to express themselves through movement and music!" Sposato says. "The bonds that are created at these events are truly beautiful. The energy is overwhelming, and the love that dance brings us all is limitless!"
She adds, "Dance is indeed a universal language, and through dance and all of the arts, we as a society can raise awareness, help, aid, support, share love and build one another up! Unique Movers Dance and the FDC Young Designers Awards are excited for this event. We hope all will come to this event to raise awareness for Angelman Syndrome, and remember that dance and the arts is for everyone and for individuals of all abilities! Unique Movers strives to make a difference and is proud to sponsor the FDC Young Designers Awards and Angelman Syndrome!"
Tickets for the event are now available here. For more information on Unique Movers, visit www.uniquemoversdance.com.