After a year of lockdown, dance studios in New York City were finally given permission to reopen on March 22. Studios are cleared to operate at 33 percent capacity, given they've updated their space and protocols to standard.
Broadway Dance Center and Gibney Dance will reopen on April 5, and Steps on Broadway on April 12, taking the time to ensure measures are in place before dancers return for the first time in 12 months. Studios like Peridance Center and PMT House of Dance that had previously been cleared to run school-style programs were prepared to open their doors to the rest of the public immediately on March 22. All of these studios are part of the recently formed Dance Studio Alliance (DSA) of New York City and will be following similar protocols. These protocols have also been adopted by other studios in the U.S., and the DSA hope New York studios can set an example of what a safe reopening can look like.
Here are some examples of what to expect.
Peridance Center – Open
Nikki Holck, managing director at Peridance, explains the steps they've taken to keep the space clean and dancers healthy. "We're at about 25 percent capacity for our classes, about nine to 10 spots per class. That's below the allowed 33 percent; we're starting slowly." Limited spaces in-studio, especially given the sheer number of dancers in New York, has made signing up for open classes a bit of a free-for-all. "Right now, our registration opens 10 days before class starts," Holck says. "We're looking at bringing that down to a week. It's on a first come, first served basis. Pre-registration is of course required; no walk-ins for any class."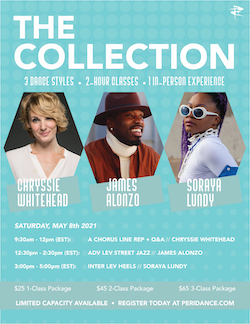 Holck notes what a big change this way of working will be from the past. But on the bright side, capped classes also mean more attention from teachers and more space to move. And while we won't be hanging out in the halls, hopefully the sense of community can be fostered outdoors before and after classes, especially with the weather warming up. Masked, of course!
"Our classes are running hybrid, so if you aren't able to get into the class in person, you're still able to access it online," says Holck. With 20 minutes between classes at Peridance for thorough cleanings, expect strange start times, like 2:10pm. Dancers can also expect temperature checks, daily health questionnaires, masks and spacing grids on the Marley in all studios.
Holck is particularly excited about the limited capacity masterclasses that Peridance will be hosting in its Capezio theater. Keep an eye on Peridance's website for more information.
Broadway Dance Center – April 5
Broadway Dance Center (BDC) will be accepting pre-registration three days prior to class. Having your studio ID card ready for check-in is encouraged, so as to limit time spent at the front desk beforehand and avoid any congestion or lineups in the halls, even with limited capacity. Cancellations under 24 hours notice will not be refunded, as spots are hard to come by. Other studios may hold a similar policy.
In-studio protocols are much the same. BDC also notes to arrive no earlier than 15 minutes before your class, and leave immediately afterward. Late arrivals won't be let into class. Expect temperature checks and health surveys, and of course wear a mask.
On top of required conduct when it comes to COVID protocols, BDC has also made some suggestions for your own comfort and peace of mind: bring an extra mask in case yours gets sweaty or breaks, and be sure to bring your own water bottle – no public fountains. Floorwork may also be limited, and bringing a towel or long-sleeved shirt if you plan on stretching on the floor is a good idea. Check out www.broadwaydancecenter.com for more.
Steps on Broadway – April 12
Steps on Broadway has been known as a bustling arts hub packed with dancers, but updates to procedures and the facility itself have addressed congestion issues. Instead of registering at the front desk, Studio 1 has been converted into an expanded check-in area, using ballet barres to divide queue lines and marks on the floor for spacing — and dancers are no stranger to hitting their mark. Dancers must be pre-registered and paid before arriving, as Studio 1 is meant only for check-in, temperature checks and health questionnaires. Pre-registration opens three days before the class.
Classes are restricted to the two largest studios (Studios 2 and 3), with a limited capacity of 10-12 dancers in each, a half hour for cleaning between classes and staggered start times of 15 minutes. Public access is contained to the third floor, so as to limit the area needed to keep sanitized. Each studio and room is equipped with a new air purifier. Bathrooms will be open, but the showers and dressing rooms will be closed. Dancers will now exit through the back stairwell, which lets you out onto 74th Street.
Steps is partnering with Service Tech, a sanitization company with 30 years of experience in the medical field. Their products will be used to clean the studios and space. Steps is also partnering with a medical lab for COVID testing. All staff and faculty will be tested once a week, to ensure everyone's health and continued diligence. Says Executive Director Joe Lanteri, "Both those companies have people on their boards who understand dance, or have it in their backgrounds, so it's been an easy partnership."
You'll notice some new equipment at Steps, whether you're there in-person or online. "New cameras, sound systems and microphones will serve the dancers on Zoom as well as those in studio," says Lanteri. The upgrade serves the teachers, too, as all the cameras are remote controlled.
BDC, Peridance and other studios are also maintaining and improving their online class platforms post-reopening. Hybrid classes aren't headed anywhere anytime soon.
Steps passed the health inspection without many of the extra lengths they've gone to, and studios around the city will be safe with the DSA recommended protocols put in place. Lanteri just wants to ensure dancers at Steps feel at ease. "It's important that dancers feel confident that they're coming into a clean space," he says. "We're kind of going to town. We're so excited for dancers to come together again." Visit www.stepsnyc.com for a schedule and more information.
New York studios, individually and through the DSA, spent the length of quarantine planning how to reopen safely and ensuring their spaces are clean. Keep an eye out for limited capacity masterclasses, outdoor showings and other distanced events. If we all do our part and follow protocol, this spring could see the reawakening of New York's dance scene.
By Holly LaRoche of Dance Informa.