It's a common piece of advice for dancers: yes, the draw of stage lights can feel irresistible, but be sure to cultivate interests, skillsets and relationships outside of performing. For one, doing so can enhance artistry and boost mental health in the present. For two, it can bring meaning, purpose and practical protections if for some reason — be it injury or simply years passing on — performing becomes inaccessible in the future.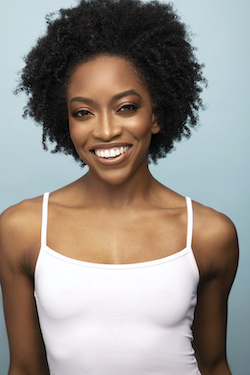 Tamisha Guy, company member and former rehearsal director for  A.I.M by Kyle Abraham, is a textbook role model for this cultivating of a wide range of interests and skillsets, in and out of dance; she's involved in teaching, choreographing, boxing, dancer finance and more. When COVID hit, long days that had once been spent in rehearsal, on stage and on tour haven't felt so empty for her, as they have for some dancers — because she's had many areas of interest to fill them. Dance Informa spoke with Guy as part of our "dance life in quarantine" series: breaking down how elite dancers are staying in shape and creatively inspired, what they're creating and otherwise have been up to, how they're "making it work" through this time, and more. 
How are you doing through this time? How are you keeping creatively inspired? Has extra time, if you've had it, allowed you to explore new projects or activities?
"I feel blessed each day to still have breath in my body and to be able to sustain myself emotionally and financially. In the beginning of the pandemic, I treated the moment as a time to rest and restore in hopes that this overtaking would pass in a number of weeks. As we approached March of 2020, I realized that this pandemic was going to run its course and the timeline was unknown. In an effort to stay creative, I began teaching, working on future ventures, and I was able to collaborate with a number of artists on a few digital projects."
You have an academic background in Arts Management. Particularly at a time like this when the arts are both incredibly financially strapped and also have to radically rethink the 'playbook' of standard operating, how might that experience shape how you are thinking, acting and speaking out with respect to what we do now and how we go forward from here, as artists and arts institutions?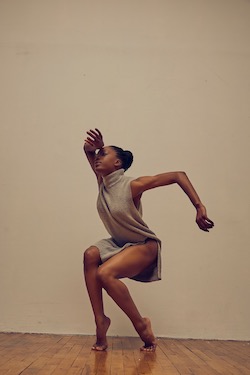 "I have great respect for the work that arts administrators and art curators are tasked with and moreso during this pivotal season. I continue to offer grace to institutions that I am a part of, whether it be A.I.M or a dance institution I teach for, because I am aware that we are all experiencing the pandemic and its effects in real time. I think, as a community, we were due for a remodeling of the 'playbook'. This time has allowed for organizations and arts institutions to reflect on what has and has not been working, and how they can better support their artists and the larger community through their work.
I also believe that due to the huge uncertainty we have all been faced with, organizations were urged by artists to be more transparent and forthcoming with near and future plans for the organization. As we move forward, I hope artists and arts institutions can continue to engage in transparent conversations, creating an environment where equitable change and growth can be fully realized. Witnessing artists advocating for themselves as well as others has kept me hopeful."
You've also been a rehearsal director in the past and also choreograph. How does that experience and those skill sets intersect with your work as a performing artist? Have you been able to choreograph through COVID?
"I am currently working on a solo for a young artist preparing to graduate from college, and I am eager to dive in and create a work that feels unique and purposeful. Aside from my work with the young artist, in the middle of the pandemic, I choreographed and performed a duet with Lloyd Knight (principal with the Martha Graham Dance Company) for the Kaatsbaan Summer Festival. It was my first performance since the shutdown, and it felt exciting to be able to perform in any capacity. The beautiful outdoor space created a COVID-safe environment for guests and artists to convene."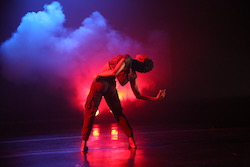 You're also a teaching artist. What's it been like for you to teach through this time? What's helped you to adapt and 'make it work'?
"Teaching during this time has been interesting, to say the least, but I am incredibly thankful to be able to exchange and share with artists in NYC and beyond. Adapting to this new way of teaching was quite seamless for me in terms of navigating Zoom, but it took me some time to get more comfortable with opening up my home to others virtually. My space is sacred to me, and I'm sure many people can say the same about their space. But my willingness and urge to 'make it work', and to continue creating, has pushed me to curate a class that I hope serves as a release and refresh for artists during this season. I am incredibly gracious to all of the participants who continue to take my class because it's an exchange that I don't take for granted."
As if your interests weren't dynamic enough, you're also a boxing enthusiast! What has that been like through this time?
"Thank you so much. I took a liking to boxing five years ago, and I've been hooked ever since. I think every interest of mine, whether it stimulates me physically, mentally or emotionally, serves me in my work as a performing artist. I love boxing not only because of the mental and physical demands it requires but also the freeness and oneness that I experience in a room filled with individuals wanting to be their best selves. To me, it is similar to the euphoric sense of freedom that I experience while performing."
What's given you light through this time? What's kept you smiling in the midst of the challenges in our daily reality through this past year?
"The health of my family, friends and myself has been a light and blessing during this season. This time has also given me the opportunity to connect more organically and intentionally to the people in my community, and as I think about the growth in these relationships, it truly brings a smile to my face. Dance breaks and working out has also been a saving grace for me. I put on some of my favorite house, gospel, soca or R&B albums, and I groove it out."
It's all so uncertain right now, but do you have anything on the horizon that our readers can look forward to or support?

"I look forward to the release of a personal project I was able to work on during this time, called CRUST. It's a personal and collaborative film project inspired by the solace I experienced in nature during the summer months in the pandemic. The work explores one's relationship with nature and how it aligns with our choices to lead our lives.
Collaborator/Director Damani Pompey is currently an independent interdisciplinary artist, working as a movement educator, freelance lighting designer, movement artist and choreographer based in New York City. In 2017, Pompey worked with VR/TV/Film and is now the choreographer and movement director for HBO's Random Acts of Flyness.
Collaborator/Filmmaker Angelo Vasta is an Italian filmmaker and videographer based in Brooklyn, New York. He mostly works with dance companies and performance artists, creating videos that combine his deep fascination for colors and shapes with an innate passion for dance and movement.
I am also creating a workshop that is geared toward offering pre-professional and professional artists financial literacy tools. I don't have a timeline as yet, but I am truly passionate about creating this platform to give artists the footing to have a better handle on their finances. Stay tuned!"
You can connect with Tamisha Guy through her website, www.tamishaguy.com, and follow her on Instagram: @tamishaguy.
By Kathryn Boland of Dance Informa.