Dynamic duo Napoleon and Tabitha Dumo, also known as NappyTabs, are two time Emmy winners for So You Think You Can Dance. They have a total of four Emmy nominations, The Industry Innovator Award, The World of Dance Lifetime Achievement Award and two MTV VMA Awards. Over the years, the duo have worked with top music artists including Beyonce, Ariana Grande, Madonna, Pitbull and Mariah Carey (to name a few). Most recently, they directed Jennifer Lopez's sold out world tour, It's My Party, Derek Hough's Live National Tour, and TLC, Nelly, Florida's Whole Lotta Hits Tour. Tabitha and Napoleon have been very active in producing, directing and choreographing shows in Las Vegas, including Jennifer Lopez (Planet Hollywood), Britney Spears (MGM) and Mariah Carey (Caesar's Palace), as well as for dance sensations the Jabbawockeez (Luxor). They are currently producing/directing the new Las Vegas Residency for Paula Abdul at the Flamingo.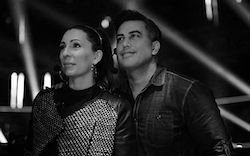 Dance Informa had the pleasure of catching up with NappyTabs to see what they've been up to, how they value self-care and how they've been managing during COVID-19. Let's jump right in!
How did you manage/shift when the pandemic hit?
Tabitha Duomo
"We didn't welcome the pandemic at all, but we were definitely welcoming a little bit of a break for us. Emotionally, we've been through a heck of a year and probably didn't have a day off the whole year, so we had planned some downtime."
Napoleon Duomo
"The pandemic hit…two days later, we jumped in our trailer and took off to the desert and started camping and off-roading. The way we shifted is we enjoyed the things we love, which is family time and outdoors."
Tabitha
"We have an eight-year-old and, you know, the lifestyle and careers that we have don't always have a schedule that permits flexibility. It was really nice to just have that time to make plans."
How has dance impacted other areas of your life?
Napoleon
"I would say dance is our life. It's intertwined in our life. There isn't much of a separation; we are embedded in the dance world."
Tabitha
"Everything we think of or see comes through the lens of dance, I think. It's always a part of every decision you make."
Napoleon
"Every piece of work that we usually get comes with a big dance portion of it because we came from that world, so I think dance has impacted us career-wise so that we've moved into other things beyond the dance world, but we owe it all to dance. Health-wise, obviously dance is great for your health. It's also kept us having fun."
Tabitha
"And young. Honestly, I think dance also keeps you youthful. It's the gift that keeps giving."
Why is mental health important for dancers and in general in the entertainment industry?
Tabitha
"I think in general the entertainment industry is designed in a way that you are auditioning for everything. With that comes a lot of 'no's and rejections, so you have to have good mental health in this business because that process can really be tough on your ego, tough on you emotionally."
Napoleon
"Emotionally and mentally, you have to be a strong person."
Tabitha
"Someone who may have some insecurities, in this business it only becomes magnified."
What do you do for self-care and to support your mental health?
Napoleon
"For me, it's stepping away from the current projects we're on. For me, I mountain bike, hike, run. "
Tabitha
"My mental health comes from completing something. When it's done, I can relax. What is really good in a partnership like this is that he forces me sometimes to just put the work down and do something."
Napoleon
"We've always had each other. We've been married for 24 years, so we've always had each other through this process, but the other thing was having our son."
Tabitha
"It just puts life into perspective — having someone to love, someone to talk to about things, lean on or push you to do things that maybe you comfortably wouldn't do all the time. Then you find a release in a way that surprises you."
What tips do you have for dancers looking to break into the entertainment industry?
Tabitha
"I would recommend getting really good and comfortable in your home town. Don't rush to get here [L.A.]. Really have a strong foundation. You really want to have your tools as sharp as they can be so you are feeling as good as possible. Train as much as you can. Be as versatile as you can. Make sure you have an amazing Instagram, not in selfies but taking classes, good headshots, that you're easily seen so very quickly someone can see your work. Once you get out here and you do get an opportunity to do a job, your attitude, your work ethic, all of that will actually keep you working for a long time. If you have a bad attitude, everybody will hear about it. Your energy in that room and the way you hold yourself will actually be equally as important as the time that you paid off of training to continue the longevity in your career. "
If you could choreograph for anyone from the past, who would it be and why?
Napoleon
"I would probably say Michael Jackson because he was an idol of mine growing up."
Tabitha
"Janet Jackson. Growing up, I studied every single routine of hers."
For more information and to keep up with this amazing team, head over to www.nappytabs.com. You can also follow them on Instagram: @Nappytabs.
By Erica Hornthal, LCPC, BC-DMT, Dance/Movement Therapist.
Erica Hornthal is a licensed professional clinical counselor and board certified dance/movement therapist based in Chicago, IL. She received her MA in Dance/Movement Therapy and Counseling from Columbia College Chicago and her BS in Psychology from the University of Illinois Champaign-Urbana. Erica is the founder and CEO of Chicago Dance Therapy, the premier dance therapy and counseling practice in Chicago, IL. As a body-centered psychotherapist, Erica assists clients of all ages and abilities in harnessing the power of the mind-body connection to create greater awareness and understanding of emotional and mental health. For more, visit www.ericahornthal.com.