Ever wonder what it's like to be married to another dancer? Most of the people we meet and connect with are dancers, so it seems natural to fall for one. Dance Informa sat down with married movers Sara Mearns (New York City Ballet principal dancer) and Joshua Bergasse (Emmy Award-winning choreographer) to talk love and life when your partner is a dancer, too.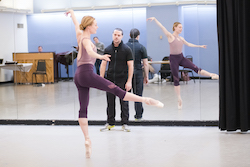 Happy belated Valentine's Day! Did you get up to anything special?
Sara Mearns
"It was good! We didn't do that much – actually no, for COVID times, it was a big deal. We went and bought new dishware for our kitchen."
Josh Bergasse
"It was our gift to each other."
Sara
"So that was big. We watched an Avengers movie. I baked strawberry shortcakes."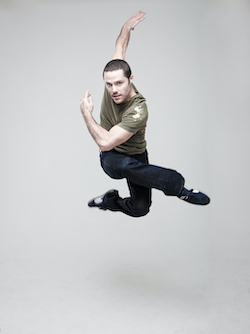 Josh
"They were great, by the way."
Sara
"Our real romantic getaway was in January. We escaped to the beach where we got married. Very small and secluded, COVID-safe."
So, how did you meet?
Josh
"I'll start. When I was working on Smash, the writers had written a dream ballet, which was brilliant. One of the song writers, his name is Scott Wittman, was a big fan of Sara's. I didn't know Sara at the time. I had seen her dance, but I didn't know her."
Sara
"You'd seen me dance? At the theater?"
Josh
"Yeah! I saw you do The Nutcracker. Scott was a big fan, he really wanted me to hire her, and I thought, 'God, she's going to be such a diva.' It's such a grueling schedule for TV, you start so early in the morning and you're dancing on concrete…"
Sara
"I would have been a diva."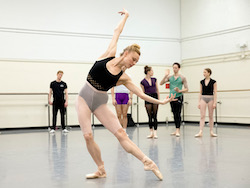 Josh
[Laughing] "So I said, 'Scott, I don't know.' And he insisted. He was also one of the executive producers, so, you know, I had to listen to him. So I said, 'Okay, well let me meet this girl.'"
Sara
"I had to interview for it!"
Josh
"We had a short interview, and she was lovely and I thought, 'we have to hire her.' And then they cut the dream ballet because it was going to cost the network too much money. So we didn't get to do it."
Sara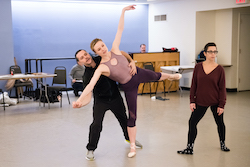 "But he'd still come see me dance at the theater, and I thought I should keep him as a friend, he was a good contact to have. He's a choreographer, he works in New York, you know. But then he kept on coming to the ballet."
So you didn't get to do the dream ballet for Smash, but you have created works together since then. What is it like to collaborate artistically with your significant other?
Sara
"What's good is that we don't really work in the same world. We're both in the New York dance community, but I'm with non-profit institutions, and he does commercial and Broadway work. But we did work on a small project after we got together, and that was a little bit rough. Because it was so early in the relationship, and he didn't know how I worked, and I didn't know how he worked; it just didn't mesh. But it was fun by the end!"
Josh
"And the number was great; it was just a little rough getting there."
It sounds like a matter of getting to know each other's artistic processes, which isn't normally something couples have to address in a relationship.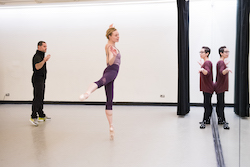 Sara
"Right. The next thing we did was an Encores! production at City Center, I Married an Angel, which was much, much bigger scale. We were already married by that point and buying an apartment at the same time. I'd also been around him when he was working, so I understood how to do what I need to do while also respecting him and how he works."
Josh
"Now I walk into a studio or rehearsal room with Sara, and I know what to expect. And I know that no matter what, it's going to be great, because she's Sara Mearns."
Sara
[Laughing] "What he actually means is that I'm a mess in rehearsal. I never do a full-out performance in rehearsal. I can't do that, because I would burn myself out. At New York City Ballet, we keep it under so that when we get to the show, we can blow it out. That's my way, and he knows that now. I might look like a mess, but come performance time it will all come out and be fine."
Josh
"More than fine. At the beginning, way back, I didn't know that. I didn't know what her process was and what the end result was going to be. I just said, 'Whoa, this is not working out.'"
Sara
"Some dancers feel like they have to hit 100 percent in rehearsal so that they know they can do it on stage. And I was like that, when I started in the company. Now I know what my limits are. I know when to turn it on and how far I can go. I have to be careful in rehearsal to save it. It's still funny to see his face in rehearsal sometimes."
What are some of the challenges of being married to another dancer? Do you set aside time or places to get away from work-mode?
Josh
"I feel like there are more positives than challenges. She can come home and talk about something that's frustrating her, and I can really understand it. I don't say anything like, 'I don't know what you're complaining about. Why don't you just take your pay check and get on with it?' because it's not like that. Can you figure out any downsides?"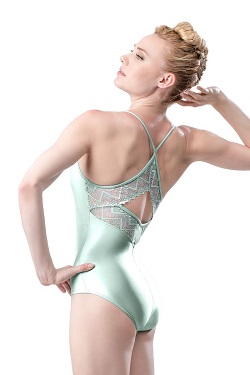 Sara
"Maybe a downside is that we have to travel a lot for work. He does a lot of tours and has to go overseas. That can get tough, especially when I'm in the hard part of a season. It can get lonely for both of us. But we know it means that we're both getting opportunities and experiences. And paid.
Other than that, I can't think of any. We're New Yorkers, so you don't ever really turn it off. The city that never sleeps, you know? You don't ever have a moment where you're like, 'I'm not going to do any work today!' We know that we're both always having to work on something; we understand that and manage it."
For a sneak peak of an upcoming work by Sara Mearns and Josh Bergasse both, be sure to take a look at the Guggenheim's Works and Process, Isolation to Creation series. The two have been in pre-production for a new show, Seven Deadly Sins, conceptualized and produced by New York City Ballet Costume Director Marc Happel. Individually, Mearns is currently creating a dance film with Bobbi Jene Smith and Seattle Dance Collective set to premiere in the spring, as well as taking part in NYCB's digital spring content coming in March, and Bergasse has a yet-to-be-announced TV project.
Sara is also an ambassador for dancewear icon So Danca, with her own stunning collections, SMxSD available at Sodanca.com.
By Holly LaRoche of Dance Informa.