November 27-December 31, 2020.
Accessible through sfballet.org.
Music swells. Rhinestones shine. Glittery snow falls across stagelights. The scent of flowers for the dancers is in the air. We feel goosebumps as all of the magic comes together to become more than the sum of its parts. It's Nutcracker season. As many ballet dancers are now posting on social media and discussing with friends, The Nutcracker is looking different this year. Through online presentations of safely-created versions or previously-filmed programs, that sensory magic will be less all-encompassing this year.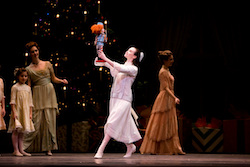 The bright side is that dance companies are demonstrating creativity and resiliency by bringing the magic of The Nutcracker to life this year in some shape or form, for audiences of all ages to enjoy. San Francisco Ballet is one such company, offering its 2007 The Nutcracker program through an online portal via its website. The program, first created and presented far before COVID hit, demonstrated ingenuity in its own ways — thus, a fitting program for this time and in this medium. Even if over a screen, it brought holiday magic that can create true joy — something that so many can use right now. 
As often occurs in The Nutcracker, extra dramatic flourishes in the beginning led up to the Party Scene, setting a context for the scene to come. This version had more of those than many other versions, however — such as Drosselmeyer selling toys from his shop and handling the personalities of a child and her mother, as well a tree and gifts being brought to Clara's family's home. As guests filed into the Party Scene, I noticed that Clara (Elizabeth Powell) appeared to be a young teenager (13-14). Throughout the scene I observed her straddling childhood and adulthood, as is common at that age — such as in spending time with younger children and enjoying toys but also dancing with the adults. For me, this age resonated with the story better than her as a younger child, as some versions portray her.
I also noticed how the music wasn't exactly aligned with choreography and narrative and dancing the same as it is in many versions. For example, Harlequin's typical music had socializing at the party and Drosselmeyer's plan at work. Rather than dancing with their dolls at the music they typically do so, the young girls sat and marveled at Clara's Nutcracker. Later was an additional dance of older adults, seemingly a grandparents' dance. I always enjoy these subtle changes to The Nutcracker, as it's the same story that every ballet company does — and companies must be intentional about making it fresh in some way each year and differentiate themselves from the "pack", so to speak. 
Harlequin and Kissey Doll are always intriguing characters for their very unique physicalities, and San Francisco Ballet very much delivered here. Harlequin danced with touches of contemporary aesthetic, such as spinal release and floor-based movement vocabulary, which gave him a clownish mysteriousness. Kissey Doll had a genial robotic quality — with wide eyes, a rebounding quality and angular gestures. They returned later when Drosselmeyer (Damian Smith) set the magic for the story in place while Clara slept, coming across as icons of his craft. 
Clara's curious uncle was more explicitly the cause of the magic in San Francisco Ballet's version. For example, he made the tree and present boxes become enormous (scenic design by Michael Yeargan), and also brought the Nutcracker to life — while Clara watched him do so (that being unique in this version as well). Later, after the Nutcracker was slain in battle, Drosselmeyer resurrected him as Clara's Prince (Davit Karapetyan). Following that, a flash of streamers from him (presumably) led Snow Scene to ensue.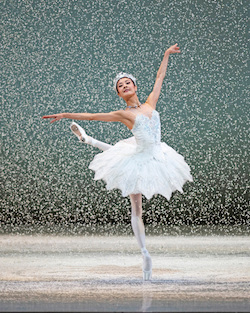 Costuming, from designer Martin Pakledinaz, was also a standout element of the program; from the Rat King's fearsome teeth and claws to the Snow dancers' spikey crowns (looking like icicles), it was truly evocative and memorable. After noting the beautiful Snow costumes, my attention snapped to the striking dancing. No matter how many times I see Snow scene, I'm in awe at dancers' stamina and effervescence in dancing incredibly challenging choreography (with synthetic snow falling in their eyes and blanketing the stage by the end, in many versions, no less!). 
San Francisco Ballet's program was no exception, and the company's varied use of a large stage space though well-crafted formations and traffic patterns was additionally noteworthy. The amount of synthetic snow coming down toward the end of the scene was also just about blizzard-level; designers held nothing back! In a final partnered turn, I almost wondered how Snow Queen (Yuan Yuan Tan) could spot!
Act II opened with Angels, danced by San Francisco Ballet School students — a nice additional opportunity for talented students to dance on the big stage, as well as to add some additional vibrant color to the program's aesthetic; greens, reds, pinks and lime greens in costuming made a sunset on the stage. This vibrancy set the stage (literally and metaphorically) for the Sugarplum Fairy (Vanessa Zahorian) to dance on — an elegant and regal master of ceremonies as dancers representing all different countries followed her on stage. Drosselmeyer, ever the magical instigator, greeted her and stood close by, keeping a watchful eye. 
Then came the Land of Sweets variations. Big black and lacey fans dropped before the backdrop in the Spanish variation. On top of that, here also costumers continued to pull out all of the stops. Black lace, red cumberbuns, red hairpieces and black hats created a cohesive Spanish look. The dancers brought energy and commitment to match that. A steaming lamp stood as the set piece for Arabian. In feathered, jeweled turbans, they danced and then brought out their also-turbaned ballerina by rubbing the lamb. 
Chinese had six dancers making a snaking dragon, as seen on Chinese New Years, and a soloist leaping high and fast. With these variations, I did have slight concerns about cultural reductionism, but — arguably — that might be mostly inevitable without rethinking the structure of The Nutcracker itself. They were otherwise creatively and uniquely designed. The French variation brought streamers, three ballerinas in cabaret-style costumes tiptoeing, turning and kicking high while twirling them.
Russian Trepak, as always, was high-flying virtuosic fun. Before bending deep and flying high, the three danseurs popped out of egg shapes with imagery of a Russian city in front — the unique cultural touch for this variation. Mother Ginger and her Polichinelles followed with more fun, this time adorable. More San Francisco Ballet School students heel-toed in triangle hats and big polka-dots. Mother Ginger's (Louis Schilling) giant skirt emulated a multi-part circus tent. The Nutcracker Bear (Matthew Stewart) made his appearance in this variation, rather than in the party scene for this one. This choice felt fitting, considering the youthful nature of the variation.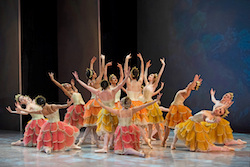 Then came the Waltz of the Flowers, another scene I always delight in. The formations were less spread out and visually clear in this section than in Snow Scene. Granted, it's a challenge to not have that be the case when you're trying to create stage imagery of living flowers! Effects such as circles of dancers folding in and out (like a flower closing and opening) and clumps of dancers across the stage (like clumps of flowers in a garden or out in the wild) accomplished that convincingly and memorably.
Before the final variations, the Sugarplum Fairy gave Clara a crown. Two assistants closed the door to a chest in which she changed, emerging moments later in a teal and gold tutu. This choice seemed to make more sense than Sugarplum dancing with the Nutcracker Prince, as occurs in some versions for the Coda (in still others, Sugarplum dances with a whole other character, her cavalier) — in terms of narrative and character. Maria Kotchetkova danced these final variations with a youthful joy and, nevertheless, striking technical command. Karapetyan also danced with an easy joy through challenging multiple turns and complex leaps.
The ending, with all of the different variations having another moment in the spotlight, is always vibrant. It's nice to have another taste of the unique movement vocabulary in each variation. Following that, in this program, all of those dancers on stage (from all variations in the act) circled around Clara, back on her couch. The spotlight (lighting by James F. Ingalls) found her, and Drosselmeyer had all the dancers step back to off stage. Set pieces swirled and shifted until we saw Clara's home again. The Nutcracker lay beside her. When she awoke, she didn't seem upset that it seemed to have all been a dream. In fact, she seemed elated that it had ever happened at all. 
Her mother beckoned her to bed from atop the staircase, cheerfully waving. Clara ran back up the stairs, smile wide and eyes twinkling. A good dream is still a good dream even if we wake back up to reality. A dose of joy and normalcy in this challenging time, even if after it's done we go back to those challenges, can give us the smile and light in our eyes that we may crave in this time.
By Kathryn Boland of Dance Informa.