November 21, 2020.
Filmed October 2020, at Batsheva's Varda Studio, Suzanne Dellal Center, Tel Aviv. Presented online.
YAG: The Movie, Ohad Naharin's first piece adapted specifically for screen, is cinematic dance done properly in a time of Zoom art. Filmed at a high frame rate, every twitch and breath is captured in its fullest. YAG walks the line between dance film and captured stage work, having been filmed on stage and maintaining the usual forward framing of a live show, but playing every so often with composition and moving into tremendously intimate closeups (tantalizing after so long away from one another, these days).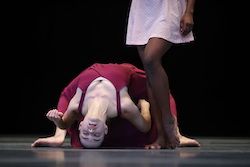 The cast — six members of Batsheva Dance Company (Yael Ben Ezer, Sean Howe, Londiwe Khoza, Igor Ptashenchuk, Yoni [Yonatan] Simon and Hani Sirkis) — is presented as a family, speaking in Hebrew their names, their relation to one another, and which family members are dead as their words show up translated to English on the screen, appearing and disappearing as the dancers move over them. One phrase is repeated, again and again: "Once, my family loved…really loved…really really loved…to dance." 
And we love to watch them do it. Gaga in its birthplace, Batsheva never fails to present the loveliest of paradoxes. Loose control. Easy chaos. Convulsing fluidity.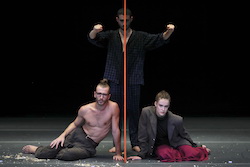 Seeing Batsheva on film, you can't help but confuse what's physically and digitally possible. There are points when you're sure the clip must have been sped up. But then again, no, it wouldn't be surprising had it not, as you think the dancers maybe do just move that quickly and fluidly. The same applies to slow motion. Has time begun to lag, or are the dancers just that deliberate in the speed of their pathways? It's a fun line to walk, and one the dancers and editors (Roee Shalti, assisted by Naharin) did quite well. Filled with strange and wonderful moments, the piece is an experience more than a story. As Naharin puts it, YAG (especially in film format) is an "encounter with the dancers." From laying fortune cookies across the stage, to slowly and carefully walking on and crushing them, to dancing freely in the crumbly aftermath. A dancer eats some, smiling and swaying like a child. Switching costumes and laughing maniacally in the nude. One dancer giving into and cringing away from the touch of another. He wraps her up in his arms as she shakes, then sets her down and strengthens her stance by widening it, quelling the quakes.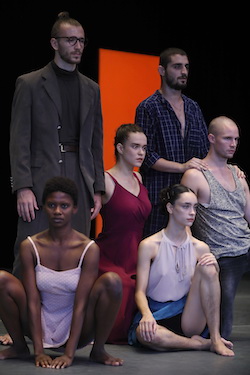 Naharin describes YAG as "love of dancing, longing, transformation of emotions into pure movement, dancers infusing content I have not written, refinement and exaggeration, family, touch, texture, flow, laughter at oneself, death, time, body, passion, imagination, fortune cookies, nudity, Hamutz-Hamutz, red, groove, control, pleasure, giving up," and it is undeniably exactly that. The piece ends with a family portrait of the cast, solemn save for one member lying fully nude and grinning ear to ear. Absolutely an encounter.  
By Holly LaRoche of Dance Informa.