In the age of the novel coronavirus, online dance classes have popped up everywhere. Perhaps the most groundbreaking digital dancing opportunity comes in the form of Gaga, a movement language developed by Ohad Naharin of Batsheva Dance Company in Tel Aviv, Israel. Since nearly the beginning of quarantine protocols, Gaga Online has been sharing eight donation-based classes per day, seven days a week, taught by rotating certified teachers and live-streamed from Tel Aviv and New York.
Six of the eight daily classes are Gaga/people while the remaining two are Gaga/dancers. Although the classes are quite similar and rely on the same founding principles, Gaga/people classes are 30 minutes each, while Gaga/dancers classes last 45 minutes and include more technical elements like pliés and tendus.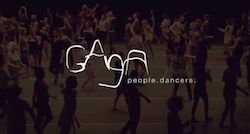 While there are a number of principles that characterize the Gaga movement language, perhaps the most fundamental is connecting movement to pleasure. Not only is this connection indisputably valuable to dancers and their ability to sustain a career in dance while retaining their passion for movement, but it is valuable for people from all walks of life. My roommates, for example, take Gaga with me once a week. Two are in graduate school for philosophy, one is a server, and the fourth is an editor for an academic journal. On Sundays at 6pm, we float together, and I see them unlocking new pathways in their body every class without fail. Having a deep connection to our body is a skill that dancers often take for granted, but Gaga calls that connection to the very front of our consciousness, allowing us to deepen the mind/body connection one task at a time.
This connection is especially powerful in light of ongoing COVID-19 protocols. Gaga teachers encourage a sense of enjoyment in the burning of muscles, silliness and an active mind, all essential to staying healthy and sane while in quarantine or social distancing. Add to all this the fact that prior to COVID-19, Gaga was somewhat hard to come by outside of Israel and New York, and even in those locations, classes were often full and only offered at a few studios a few times per week. Gaga Online, however, is paving the way for accessibility in the contemporary dance world by eliminating these issues. Participants don't need equipment, money, a mirror or formal training. They don't need to live in a Gaga hub city to benefit from the technique, and injuries can be easily accommodated for on an individual level.
All that's required is presence of mind, a commitment to exploration and a willingness to not take yourself too seriously. To that, I say, sign me up.
For more information on Gaga Online, visit www.gagapeople.com/en/ongoing-classes.
By Charly Santagado of Dance Informa.