Meet Lauriane Nabet. Originally from France, she came to the U.S. in 2017, on a scholarship to the Martha Graham School Summer Intensive. Little did she know at the time that she would fall in love with America, and America would fall in love with her. From performing to teaching and everything in between, Nabet has taken the NYC dance world by storm.
Nabet started taking jazz classes at two-and-a-half years old at a small dance school in her hometown, Mandres-les-Roses. When asked how she happened to start so young, she says, "I think it was just always obvious I'd be a dancer." When her parents, who have always supported her dance career, took her to a ballet performance in Melun at age nine, her mind was blown by partnering and pointe shoes, so she enrolled in a ballet school where she also started training in contemporary.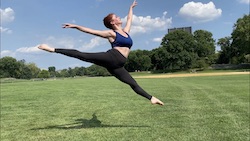 From that point on, her training never stopped. After receiving a Chemistry degree from the University of Paris, despite her academic success, she knew that she had to pursue her dance dreams. While finishing up her third year of pre-professional program at Paris Marais Dance School, she was contracted as a soloist by Eliot Smith Dance, a Graham-based company in Newcastle, UK. While still in Europe, she danced in several projects in a variety of noteworthy venues including a large museum in Paris.
Despite only planning to come to America for a short time, after the Graham intensive, Nabet auditioned for the school. She completed both the Graham Accelerated Program as well as the Teacher Training Program, and was brought on as a teacher at the Graham School and was invited to set choreography on some of the school's students. She also joined Well Being Dance Company, with which she performed at APAP 2020 at New York City Center and in the RAW Artists Festival; and iDance Ministry, a hip hop-based company, where she is lead contemporary dancer and choreographer. In addition, Nabet performed with iDance in New York Fashion Week before the COVID-19 crisis began and continues to work with the organization remotely. By the start of the pandemic, Nabet knew that NYC was her home, and that she had so much more to offer to the dance world she was only just starting to break into.
When COVID hit, like most of us, Nabet took a moment to breathe. She had been going nonstop since arriving in America nearly three years earlier, and was overdue for a break. After this break, however, she burst back onto the (newly virtual) scene with robust enthusiasm. In addition to reflecting on herself as a person and a dancer and gaining insights that were previously blocked by the hustle of the artist lifestyle, Nabet took countless remote classes, which reminded her of her power as a dancer. "Being alone in my living room enabled me to address an important question: how can I be more free as a dancer?" she explains. She also taught numerous classes, which allowed her to keep up with her rent and other expenses. "Teaching saved me during quarantine."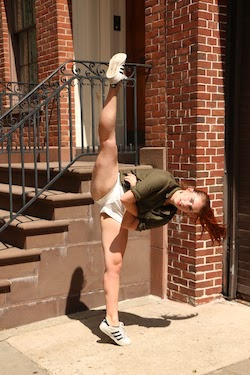 Perhaps most impressively, she began working with two new companies via Zoom during quarantine: TK Dance Lab, an online experiential platform and dance company made up of dancers across area codes who share the same mission of making the world a better place, and mignolo dance, whose mission is to explore elements of various artistic mediums through movement. The new connections she's made through these opportunities are already paying dividends for her professional career and she "cannot wait to share a physical space with the wonderful artists she's met virtually," she shares.
Her future plans? To take the lessons she's learned from the pandemic with her into the "new normal" that is slowly but surely making itself known. Balance is one of her key words. "I want to be a dancer," Nabet says. "I want to be on stage. I am discovering ways to create these opportunities for myself, grow my dance community and embrace the new chapter of my life that is just beginning. I've realized that the less I worry, the more opportunities come to me. There is a bravery in this trust, in my willingness to put myself out there as an artist as much as I can. I am determined to live a life without regrets, and use this determination to drive my actions."
You can follow Lauriane Nabet on Instagram: @laurianenabet.
By Charly Santagado of Dance Informa.