In April, Capezio teamed up with Break the Floor Productions and Dance Informa to bring the dance world Capezio Creates. This online choreography competition offered the winner the opportunity to be presented as one of the finalists at the 2021 Capezio ACE Awards in Los Angeles – an incredible prize that saw a huge number of amazing entries flooding social media under the hashtag #capeziocreates.
Dancer/singer/songwriter Tate McRae's "You Broke Me First" was the chosen song, and every entry was bursting with emotion and creativity, so much so that after much deliberation, an incredible 18 finalists were announced. It was Taylor Tsvyetkov's submission that won the judges over in the end, featuring stunning choreography performed by dancer Holden Maples. We spoke to Tsvyetkov, who hails from Seattle, about her choreographic process, teaching during the pandemic and her goals for the future.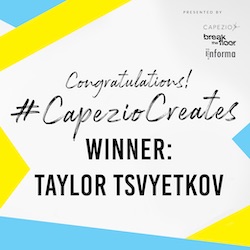 "My mom put me in dance when I was three, and I've loved it ever since," shares Tsvyetkov. "When I was 12, I started dancing in a pre-professional company in Seattle, and although I never really saw myself pursuing dance professionally, I did see myself dancing the rest of my life. When I was about 16, my studio owner asked if I wanted to teach one of the little kids' classes. And I just fell in love with it. I fell in love with the whole choreographic process and working with kids. And I haven't stopped since."
As a visual person, Tsvyetkov prefers creating her work on others. "I love using other dancers to create shapes and different lines," she explains. "I think when I can put that on somebody else, it comes alive. I always say my students are way better than I am anyway! I really love creating and traveling and meeting new people from all over the country. And just seeing how much, especially right now, kids crave dance and want to be there. That keeps me going and makes me want to create more."
Tsvyetkov likes to begin her creative process with a song. "Whether it's group dance, solo or even just a short combo, I always start with the song first," she notes. "I'm pretty picky with my songs, and I spend a lot of time finding music that inspires me. Then, after I have my music and I have my dancers in front of me, I'll start to create. I never create ahead of time – I always start on the spot when I'm with a dancer or dancers – because then I can get a feel for their energy and what looks good. I rarely plan in advance, because I enjoy the creative process so much."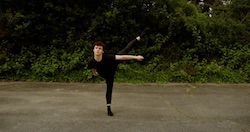 For Tsvyetkov's entry, she enlisted one of her students as her muse. "I actually didn't know about Capezio Creates until one of my friends tagged me on Instagram," she recalls. "The Capezio ACE Awards have always been a dream of mine, so I thought, 'This is amazing. Let's just go for it; I've got nothing to lose!' I contacted my student, Holden Maples, who is the dancer featured in the video, and at the time we hadn't seen each other for about two months. We were really conscious of staying our six feet apart, and we recorded it outside to stay safe. But he really made the choreography come alive, and I was super excited. If this was my chance to go to the ACE Awards, I'm going to go for it! And I was really inspired by all the other videos, too."
Tsvyetkov's personal connection to the song shines through in her choreography, which hits every high and low with both precision and release. "I had heard 'You Broke Me First' before," she notes, "so I was actually really excited that it was a song that I felt connected to. When I listened to it, I could already see my choreography and Holden dancing to it. It's a song that everybody can relate to. It's a song that I can relate to, through past relationships I've had in my life, so it wasn't hard to create to it with the dancer that I had and the emotional connection I had to the song."
Tsvyetkov's sister was also involved in the project as her videographer. "Hallie is six years younger than me, and is a videographer, mainly for weddings," Tsvyetkov explains. "So I was like, 'Hey, um, would you mind shooting this video for me because it's going to be better than anything I can do on my iPhone?' I'm so thankful she got to be a part of it, because she and I are very close, and she also grew up dancing with Holden. It was a cool moment, especially after two months of all of us being inside. It was a boost for all of us to think, 'Okay, we can do this. There are ways that we can still dance throughout this time.'"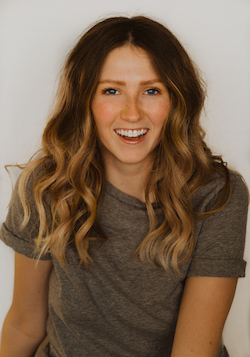 Of course, Tsvyetkov was announced as the winner, which, despite her clear talent, came as a big surprise to her. "I was very shocked," she shares. "I watched all the other contestants, this incredible group of people who entered, and how people just went in so many different directions with it. Everyone has self-doubt sometimes, and when I watched the other entries, I just thought, 'Oh, they're so good.' And either way, if I didn't win, that was totally okay – if it's meant to be, it's meant to be. I was on vacation when I saw this notification on my phone that Dance Informa had tagged me, and I called my mom and I cried. It came out of nowhere, and I'm so thankful and so excited. I can't wait for the day when we can start the process safely and I can be a part of the Capezio ACE Awards."
Certainly, the global pandemic has affected the dance industry on a massive scale, and Tsvyetkov has since found ways to push herself out of her comfort zone and advance her career even against the odds. "I came to dance one day, and my students came in, and said school sports were canceled for the rest of the year because of COVID," she recalls. "I watched my students dance their heart out, and then the day after that, we got a notification that we were on lockdown for two weeks. At first, two weeks seemed insane. And it's at seven months now. But when COVID hit, I needed to find ways to teach while I couldn't go to my studio. I started doing Instagram Live once a week, and that took me to my next adventure. People started reaching out, and I actually started to travel more – safely – so ever since July, I've been able to go to studios and choreograph and work with kids from all over the country and I love it."
In a time when social media has grown exponentially – for many, it's become a lifeline – Tsvyetkov has noticed a significant uptake in her following. "Every time I shared something, there were a few more people, and then suddenly people were reposting my videos," she explains. "It was a shock to me, because I have never experienced this before. I think once people started posting my videos, more studios saw me and began to reach out. In a way, the lockdown has boosted my career. That's shown me that there can always be good that comes from the bad."
Despite the boost social media has given Tsvyetkov's career, she advocates switching off from technology regularly to prioritize her mental health. "Putting my phone away is a big thing," she admits. "And honestly, I have realized what helps my mental health mostly is spending time with my husband and my family. I'm fortunate that I live in the same city as my family and his family. There's nothing else that refreshes me and grounds me more. I put my phone away and make sure I'm giving myself time to rest. COVID has taught me how to rest, and I'm still trying to get better at it. I think as dance teachers, we just want to work, work, work, go, go, go. But that's just going to burn us out."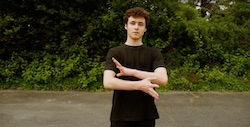 As for the future, Tsvyetkov has big plans. "I would love to keep traveling and working with other studios and making connections," she says. "And someday, my future goal would be to own a company, although I wouldn't see that happening too soon. I think I'm still getting started in my career – finally! I love working with dancers of all kinds and letting them know that, yes, they're dancers, but they're humans first. And it's okay to mess up because there is no growth without struggle. The dance world can be really hard, and I want my classes to be fun and freeing. We all have our own strengths, and I'm all about helping dancers find that in themselves."
For those specifically considering a career in choreography or teaching, Tsvyetkov has some further words of wisdom. "I think it's about practice, practice, practice, even if nobody ever sees it. It's been a long journey, and I've been doing this for awhile, and I felt for ages like nothing had quite taken off. I know it's cliché, but don't give up. If it's something that you really love, and you feel like you're called to do it, keep going and challenge yourself. And comparison is another thing I'd like to give advice to people about. There's something I can bring to the table that nobody else can, and there's something different that you can bring to the table, and when we compare ourselves to others, we pull back from that. I always say comparison is the thief of joy. It steals our joy and what we love to do. Try to find your own voice, through movement and dance."
Tsvyetkov finishes with some words of gratitude. "I also want to say thank you to everyone for this amazing opportunity. Like I said, it's been a dream of mine to be at the Capezio ACE awards. It was amazing that Dance Informa, Capezio and Break the Floor put this competition on, because it made a lot of people, including myself, get up off the couch and keep creating during a time that felt stagnant. Thank you for giving us creators this opportunity and for giving me the opportunity to be part of the ACE Awards!"
You can follow Taylor Tsvyetkov on Instagram: @taylortsvyetkov_choreo.
By Emily Newton-Smith of Dance Informa.