Dance Informa offers you the next installment in our series on alternative dance gigs! This month, we're talking about dance in the fashion industry, and the various ways you are perfect for the job!
I got to chat with choreographer Karole Armitage, who I had previously danced for in the Marc Jacobs Fall 2020 fashion show. We dancers weaved through the formations of the catwalk, sprinting (in heels) past models like the Hadid sisters and Miley Cyrus. Armitage talks about collaborating with Marc, why she's pro cross-pollination of art forms, and why valuing the integrity of an art form over its evolution is a mistake.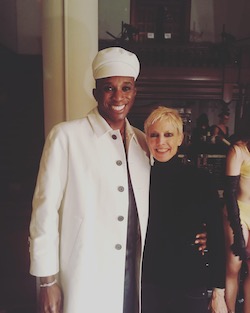 This was an intense process. Fifty-plus dancers. Eighteen-hour rehearsals. Sleeping at the fashion house. And it all came together last minute. I know Marc is a fan of your work, but how did this project come about?
"Totally last-minute, as you know! I got a phone call from Marc's assistant on Friday, asking if I would choreograph his show at the Armory, which was coming up the next week. I agreed, and said it sounded like we better meet as soon as possible. We met Saturday, and Sunday was the audition. It was that quick. Monday rehearsal, Tuesday rehearsal, Wednesday show. You know better than anyone how the whole thing exploded. It went from a concept for 15 dancers to 50. From 20 models to 80. Everything was just churning. The amount of people and work and fittings. But it was great! It was a wonderful experience! Even though it didn't conform to any structures or ideas of how this was all going to operate, we all knew we were doing something really exciting. And that's all that matters in life, really.
Marc and I had never met before, but we share a culture in common, which is this New York in the '80s, punk attitude inside rigorous classical training. He had done his research and gotten images of my work that he loved. They were from my most pure work, my most pure self, and he said, 'I want it to look like this.' And I thought, 'Wow, he's just telling me to be myself. This is fantastic.'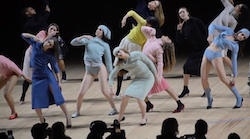 That permission to be myself, to be my most raw, punk self, was so important. I've always felt like my work is about extreme contradictions. On the one hand, it's raw and punk, with women's eroticism in the forefront. And on the other hand, it's the poetic tradition of refinement, and elegance, and glamor. Those two things can live together beautifully. And that's Marc's aesthetic, too. We just have this complete confidence in each other. It was also the only collaboration in my life, partly because it was so fast, where a collaborator gave me constructive criticism – essentially to avoid unison – that really helped me make it better."
How is your experience as a choreographer an asset to creative collaborations like a fashion show?
"I have worked in 20 different countries, with modern dancers, ballet dancers, opera singers, voguers. I've worked in the pop world. I've worked on Broadway with people who have no dance training but move really well because they're so musical. So I know how to get what's essential. Working with dancers from many different countries gave me the insight into unifying different kinds of dance training with their different philosophies of life. I have a sense of how to create our own culture in the studio by experiencing the energy and rhythm of the movement itself. It is not about words but about a deeper plunge into body language. You build a culture together as everyone digests movement at a deep level to find a particular existential way of being in the world. Somehow, we managed to do that in three days. But we also worked together 18 hours a day. It was an extreme experience, and everyone was incredibly generous and went for it. And were smart. I have to give everyone credit, because you guys were smart. You got it."
On your experience in other industries – this is something I ask a lot of the people I interview for this series. Things like, 'What are some of the struggles when collaborating with someone who speaks a different art language than you? How do you have to translate, cooperate and relinquish some of your own art's principles to enable the collaboration?' It sounds like that's something you're very practiced at.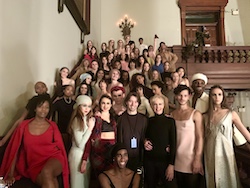 "I love that. I want everyone to always look their best. Looking your best is also being able to express your sensibility, your way of being in the world. I like things to be that personal. But you can only do that with who you share a very rigorous structure and concept from the get-go. Once you've narrowed it down, when you really know what the essentials are, then everybody can be free to be themselves. It's about having very clear ideas.
I've been a black sheep in the U.S. dance world in certain quarters, because it's moralistic. This is not true of dancers, and it's starting to change, but I think many of the powers that be (meaning the funders, presenters, critics) have a distrust of cross-pollination. Dance has a puritanical tradition, with change being viewed as corrupting the integrity of the art form. And I think that's wrong. It's always about cross-pollination. Even ballet has folk dance as an integral part of its language. There's always pollination between contemporary and street, folk, call it whatever you want. Popular and high art are always trading off of each other. There is no real boundary. I think the new artforms that really have potential for the audience of today are breaking down visual art, fashion, dance, music culture. It's some way of those things coming together. I mean I still love my pure poetic dance, but even within that, I think those other influences have to be a part of the aesthetic. Because that's how the world is today, and artists are supposed to be of their time. They're not supposed to be museums.
One of the great things about dance is that dancers are so disciplined, and they do it out of love and passion. This gives the artform a tremendous edge in the world today. You can make your own path. Can't count on the institutions. Especially with COVID, it's all got to be reinvented anyway."
To follow Karole Armitage's work, follow her company Armitage Gone! Dance on Instagram @karolearmitage.
By Holly LaRoche of Dance Informa.