World of Dance started off its fourth season off with a bang as some of the best soloists and groups came from all over the world in hopes of winning $1 million and being named "World of Dance Champion".
The stakes were even higher as competitors had to prove themselves in the Qualifier round, which looked much different than in previous seasons. In addition to the change of scenery, "call backs" were added as an extra incentive for those who showed potential. Among the talented performances in the Qualifier round was MDC 3, a contemporary group from Placentia, California.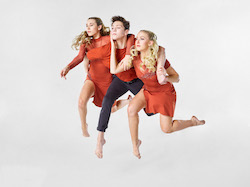 Under the direction of Shannon Mather, MDC 3 has been making its mark on the competitive circuit and was destined to do so on the World of Dance stage as well. Madison (Maddie) Smith, Diego Pasillas and Emma Mather are the driving forces of MDC 3. As competitors in the Junior Division, these three teenagers burst on to the World of Dance scene as exceptional dancers bringing storytelling to their contemporary style. Here, Dance Informa talks to these young dancers about the excitement of performing in the Qualifier round and how it shaped what would prove to be an amazing journey with World of Dance.
"We were told that we would be performing for the show's producers," says Smith. "There was a whole new spark of energy seeing the judges. It was super scary but exciting at the same time."
Equally excited about the opportunity, Pasillas says, "I had looked up to Ne-Yo, JLo and Derek for so long. It was such an honor getting to perform for them during the first round."
Mather adds, "It was so exciting performing for the judges in the Qualifier round. It made us work even harder going into the next round of the competition."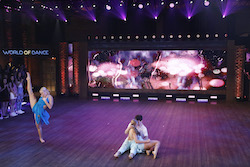 After delivering a routine that told a story from start to finish, there was no doubt that MDC 3 left a lasting impression on the judges and sparked them wanting to see more of their artistry and athleticism. As they advanced to the Duel round, the pressure was on to wow the judges again and top the group that they were up against. They succeeded. Not only did MDC 3's performance showcase great agility and beautiful technique, but they went a step further starting their routine from where they left off in the Qualifiers. The undeniable chemistry with one another amplified what was yet another standout performance that would earn them a spot in the Semi-Finals. The excitement that surrounded conquering the first two rounds of World of Dance was unreal for MDC 3, but of course with every journey there are some challenges along the way. Besides having to balance schoolwork in between rehearsal time, MDC 3 also had to make sure to keep their body and health in tip top shape.
"There were 10 days in between the Qualifiers and Duels where we had to go home and make up two new dances that would top what we already performed," says Mather. "It was important that during that time we were also taking care of our injuries and body as well."
Smith explains, "We mainly had to focus on balancing our health mentally and physically since we were dancing for up to 12 hours a day. It was all about remembering to take care of our body."
Despite the balancing act of school, learning new choreography and also keeping their health intact, there were still those standout moments on World of Dance that each member of MDC 3 cherished that shaped the experience they had performing with some of the greatest talent around the world. One moment that struck a chord with the judges specifically was MDC 3's Semi-Finals performance. There was a distinct storyline that evoked emotion because it hit close to home for Smith in particular.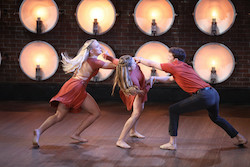 "This dance was dedicated to my mom and her cancer journey," she shares, "so it was important to all of us. There was more of an emotional connection with this performance, and it was a dance that served a bigger purpose."
"With the Semi-Finals routine, we had to be picky about the direction we went," says Pasillas. "It was important that we gave it our best and stayed strong throughout the process."
After earning a standing ovation from Derek Hough for their heartfelt performance and leaving JLo speechless, MDC 3 had yet again showed the judges and audiences watching that its mission spanned beyond dance — it was to touch people's hearts. As the highest scoring number in the Semi-Finals, MDC 3 headed to the World Finals with the chance of winning at their fingertips. As the competition heated up and the last four acts went head to head with one goal in mind, MDC 3 pulled all the stops to make its final impression on the judges, and they did so with flying colors. The moment of truth came with much anticipation as the decision was down to two groups who were vying for the $1 million prize. MDC 3 came out on top as the first contemporary act to be named "World of Dance Champions" as the dancers' family and friends watched. They met their goal and fought every step of the way.
"That winning moment was unbelievable with the confetti coming down," Smith recalls. "It was like everything was in slow motion and the world stopped for a second."
"The experience overall brought us closer than we already were," adds Mather. "We became more comfortable with one another."
Pasillas says, "The whole experience made us better dancers, not only as a trio but individually as well."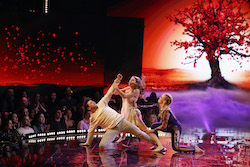 The excitement hasn't settled yet as MDC 3 celebrates this big win. The opportunities that have come the group's way are endless as the dancers strive to keep a future together as a trio. As new champions of World of Dance, the possibilities for MDC 3 are endless as group. Even so, each member has sights set on the future as they continue their thriving career.
"I hope to be a part of the World of Dance tour next year," Mather reveals, "and I look forward to us booking jobs together and individually. I have three more years at my studio to learn, grow and get stronger as a dancer as well."
As a recent high school graduate, Smith says, "I plan on moving to L.A. to pursue dance professionally. I'm hoping to book a world tour in the future as well."
"I graduate next year," says Pasillas. "Once I graduate, I want to move to L.A. as well and book jobs with artists. I would also love to teach at conventions."
You can follow MDC 3 on Instagram: @mdc3official.
By Monique George of Dance Informa.