Last month, Can You Dance? (CYD?) announced the UK's biggest virtual convention, the CYD? Super Convention LIVE. (If you missed it, you can catch up here.) Streamed live from London across the 22nd and 23rd of August, the CYD? team has come up with what is set to be the online dance event of the summer. Passholders will access over 40 live-streamed masterclasses from the comfort of their homes – this is the best of the UK's dance scene without the hassle of flying (or the jet lag). And, it's only £30 GBP – approximately $37 USD – for an all-access pass, including Masterclass Rewind, which allows you to catch up on the classes you've missed once the event finishes.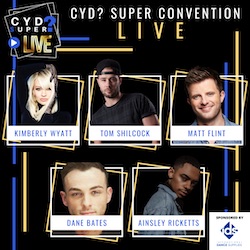 The most exciting part is undoubtedly the roster of incredible teachers behind the event – think West End stars, international artists and high-profile television choreographers. Whatever your preferred style, there's a class – and an amazing teacher – for you to experience. CYD? Co-directors Matt Flint and Tom Shilcock are set to teach musical theater and commercial dance respectively; Matt regularly choreographs for TV shows including Strictly Come Dancing (the UK's answer to Dancing with the Stars), while Tom has danced with the likes of Rihanna, Elton John, Rita Ora and Jason Derulo.
Kimberly Wyatt is another major star among the CYD? faculty. Besides her global presence as a member of the Pussycat Dolls, she's a regular judge on Got To Dance and a highly sought-after choreographer. Kimberly fans will be able to take her commercial heels class from home – a unique opportunity not to be missed. She says, "CYD? Super Convention is the dance event of the summer! What an awesome opportunity to immerse yourself in dance, with the best of the best teachers from the comfort of your home. I can't wait to train with you all!"
Other commercial instructors featuring in the event include hip hop dancer Rhian Duncan; choreographer Adrian Gas, who's worked on The Voice UK and X Factor; commercial artist Josh Pilmore; Josh Wharmby, who's worked with Taylor Swift, Kylie Minogue and Nicole Scherzinger; and hip hop dancer Sharon June, who's performed with Janet Jackson, Dua Lipa and Zara Larrson.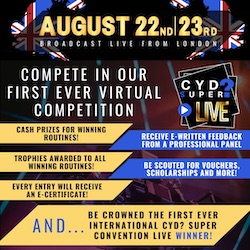 Of course, if contemporary dance is more your thing, don't miss classes from Dane Bates, founder of the Dane Bates Collective; Ricky Jinks, founder of Company Jinks; and Ainsley Ricketts, who has danced on the West End and on TV show The Greatest Dancer UK. Adam Scott also features in the line-up, having taught and lectured extensively at the leading arts colleges across London; while Josh Baker has performed in hit West End show Billy Elliott, and with artists like Queen and Jess Glynne.
Musical theatre star Layton Williams, founder of Pros from the Shows, is particularly excited to be a part of the CYD? Super Convention in its new, virtual format. He says, "I loved teaching at CYD? last year so am really excited to virtually slay with you all. It's going to be fab!"
Other musical theatre classes will be taught by Emma Rogers, who was nominated for a Broadway World Award for 'Best Choreography' in Las Vegas; Graeme Pickering, who is also an international casting consultant; and Darren Carnall, who has worked on Kinky Boots and Dirty Rotten Scoundrels. Lead West End performer Lucy Jane Adcock and Book of Mormon's Tommy Wade Smith are also scheduled to teach.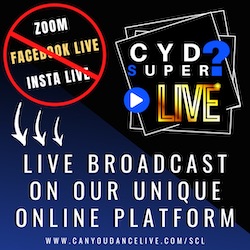 In addition, there's everything from classical ballet with Charise Renouf and technique class with Nadine Kennedy Wood, owner of the award-winning Nadine's Dance Company; to rhythm tap with Tap Dogs lead Dougie Mills; jazz with Alan Burkitt; and tap with creator of new musical Feet Keep Me Flyin' Jack Evans. In short, every style you could possibly want to learn or perfect is on offer.
Matt and Tom are also excited to debut the cutting-edge technology behind the event. This is not like a Zoom class – pass holders will access everything directly through the CYD? site, where you'll be able to dip in and out of three live-streamed studios (direct from the heart of London) as you please. And, despite the time zone differences, here in the U.S., you'll simply join in when you wake up and continue on into the afternoon, catching up on anything you missed overnight with Masterclass Rewind after the event. You'll have total control over your schedule, so you can take advantage of as many classes as you like.
For those seeking a career in the performing arts, this is an amazing opportunity to gain exposure to some of the UK's leading choreographers and artists. Networking is the key to a successful and long-lasting career, and this event offers unprecedented access to an industry that could offer American dancers valuable connections for the future.
To find out more or to buy an all access pass to the Can You Dance? Super Convention LIVE, visit the website here.