Dance Informa caught up with choreographer Mandy Moore (La La Land, Zoey's Extraordinary Playlist, So You Think You Can Dance) about her newest film Valley Girl. A remake of the 1983 original and converted into a musical, Valley Girl is a love story and love letter to both 80s rock and valley culture. Jessica Rothe (La La Land), Ashleigh Murray (Riverdale), Chloe Bennet (Agents of S.H.I.E.L.D.), and Jessie Ennis (Hits) trained with Moore to get that 80s vibe just right.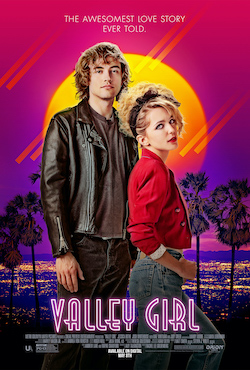 There are 15 musical numbers in this movie! Is that standard for a movie musical? How much time did you have to create all that material?
"I actually just watched it three nights ago because I had to remember all the stuff we did. It was a lot! Some of them were very dance-heavy, and others were more movement and timing. We had a pretty sweet pre-production phase where we were able to work with the cast, and really work with them on these numbers and talk to Rachel Lee Goldenberg, our director. I don't remember that time being… I mean, please, it's always crazy when you have this many numbers. But it was really nice to have time together so we could create and rehearse things properly."
You've worked with some of the cast before. How many of them had had dance training? What's your approach to working with actors who don't have movement training?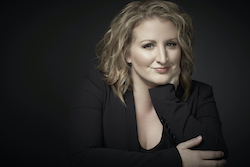 "I worked with Jessica on La La Land and so I knew her already; we were fresh off La La Land. Ashleigh's a musical theater person, so she'd had movement training. And Jessie and Chloe were movers but not necessarily dancers. It's kind of like most jobs that I get. I get this mixed box of where people are, what comfortability with movement. We got to do dance classes with the girls and train them in the pre-production period so that they would feel comfortable when we were on set making changes or anything like that. I'm a big believer in trying to get actors to learn to love to move, and then when you get into the process of creating and rehearsing the numbers, they're not just regurgitating steps, but they're actually understanding the quality of the movement that has to happen. We trained in old school dance classes before we shot."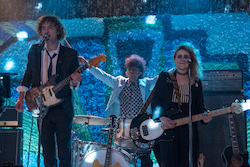 How did you go about trying to capture the 80s vibe in your choreography? Did you try to emulate dance moves from the 1980s, or update the movement style a little?
"Rachel and I had talked a lot about that. I'm a kid from the 80s, so this isn't much of a stretch for me. It's what I grew up doing. We peppered in what I would call 'iconic 80s dance moves', but instead of just slapping those seven moves together, we tried to understand the narrative and the tone and the feel of the time, and then create from there. I think it has a sensibility that is a nod to that time but doesn't feel like a parody. You recognize the movement, but it doesn't feel like it's a cliché. At least, when I watched it back, I was like, 'Huh! Not too bad!'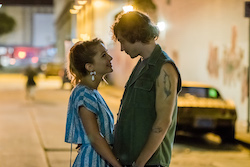 These songs are ones that people know and love. Our music producer, Harvey Mason Jr., was amazing, and did these great versions of these songs. That style of music makes you want to dance, you know? It's satisfying to watch people dancing to this music that you want to dance to. Some have more narrative thread, but others were just a representation of this feeling the actors were feeling in that moment and in that scene. It kind of ran the line between storytelling and vibe."
I saw a quick clip of a roller rink duet! How did you go about creating that?
"Well, funny enough, I hired a good friend of mine who is a skate guru. He's just like, the man when it comes to roller-skating and roller-blading. We're dear friends from a long time ago. When I knew this scene was coming up, I knew what I wanted, but I'm not someone who could train all the actors how to do that. We had him come in to help us train the actors, and help me work out with the choreography how it could work on wheels. I had an overall vision of what I wanted it to be, and arm movements and things, but he was really helpful with telling me, 'Oh, well, that's probably going to take eight counts, so that could take 16 counts to do,' which is something I wouldn't really know if I didn't have on roller skates. I thank him so much for all of his help. Believe me, in my mind, I'm a really great roller skater, but that is not the case when I put on the old roller skates."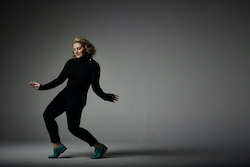 We've seen such an awesome uptick of dance in film lately, especially through big dance numbers of yours like in La La Land and Valley Girl. Given current events, how long do you think before we can get back to making large-scale dance numbers like that?
"You know, I don't know. It's an interesting time because obviously all of it will be based on the science and government and what people say we can do or can't do. But funny enough, in this time, I've already shot a commercial and two television shows. It is possible. It's not optimum. What my community does is based in human interaction and body language. When we're all on Zoom together, it's just not quite the same thing. But I think that people are smart and resourceful, and they will figure out ways to make great, entertaining magic for people. Because that's what we do, right? That's what we all do as artists."
Want to watch? Catch Valley Girl on Amazon Prime, iTunes, VUDU, Google Play/YouTube, Comcast, FandangoNOW and others. Or, for a socially distanced night out, check and see if it's playing at a drive-in movie theater near you!
Follow Mandy Moore and her upcoming projects on her Instagram.
By Holly LaRoche of Dance Informa.