Staying home is the socially responsible thing to do for your community right now, but dancers tend to have a hard time being cooped up. That's why the teachers of Steps on Broadway have been hard at work bringing dance class to you! Dance Informa has put together a list of Steps teachers who are live-streaming their classes, and providing online resources to stay active and in top technique from your very own living room. 
Lastics Stretch Technique with Donna Flagg
Lastics videos have been available to stream online well before now, but founder Donna Flagg decided to start livestreaming via Zoom (keep an eye out for sign-ups!)
"The reason we did it was twofold," Flagg explains. "One, for our students who come to class and work so hard (some are addicted!), we wanted them to be able to continue. And two, because we wanted to give people something that could make them feel better. Being quarantined inherently makes you feel like you can't move, both physically and psychologically, which puts a lot of stress on our body. For dancers, that feeling is just awful. I would argue unbearable. We wanted people to have somewhere to go (in their homes) to loosen up and release whatever pent up energy and tightness results from being cooped up."
Looking to learn more about Lastics? Check out our feature on this stretch class from the December 2019 edition.
Steele Pilates with Teri Steele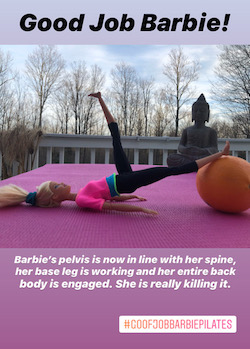 Monday-Thursday at 1:30pm EST, Saturday at 11am EST on Instagram Live and Facebook Live
"I am also a personal trainer and teaching some cardio circuit classes for my clients, but anyone can obviously benefit from those," Steele says. "They incorporate full-body exercises using just gravity or weights if people have them. I have also created a fun series of IG stories called Bad Barbie/Good Barbie Pilates, which teaches the proper form for the mat exercises, one to two each day. I have had great feedback from people about this series, and it will most likely turn into a book…to be continued!"
Contemporary with Oliver Steele
Tuesday/Thursday/Saturday at 12pm via Zoom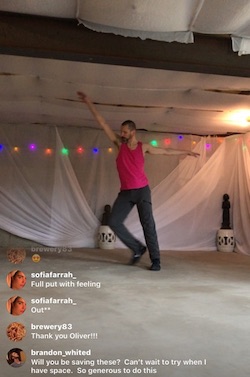 "We both realize that having enough space to move around can be a challenge, so we are trying to design our classes to fit those limitations," Teri Steel explains. "Oliver and I both felt that to offer the classes for free the first week was very important — to support our community through movement, as well as to be able to communicate with them. We felt it was the least we could do to help those who support us all year long. We do not intend to begin charging for our classes; however, people have offered to donate what they can, and although we felt strongly that the first week should be absolutely free of charge, we certainly appreciate people wanting to give thanks in any way they can. We look forward to the hopefully near future when we will all be together again in the studio. But until then, we will keep teaching for whomever wants to learn and move and connect. We really miss our students!"
Theater Jazz with John Leggio
Tuesday/Friday/Sunday at 1pm EST on Facebook Live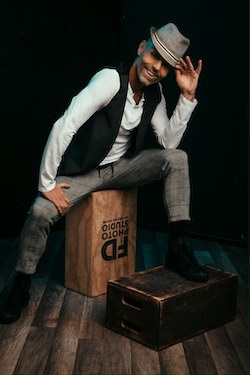 "I started my Facebook Live free dance classes a day after we were told that Steps would close down for awhile. The anxiety and sadness quickly kicked in. As the day went on, I immediately felt like I had to dance. While I was dancing, I started thinking about all my students who study with me at Steps and Montclair State. I posted myself dancing the first song in my daily warm-up. I immediately got a huge response about how inspiring it was for dancers around the world. It was a dancer, I believe from France, who shared a private message. She asked me to do a full class. I'm not one to do Facebook Live, and I don't consider my strength speaking on camera, so I was nervous at first. It didn't take long, a few minutes actually. I knew people needed it; they needed to feel that it was okay, that we could still share our love of dance and connect to one another in this way. I started feeling less worried about how I looked, or how great my class was, or how I spoke. I felt the judgments were also taken away from dancers. We just wanted to dance. I have never felt so much love and support after my first class. People from all over the world started watching and sharing. There were 3,500 views and hundreds of shares from my class. I will continue to teach this online class a few days a week, as long as I'm healthy and there is an interest in it."
Tap with Danny Gardner
Tuesday/Wednesday/Thursday/Saturday/Sunday afternoons via Zoom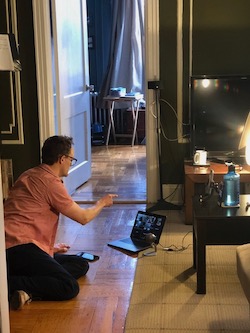 Stay tuned on Danny Gardner's Instagram, download the Zoom app, and get the access code to the class from the Instagram post of the class you want to take.
"I love to dance, to choreograph and to teach," Gardner says. "Being able to continue to do these things in this scary and uncertain time is helping me cope day to day. It's giving me a schedule, something to look forward to and people to look forward to seeing, even if it's just virtually. Every class is pay-what-you-can, and I am thrilled that people are tuning in! Attendance has varied from three people to as many as 20 people. No matter how many people tune in, we've always had a good time. It means a lot to take this time to do something we love!"
Hip Hop with Angel Kaba
Check Angel Kaba's Instagram for updates on when she'll be livestreaming next!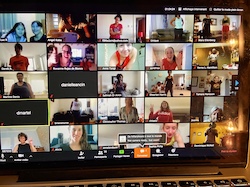 "I teach online to serve the dance community, families and everyone who needs me to help them express themselves," Kaba shares. "The current situation is creating a lot of stress; I can really feel people's energy and anxiety. We need dance more than ever! In a certain way, this situation is keeping us together. I have people from all over America and abroad taking class with me. I am grateful for this."
Daniel Catanach is also offering online ballet classes through Shopify, and live-stream classes on his Instagram. Check both to catch times and levels!
Don't see your favorite teacher here? Be sure to follow Steps on Broadway on Instagram, as Steps is offering more classes there with their top teachers.
By Holly LaRoche of Dance Informa.